American dependent in South Korea tests positive for coronavirus upon return from US
by
Kim Gamel
April 27, 2020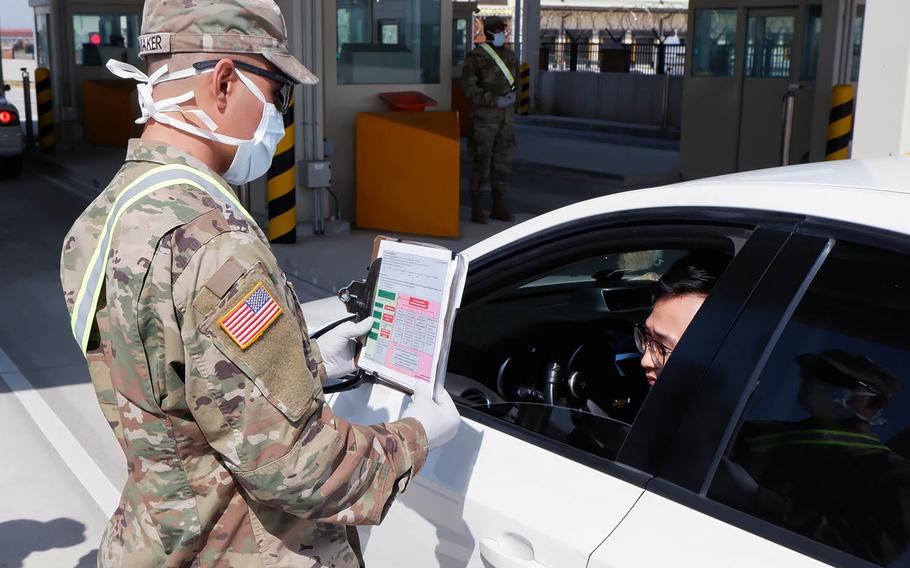 Stars and Stripes is making stories on the coronavirus pandemic available free of charge. See other free reports here. Sign up for our daily coronavirus newsletter here. Please support our journalism with a subscription.
SEOUL, South Korea — The dependent of a U.S. service member stationed at Camp Walker, a base in the southeastern city of Daegu, has tested positive for the coronavirus after returning from the United States over the weekend, the military said Monday.
The dependent, an American, was confirmed to have the virus after being tested as part of a mandatory quarantine process for all people arriving in South Korea from abroad. The infection raises to 26 the total number of cases affiliated with U.S. Forces Korea.
After returning from the U.S. on Saturday, the dependent was taken to Camp Humphreys via government transportation and was tested there, according to a USFK press release.
"He is currently in mandatory self-quarantine at Camp Humphreys' isolation barracks," it said.
Health authorities have stepped up quarantine and monitoring of travelers arriving from overseas due to fears of imported cases as the pandemic slows in South Korea but rises in the U.S. and several other countries.
USFK, which has restricted access to bases and barred nonessential travel and off-base activities for service members, also has imposed a mandatory, 14-day quarantine for members of its community arriving from the United States. They will be monitored for symptoms and must take two coronavirus tests with negative results before being allowed to exit quarantine.
The Pentagon has banned most military travel, including deployments, moves to new assignments and temporary duty for professional education, but commanders may grant exceptions to policy, or ETPs.
Camp Humphreys garrison commander Col. Michael Tremblay predicted there may be more such cases but said the system was working.
"As we continue to bring more and more people in on ETPs expect these to happen, especially because of our capability here with tracing and testing," Tremblay said Monday in a Facebook Live community update.
Only two soldiers in South Korea have tested positive for coronavirus. The other cases included military dependents, contractors and U.S. and South Korean civilian employees.
South Korea reported 10 new cases on Monday for a total of 10,738, with 243 deaths. It was the fifth day in a row that the numbers hovered at 10 or below, a sharp decline from the days that saw 500 or more cases after an outbreak began in late February.
Officials credit aggressive testing and a social distancing campaign with helping to contain the spread of the virus, although they also have expressed concern about the potential for more cluster outbreaks as well as imported cases.
"We need to be aware that one patient can lead to a major cluster infection," Vice Health Minister Kim Gang-lip said during a briefing.
U.S. Army Garrison Daegu, which is composed of Camp Walker and other installation in the area, said on its Facebook page that "it's important to clarify that this person did not become infected with COVID-19 in Area IV and quite possibly not on the peninsula."
gamel.kim@stripes.com Twitter: @kimgamel