American aircraft carrier to visit Vietnam next year, Pentagon says
by
Wyatt Olson
August 9, 2017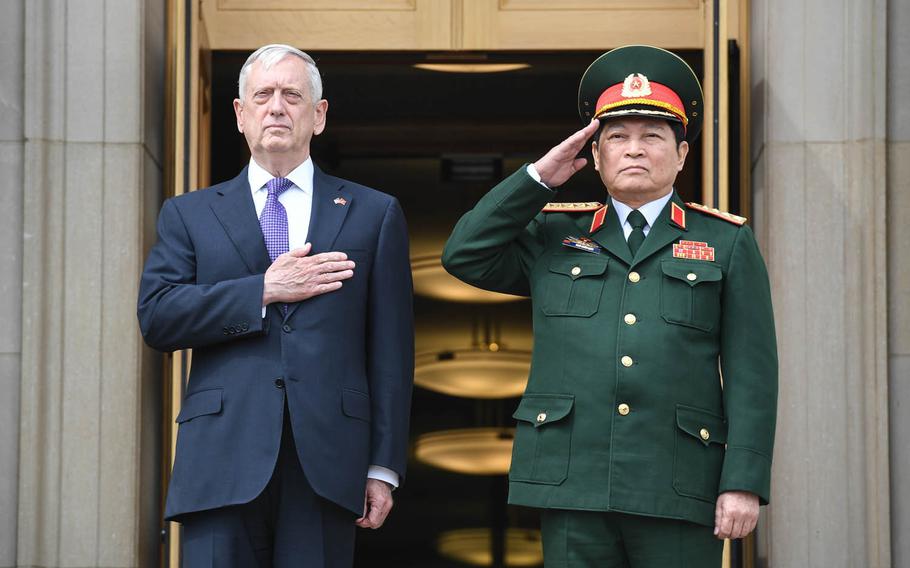 A U.S. Navy aircraft carrier will visit Vietnam next year for the first time, the Pentagon announced Tuesday, in the latest sign of growing ties between countries that 50 years ago were engaged in a lengthy war.
Secretary of Defense Jim Mattis met Tuesday with Ngo Xuan Lich, Vietnam's defense minister, to discuss further steps in their mutual defense relationship and regional security challenges, the Pentagon said. The two also agreed to expand naval cooperation and the sharing of information.
The carrier to make the visit was not identified.
The United States and Vietnam have found common ground in recent years over China's assertive claims over much of the South China Sea. Vietnam and other Southeast Asian countries hold counterclaims on islands in the area, which is believed to hold reserves of untapped petroleum and possibly valuable ores.
While the U.S. maintains no claims of sovereignty over any part of the South China Sea, officials are concerned that China could eventually dictate which vessels would be allowed to sail or fly there.
U.S. Pacific Fleet ships routinely patrol the South China Sea, engaging in so-called freedom of navigation operations near disputed islands occupied or militarized by China.
Vietnam and China have engaged in diplomatic skirmishes over attempted petroleum exploration in the waters near the Vietnam coast.
The U.S. recently transferred a former Coast Guard cutter to Vietnam to help the country improve its maritime law-enforcement, the Pentagon said.
The U.S. signed a peace accord with North Vietnam in 1973 after almost a decade of war during which America was allied with South Vietnam.
olson.wyatt@stripes.com Twitter: @WyattWOlson
---
---
---