Aircraft catches fire aboard USS Reagan prior to Japan PM visit; no injuries
By
Erik Slavin slavin.erik@stripes.com
October 18, 2015
---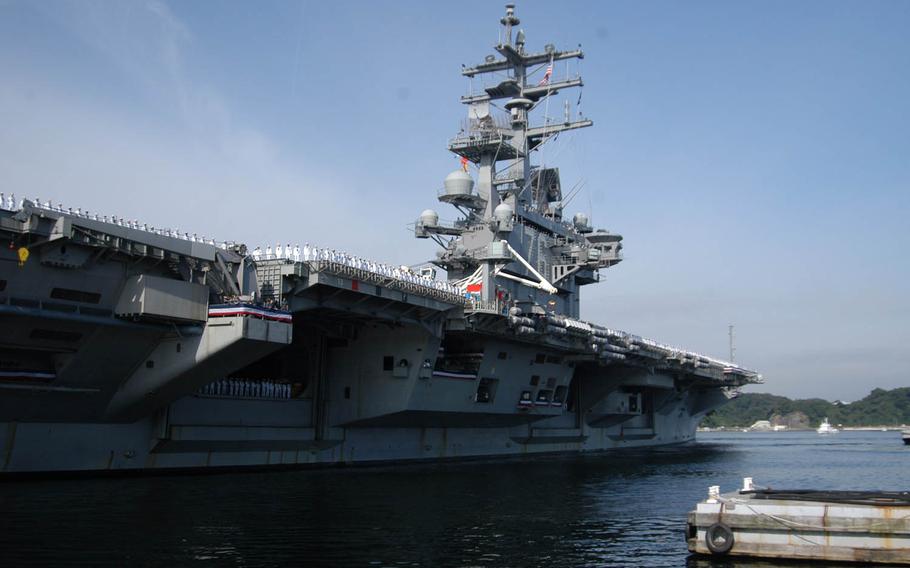 YOKOSUKA NAVAL BASE, Japan — An electrical fire burned an aircraft aboard the USS Ronald Reagan on Sunday, just hours before Prime Minister Shinzo Abe visited the aircraft carrier. No injuries were reported as a result of the fire on the E-2C Hawkeye aircraft, Navy officials said Sunday.
Damage control sailors immediately responded after the fire began in hangar bay 1 at 1:27 p.m., according to a Navy statement.
The cause of the fire aboard the aircraft, assigned to the VAW-115 Liberty Bells squadron, is under investigation. Damage assessments were continuing as of Sunday evening, according to ship officials.
All events planned for Sunday, including the arrival of Abe and 3rd Fleet commander Vice Adm. Nora Tyson, went on according to schedule, Navy officials said.
The USS Ronald Reagan was transiting near Sagami Bay, south of Tokyo, when the fire occurred. Although the ship was not listed as a participant, a live Japan Maritime Self-Defense Force broadcast showed it arriving in the area around the same time as an international fleet review featuring ships and aircraft from Japan, the U.S., France, India, Australia and South Korea.
Ronald Reagan arrived Oct. 1 at its new homeport in Yokosuka. It replaces the USS George Washington, which is scheduled to undergo a multi-year, mid-life overhaul and nuclear refueling in Virginia.
---
---
---
---