Air wing's move from Atsugi to Iwakuni delayed 3 years
by
Matthew M. Burke and Hana Kusumoto
January 25, 2013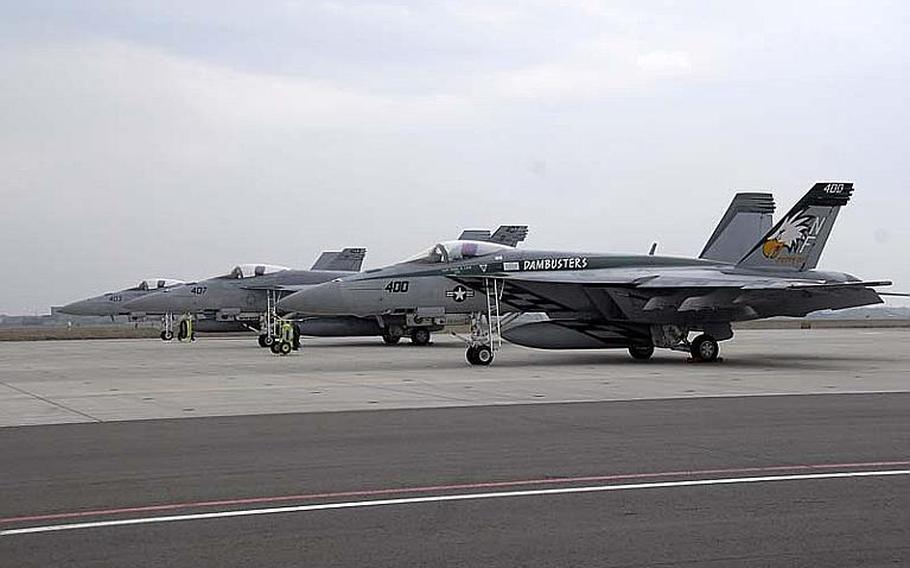 SASEBO NAVAL BASE, Japan — Construction delays have pushed back plans to move a U.S. Navy carrier air wing from Atsugi to Iwakuni by three years, Japanese officials said Thursday.
The base population at Marine Corps Air Station Iwakuni had been scheduled to double to approximately 10,000 residents by 2014 with the arrival of Carrier Air Wing 5 from Naval Air Facility Atsugi as well as VMGR-152, a KC-130 squadron, from Marine Corps Air Station Futenma as a part of the realignment of U.S. forces in the region.
However, delays in moving support facilities, securing land rights, and building on- and off-base housing at Iwakuni have put part of that plan on hold until 2017, officials said.
"Iwakuni was not ready to receive them," Air Force Lt. Col. David Honchul, a spokesman for U.S. Forces in Japan, said of the carrier air wing Friday. "They will continue to operate out of Atsugi as they have been until further notice."
No announcements have been made regarding VMGR-152, according to officials from both governments. Honchul said he was unaware if this delay would affect other aspects of the realignment.
Japanese government officials briefed local officials in Kanagawa prefecture of the decision this week. The move instantly angered and perplexed local lawmakers and people who live around Atsugi and have complained about aircraft noise and falling aircraft parts for years.
"I am fully aware that there are serious strains on the residents living near the air base from various factors, such as aircraft noise, since the air base is located in densely populated area," Parliamentary Vice Minister of Defense Akira Sato said to Kanagawa prefectural officials Thursday. The officials included the governor and various mayors. "The Ministry of Defense will do its best to steadily push ahead to relocate the carrier air wing as soon as possible."
Lawmakers urged him to continue with the 2014 deadline.
"There are still two years until 2014; once again, we request you to do your best to relocate [the air wing] by 2014," local leaders were quoted as saying in a Kanagawa Prefectural Office release.
The delay was decided upon jointly by U.S. Forces and Japanese government officials after the construction schedule was studied and officials realized it could not be met, the release said.
The move is the latest hiccup in the realignment of U.S. forces in the region after plans to reduce the imprint of Marines on Okinawa stalled over the past year. A spate of alcohol-related crimes perpetrated by U.S. servicemembers across Japan in recent months have strained relations between the two stalwart allies, making the realignment more urgent.
Over the course of the past few years, Marines in Iwakuni have complained as construction claimed beloved facilities such as their golf course and led to traffic and other impediments.
The air station recently opened a commercial airport and is currently working to build a taxiway, hangar and school, and will work on constructing the housing units and a hospital in the future, Japanese officials said.
In 2007, more than 7,000 residents living near Atsugi filed a lawsuit over jet noise, seeking compensation from the Japanese government for noise damage and seeking to suspend aircraft from flying between 8 p.m. and 8 a.m. On Friday, the plaintiffs in the lawsuit visited South Kanto Defense Bureau to complain about the delay.
"It gave extreme disappointment to the residents," leader of the plaintiffs Eiji Fujita told Stars and Stripes on Friday. "It means that this much noise will continue for another three years."
---
---
---
---