Air Force tweaks the way it welcomes troops to Tokyo amid pandemic
by
Seth Robson
July 24, 2020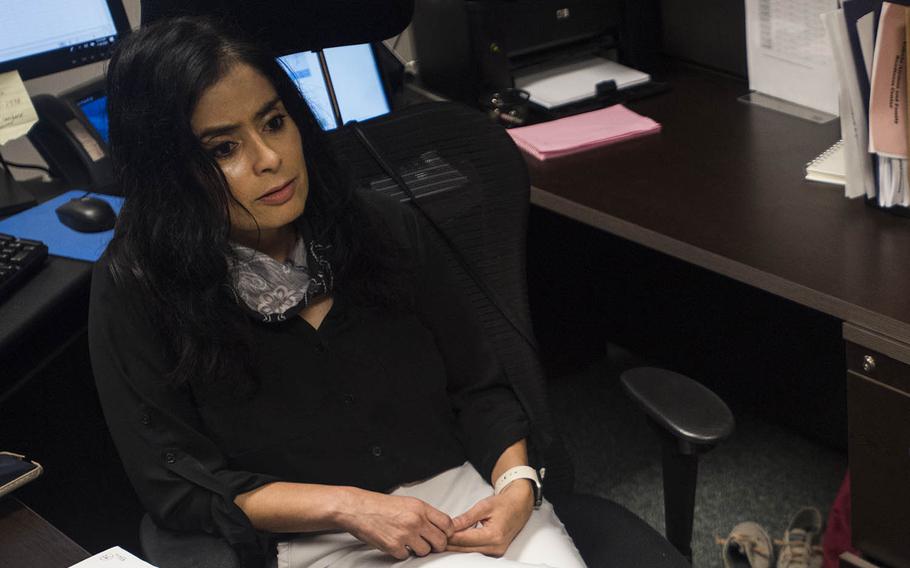 Stars and Stripes is making stories on the coronavirus pandemic available free of charge. See other free reports here. Sign up for our daily coronavirus newsletter here. Please support our journalism with a subscription.
YOKOTA AIR BASE, Japan — During a typical summer, newly arrived airmen and their families would be scurrying around the home of U.S. Forces Japan in western Tokyo registering vehicles, completing school paperwork and setting up cellphone and cable TV service.
Because of the coronavirus pandemic, newcomers must spend their first two weeks in Japan under quarantine. That's prompted the Air Force to change the way it receives them.
At Yokota, new arrivals are surveyed on their needs before going straight to a house, apartment or other lodging, Carla Tyson, interim flight chief for the base's Airmen and Family Readiness Center, said Friday.
Tyson is coordinating a Stress Treatment and Resiliency Team that links those in quarantine with folks who can help them, such as the USO, chaplains and military family life counselors.
The Air Force declined to provide exact numbers of airmen arriving at Yokota this summer; however, Tyson said between 10 and 130 people are in quarantine at the base any given week.
When people arrive at the base, they're met by their sponsor or first sergeant and get a welcome package containing points of contact and a survey asking them about their immediate needs and how often they'd like to be contacted, Tyson said.
Most people request certain foods or reading materials, she said. Some want to be contacted every other day and others prefer to reach out if they need something.
Air Force 1st Lt. Jessica Snow, who recently arrived at Yokota to start a job with 5th Air Force, completed quarantine last week.
"It's two weeks of no work," she said. "I slept and watched TV, so I liked it. I [quarantined] by myself but I had a coworker that [quarantined] with her husband and two kids, so it was a bit tougher."
Snow said she did most of her in-processing electronically.
"I used my computer to make sure I got my housing stuff done, anything with work, so when I got off of [quarantine] I was pretty much good to go," she said.
People under quarantine have internet access without restrictions on communication, Tyson said.
They can leave their place of residence only to do activities of short duration such as laundry, pet walking or "wellness breaks" in the yard, according to information in an email from Yokota spokeswoman Kaori Matsukasa on Friday.
"Personnel in [quarantine] must avoid social gatherings and all public locations including gymnasium where reasonably expected to have other people present," the email said.
In the past, sponsors would have escorted new arrivals to various spots around base. Now, Tyson, said, they're focused on helping them during quarantine.
"Even with the restrictions of movement they can still be in balance and have everything they need for those two weeks," she said. "Our goal is that their emotional, social and spiritual needs are met."
Stars and Stripes reporter Theron Godbold contributed to this report.
robson.seth@stripes.com Twitter: @SethRobson1