Air Force revives drive-in movies for service members isolating amid pandemic in Tokyo
by
Theron Godbold Seth Robson
April 26, 2020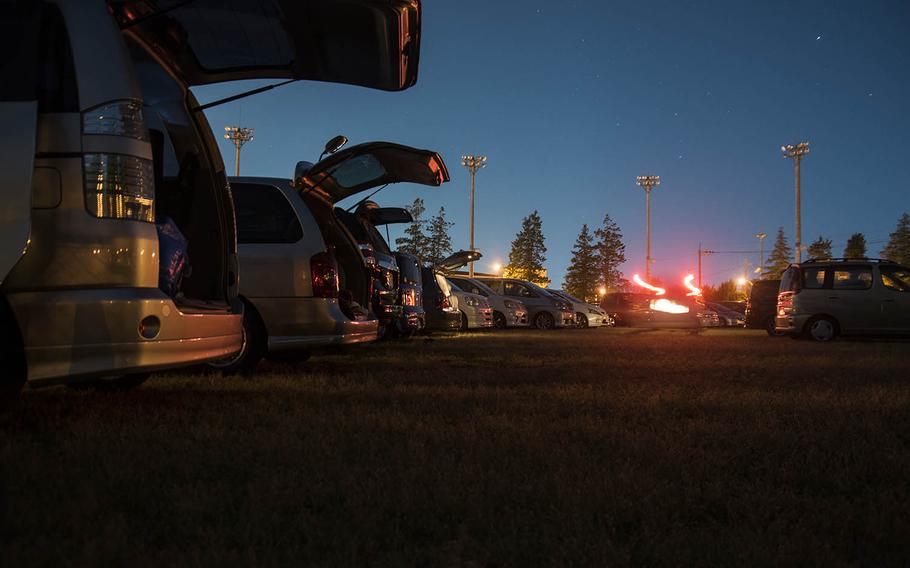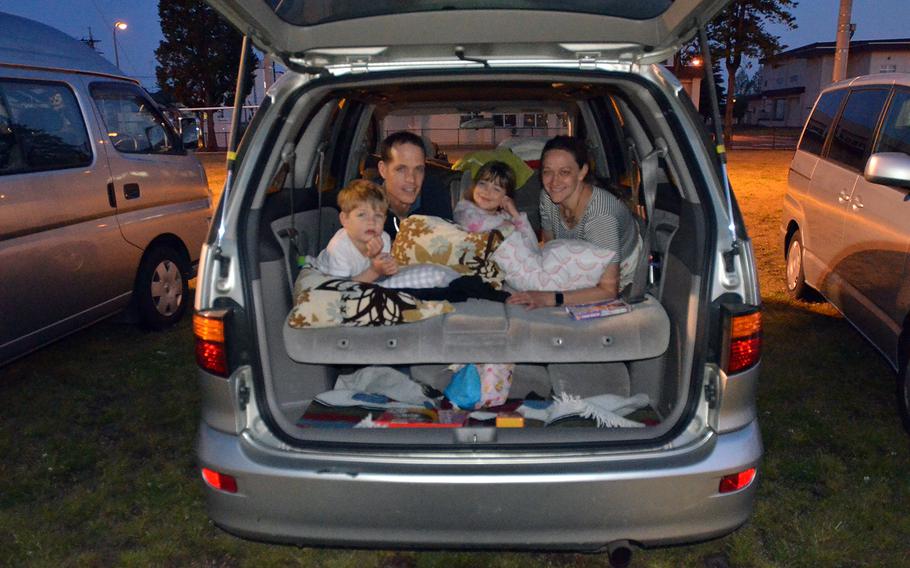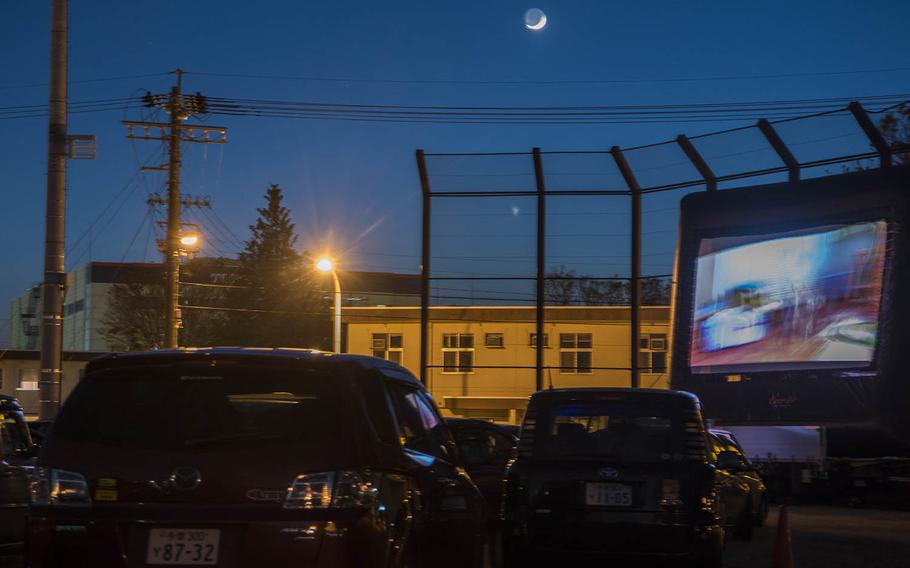 Stars and Stripes is making stories on the coronavirus pandemic available free of charge. See other free reports here. Sign up for our daily coronavirus newsletter here. Please support our journalism with a subscription.
YOKOTA AIR BASE, Japan — A hundred or so cars lined up in rows on a sports field Saturday night for a drive-in movie at the home of U.S. Forces Japan in western Tokyo.
Shortly after sundown an inflatable screen lit up at the end of Bronco Field, a grassy pitch normally used for soccer and baseball. The screen displayed a message advising viewers to tune their car radios to channel 89.3 FM before a Disneyland castle appeared signaling that the 2019 animated film "Toy Story 4" was about to begin.
Yokota's drive-in movie echoes trends in Germany and South Korea, where outdoor screenings have had a resurgence during the coronavirus pandemic, according to an April 18 article in The Hollywood Reporter.
The coronavirus has wreaked havoc on the U.S. movie industry with over 40,000 screens closed. However, a few drive-in theaters remain in business and New York Gov. Andrew Cuomo is considering allowing drive-ins in his state to reopen, the New York Post reported April 20.
Yokota's indoor movie theater is still open but many other leisure events and activities have been canceled. People living and working on Yokota are restricted to the base and their homes except for shopping and other for essential services nearby.
On Saturday, the Pompa family of Albuquerque, N.M., watched the film from the back of their Toyota Estima minivan. Helena Pompa, 5, was seeing a drive-in movie for the first time.
"I'm looking forward to seeing Jessie," she said, referring to a talking toy cowgirl featured in the film.
Her 4-year-old brother, Rocco, said he wanted to see Forky, a googly-eyed white plastic spork with a blue plasticine mouth who also appears in the film.
The family brought boxed pizzas and a few board games to kill time while they waited for the show.
The kids' father, Air Force Col. Doyle Pompa, 45, who works at U.S. Forces Japan headquarters, said he was impressed by the screening during a time when airmen and their families face restrictions.
"Everyone can sit around and complain but there are positive messages," he said.
Mom Gina Pompa, 41, recalled going to drive-in movies as a teenager.
"I think this is a great thing to do," she said of the Yokota screening. "It gives us something to do on a Saturday night whereas the last several weekends we have been hanging out at home."
Yokota Force Support Squadron managers came up with the idea while brainstorming things people could do while socially isolating, said Outdoor Recreation manager Caleb White.
"Our biggest thing is just getting something out to the community and get people out of the house and give them something to do," he said.
"Toy Story 4" screened twice Saturday. Bronco Field can accommodate only 150 vehicles at a time and the second show time was added after hundreds of people tagged the event when it was listed on the squadron's Facebook page, White said.
The drive-in admission was free but cost the Air Force about $500 to stage.
"The hardest thing about this is figuring out what movie to play and getting the licensing," he said.
White promised more drive-in movies.
"We plan on doing this staggered, once every couple of weeks," he said, adding that the base has ordered a giant outdoor television for future screenings that will arrive May 6.
robson.seth@stripes.com Twitter: @SethRobson1
godbold.theron@stripes.com Twitter: @GodboldTheron