Air Force Ospreys and Super Hercs fly together over Tokyo during Samurai Surge drill
by
Seth Robson
May 21, 2020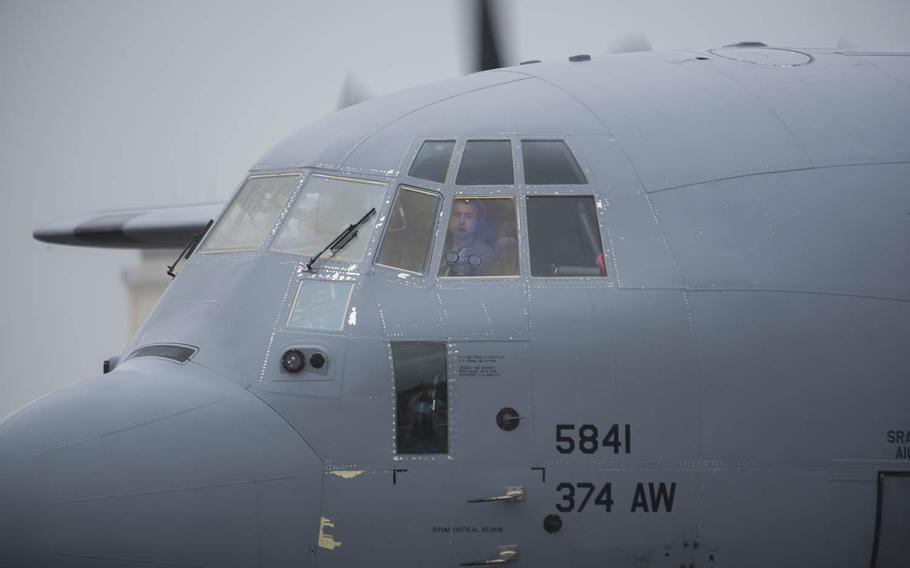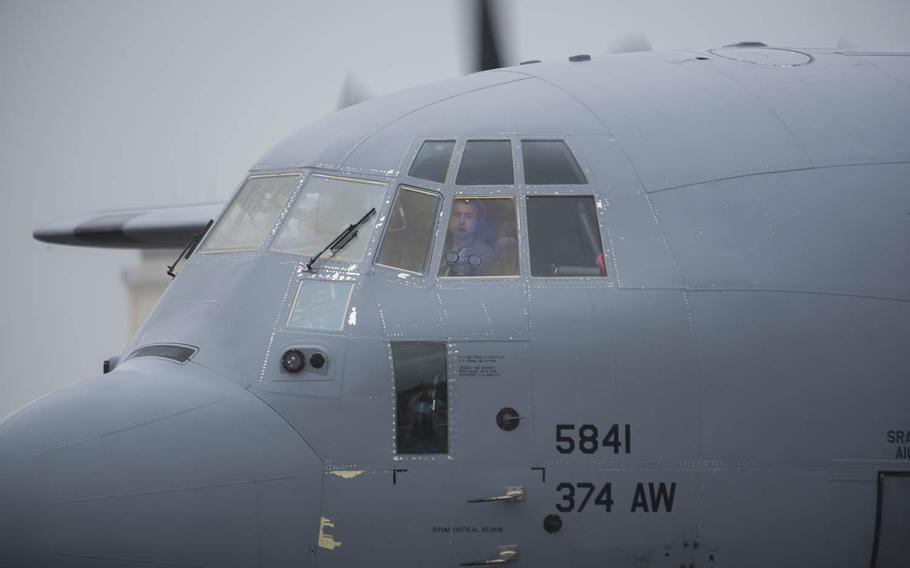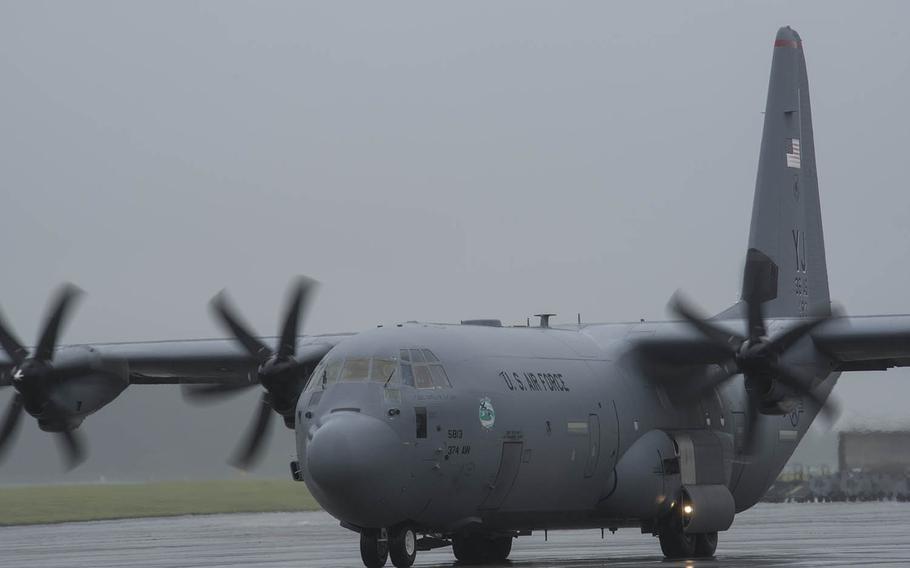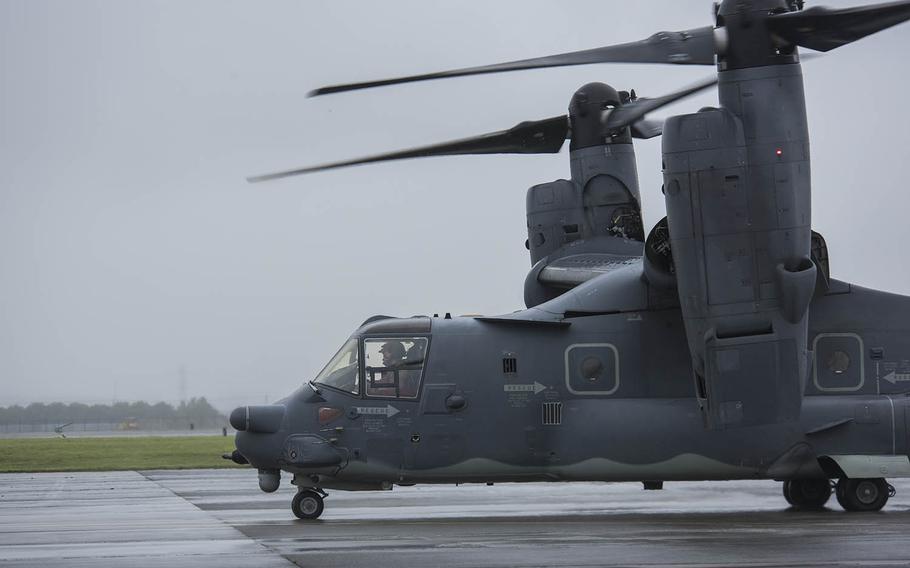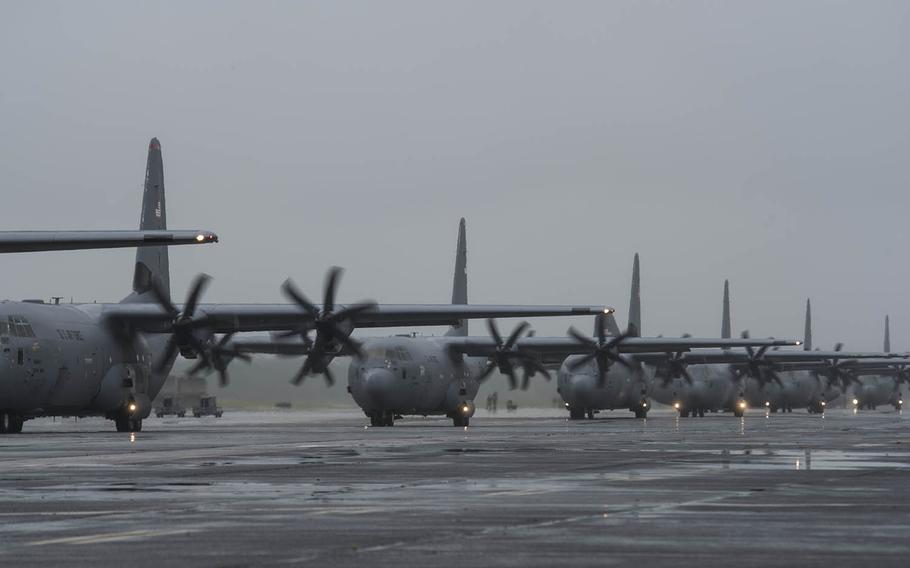 YOKOTA AIR BASE, Japan — C-130J Super Hercules tactical airlifters and CV-22 Osprey tiltrotors were part of a rapid mass launch of aircraft Thursday from the home of U.S. Forces Japan in western Tokyo.
The Samurai Surge drill, which last took place in 2018, involved nine of the 374th Airlift Wing's 14 Super Hercules and two of five Ospreys stationed at Yokota as well four UH-1 Huey helicopters and three C-12 transports.
"It's a demonstration to the Japanese government and the Indo-Pacific Command that we are still ready to do a full contingency or humanitarian response despite COVID-19 and poor weather," the wing's vice commander, Col. Jason Mills, said shortly before the aircraft launched under gray skies with light rain falling. COVID-19 is the respiratory illness caused by the coronavirus that's causing a global pandemic.
Flying so many Super Hercules at one time required coordination between the 353rd Special Operations Group out of Kadena Air Base, Okinawa, and Yokota's 374th Operations Group, he said.
The surge was supposed to involve the first formation or "inter-fly" operation between the two aircraft types since the Osprey arrived at Yokota in October 2018, Mills said. The Super Hercules debuted at the base in March 2017.
The plan was for the aircraft to fly in formation over Tokyo Bay, but cloud and rain meant they stayed closer to home and plans for tactical air-drop training over the base were canceled, according to officials.
The surge focused on the wing's operations and maintenance groups with support from the combat mobility flight and the logistics readiness squadron refueling aircraft and transporting crews. Medical and wing staff were also involved making sure 60 or so fliers and hundreds of maintainers were medically ready to do their jobs, Mills said.
"To see everything up in the air at the same time was a big deal," said Master Sgt. David Arnold, 31, a C-130 production superintendent with the 374th Aircraft Maintenance Squadron.
The maintainers were responsible for making sure the aircraft were ready to fly and responding to last-minute mechanical issues. A crew spent about 30 minutes fixing a glitch in one plane's deicing system before it could take off, he said.
The only time Arnold had seen so many aircraft take off was during a typhoon evacuation, which was staggered rather than all at once, he said.
Rapidly launching so many aircraft required planning and coordination that started a week and a half ago. Such an operation probably wouldn't happen even during a war or disaster, Mills said.
"It would be rare to launch all the aircraft at once," he said.
A mass launch would, however, happen if Yokota was attacked by enemy missiles, he said. It's something that defense experts have warned of, citing Chinese and North Korean threats.
"In that situation they would all fly off in rapid succession," Mills said of the wing's aircraft. "We would send them to locations in the Pacific and reestablish a capability to support the contingency mission and our allies in the Pacific."
robson.seth@stripes.com Twitter: @SethRobson1
---
---
---