Air Force orders Tokyo personnel to stay close to home; governor says city is in 'critical phase'
---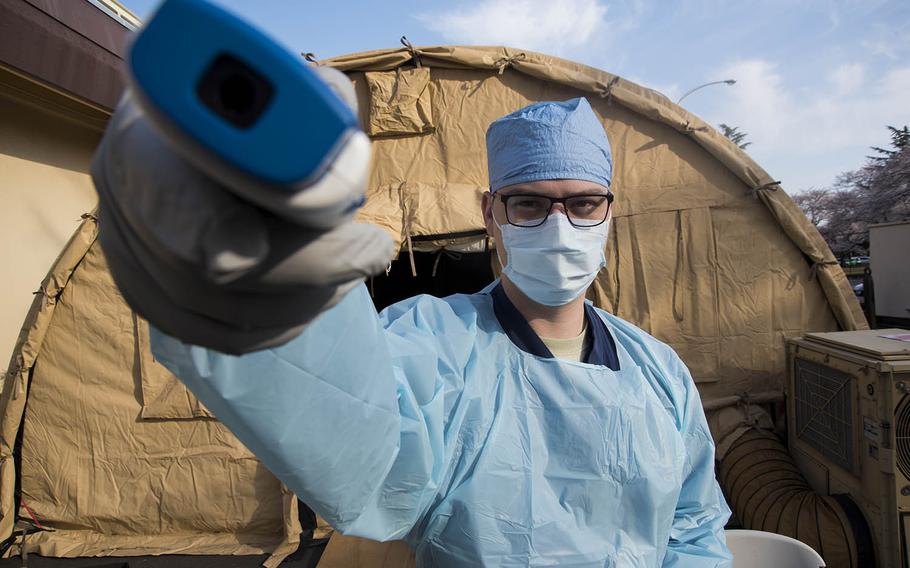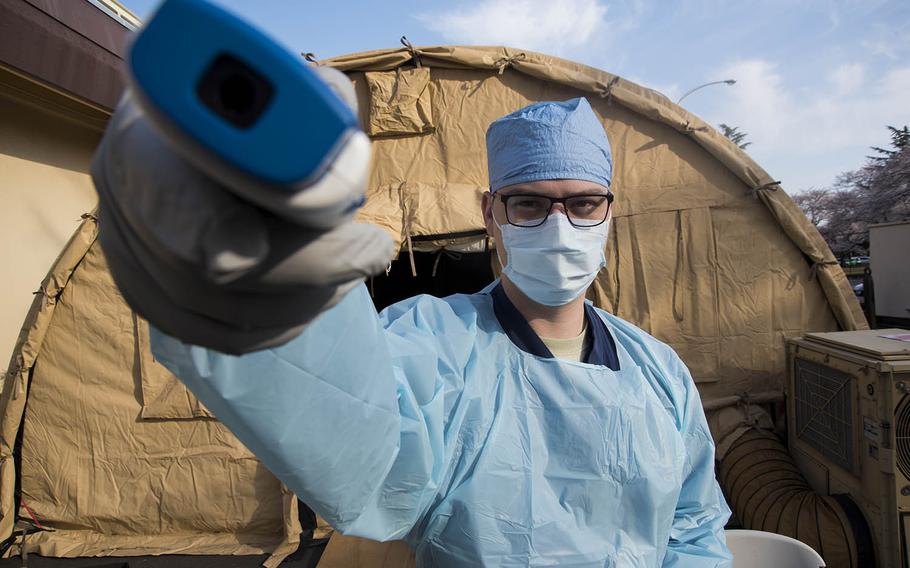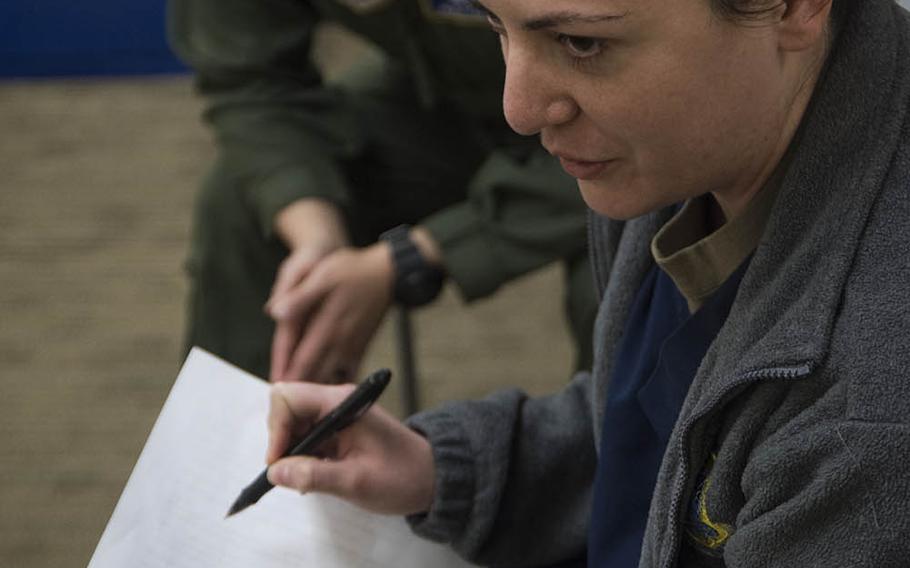 Stars and Stripes is making stories on the coronavirus pandemic available free of charge. See other free reports here. Sign up for our daily coronavirus newsletter here. Please support our journalism with a subscription.
YOKOTA AIR BASE, Japan — The Air Force has ordered American personnel at the home of U.S. Forces Japan in western Tokyo to stay on or close to base following a call by the city's governor for residents to stay home this weekend to slow the spread of the coronavirus.
In a video posted Friday, 374th Airlift Wing commander Col. Otis Jones ordered U.S. personnel attached to the wing — troops, civilian employees and dependents — not to leave the area surrounding the base, other than on official business, effective immediately. Master labor contract and local national employees were strongly recommended to follow the measures.
"All mission partners/tenant units are highly encouraged to adopt this guidance in order to protect our installation personnel," he wrote in a memo about the restrictions dated Wednesday.
Yokota's local area includes the towns of Ome, Iruma, Tachikawa, Fuchu, Tama and Hachioji, Jones said.
"Areas in downtown metropolitan Tokyo such as Shibuya, Shinjuku and Roppongi are NOT considered part of the local area," he wrote.
The measures will remain in place for 30 days, according to the order. "We will also be doing periodic assessments within the 30-day period to determine required adjustments," he wrote.
On Thursday, a sailor at Yokosuka Naval Base tested positive for the virus, becoming the first U.S. service member in Japan confirmed to have the illness.
The Army installation at Hardy Barracks in central Tokyo, home to Stars and Stripes' Tokyo headquarters, has also restricted operations. Guests at Hardy Barracks lodging will be restricted to the post, if they choose to stay. The Navy Exchange operation there will be curtailed, and no contractors will be allowed access.
Tokyo Gov. Yuriko Koike has asked city residents to stay home over the coming weekend following a surge of newly reported coronavirus cases.
"We are at a critical phase," which could determine whether the city can prevent an explosive increase in infections or not, she said during a press conference Wednesday.
Tokyo counted 47 new coronavirus cases Thursday, up from a record 41 new cases Wednesday, the Tokyo Metropolitan Government reported on its website.
The Tokyo governor asked residents to work from home if they can and to stay home at night. Koike said people should refrain from having gatherings that involve eating and drinking, even in small groups.
"Cooperation by Tokyo residents is most important in preventing explosive increase in infections," she said.
Yokota personnel are authorized travel to and from essential services within the local area, Jones said.
People who live outside the local area may travel near their home for essential services such as local dining facilities, grocery stores, shopping, schooling and medical facilities, he said.
"All DOD uniformed members must remain in the above defined local area whether on duty, on leave, in liberty status, or on pass," Jones said in his memo.
Mission-essential travel outside the area is authorized. This includes medical appointments, duty at another installation and visiting the U.S. Embassy. Private or government transport is highly encouraged, he said.
"Fight the urge to focus on the minute details of where the local area is on the map and why," Jones said in the video posted Friday. "The intent is not to play gotcha with this."
He also ordered members of the wing to avoid gatherings with more than 20 people.
"This includes larger public establishments such as sit-down restaurants, night clubs, movie theaters and Pachinko halls," he said.
Members can still enjoy outdoor activities such as hiking, running, biking, park activities and walking a pet, he said.
"The ability to sign visitors onto base is being removed for the duration of this order," he said.
Lt. Col. Kenji Takano, 42, chief of aerospace medicine at Yokota and the base's disease containment incident commander, said Thursday no one at Yokota, which has a population of about 11,500, has tested positive for coronavirus.
However, more than 100 people there have been quarantined or isolated due to travel or contact with infected people outside of the base community, either in Japan or overseas, according to 374th Airlift Wing spokeswoman Kaori Matsukasa.
"We test people with symptoms associated with COVID-19 such as fever, cough and shortness of breath," Takano said. "If someone has a known exposure to a confirmed case, they are down for 14 days."
The base has set aside two empty apartment towers to quarantine and isolate people whose homes aren't suitable for the purpose, he said.
People can isolate at home if they have accommodation where they have access to a separate bathroom and aren't near high risk individuals, he said.
Maj. Stephanie Degen, 31, of Warrensburg, Mo., director of internal medicine for the 374th Medical Group, said anyone who contracted the virus and showed severe symptoms would be sent to a Japanese hospital for care. This might include being given oxygen and fluids and watching for other infections.
Takano helped treat measles among local nationals in Afghanistan and cared for passengers from diverted passenger planes that landed at Yokota following a massive earthquake that struck Japan in March 2011, he said.
"We have a very finely tuned emergency management process on the base," he said. "Our focus is on social distancing and handwashing, personal hygiene and staying at home if you have symptoms."
Stars and Stripes reporter Hana Kusumoto contributed to this report.
robson.seth@stripes.com Twitter: @SethRobson1
---
---
---
---