Air Force deploys four B-1 bombers, 200 airmen to Guam for deterrence missions
---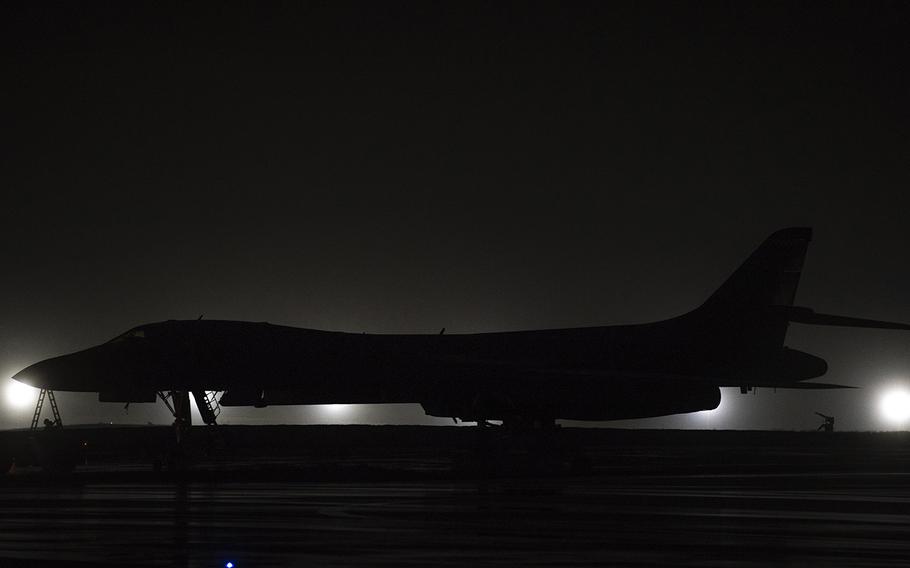 Four B-1B bombers and about 200 airmen from Texas arrived in Guam on Friday to conduct training and operations with allies and partners, the Air Force said.
The Lancers and airmen flew in from the 9th Bomb Squadron, 7th Bomb Wing, at Dyess Air Force Base, Texas, the service said in a statement Friday.
They were deployed to support Pacific Air Forces in training allies and partners and to reinforce the "rules-based international order" in the Indo-Pacific region through strategic deterrence missions, the statement said.
The Air Force did not disclose the length of the deployment.
Three of the bombers flew directly to Andersen Air Force Base on Guam, while the fourth flew east of Japan to train with the U.S. Navy before joining the others, the statement said.
"Deployments like this allow our Airmen to enhance the readiness and training necessary to respond to any potential crisis or challenge across the globe," wing commander Col. Ed. Sumangil said in the statement. "It also provides a valuable opportunity to better integrate with our allies and partners through joint and combined operations and exercises."
Two weeks ago, the Air Force abruptly ended its longtime practice of rotating bombers through Andersen for six-month intervals, opting instead for a less predictable means of deploying the aircraft throughout the globe.
The Air Force had used those Guam-based bomber missions to patrol over the East and South China Seas as a means of projecting U.S. airpower and resolve to North Korea, China and Russia.
B-1s were last deployed to the Indo-Pacific region in 2017, the Air Force said.
The B-1 is valued for its capability to carry a larger a larger conventional payload of both guided and unguided weapons than the B-52.
"The B-1 is able to carry a larger payload of Joint Air-to-Surface Standoff Missiles and a larger payload of 2,000-pound class Joint Direct Attack Munitions," Lt. Col. Frank Welton, Pacific Air Forces' chief of operations force management, said in the statement. "Additionally, the B-1 is able to carry the [anti-ship cruise missile], giving it an advanced stand-off, counter-ship capability. It also has an advanced self-protection suite and is able to transit at supersonic speeds to enhance offensive and defensive capabilities."
olson.wyatt@stripes.com Twitter: @WyattWOlson
---
---
---
---