Air Force demonstrates 'unpredictability' amid pandemic with B-1 bomber sortie from US to Japan
by
Wyatt Olson
April 22, 2020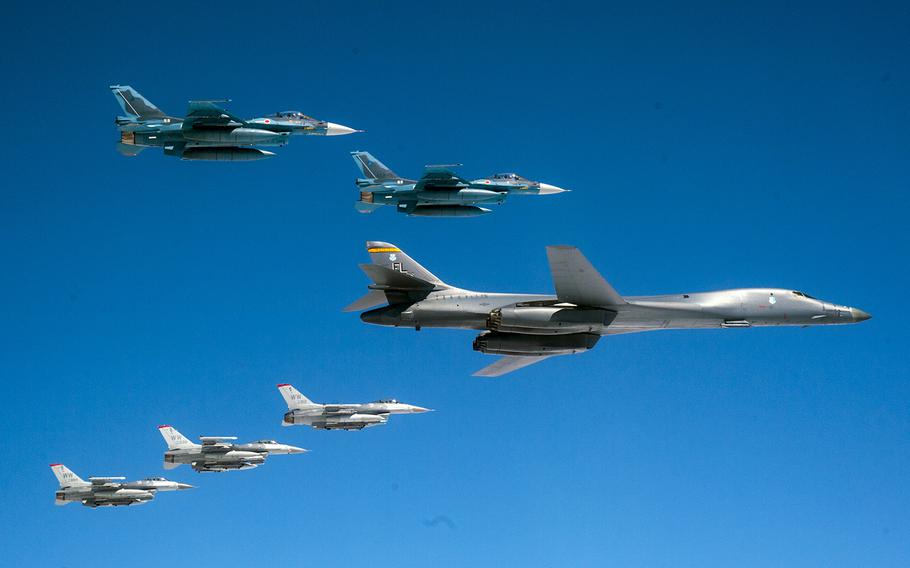 A B-1B Lancer bomber flew on Wednesday from the continental United States to Japan, where it teamed up with 15 Japanese fighter jets to demonstrate the Air Force's recent shift to a more unpredictable global strategic bomber presence.
The Lancer flew 30 hours round-trip from Ellsworth Air Force Base, S.D., to Misawa Air Base, meeting up with seven Japan Air Self-Defense Force F-2s and eight F-15s, the Air Force said in a news release Wednesday.
That group was joined by six Misawa-based F-16 Fighting Falcons.
The aircraft crews trained over Draughon Range near Misawa as part of a U.S. Indo-Pacific Command and U.S. Strategic Command joint bomber task force, the release said.
Last week, five B-52H bombers flew from Guam to their home station in Minot Air Force Base, N.D., ending the Air Force's six-month rotations of bombers through the island that had been taking place since 2004.
The Air Force's new "dynamic force employment model" embraces the U.S. National Defense Strategy's objectives of "strategic predictability and operational unpredictability," the release said.
The new model enables strategic bombers to operate in the Indo-Pacific region from a broader array of locations, both on the continental U.S. and overseas, the release said.
Wednesday's operation showcased America's "unwavering commitment to the security and stability" of the Pacific region, Pacific Air Forces commander Gen. Charles Brown Jr. said in the news release.
"From confronting invisible threats of a global pandemic to addressing military aggression and coercive activities, we remain a lethal, innovative and interoperable force focused on a shared vision of upholding a free and open Indo-Pacific," he said.
This is the second time this year that a U.S.-based bomber trained with the JASDF.
In February, two B-52s integrated with more than 45 Japanese fighter jets near Misawa. Those bombers flew from Andersen Air Force Base on Guam and Minot.
A B-1 bomber last flew in the INDOPACOM area of responsibility in January 2018, at the end of a six-month rotation at Anderson. The bomber that flew to Japan on Wednesday is assigned to the 28th Bomb Wing.
"This mission is a demonstration to our friends throughout the region: We will continue to remain fully predictable in our commitment to ensuring peace, while also demonstrating that we have the ability to operate from numerous locations across the globe, even during the global pandemic," Gen. Tim Ray, commander of the Air Force Global Strike Command and Air Forces-Strategic, said in the news release.
olson.wyatt@stripes.com Twitter: @WyattWOlson