Air Force Col. Cunningham to lead 18th Wing in Okinawa
by
Matthew M. Burke
May 22, 2017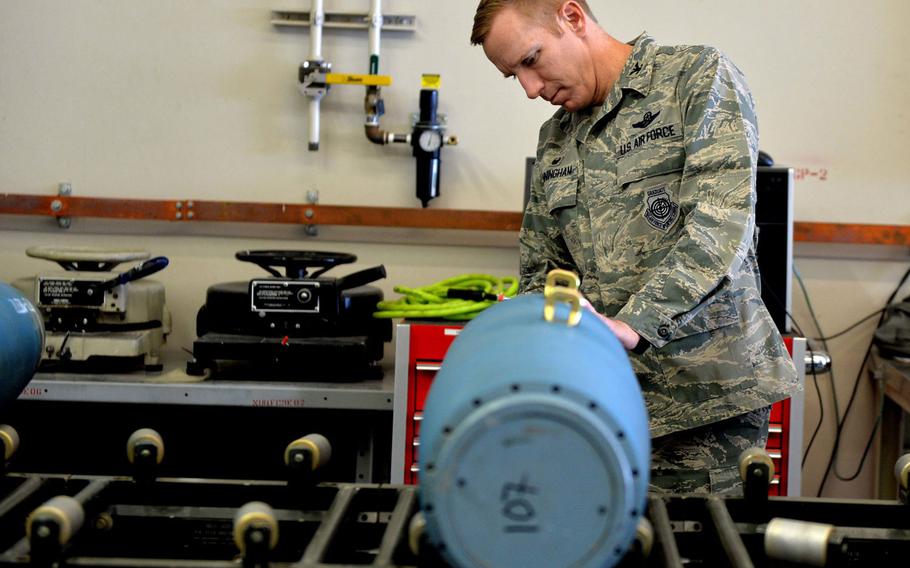 CAMP FOSTER, Okinawa — Air Force Col. Case Cunningham has been selected to replace Brig. Gen. Barry Cornish as commander of the 18th Wing at Kadena Air Base in Okinawa.
The decision was made by the Air Force chief of staff and announced Friday, according to a Defense Department statement.
Cunningham has also been chosen for promotion to brigadier general. He comes to the 18th Wing from his post as commander of the 432nd Wing and 432nd Air Expeditionary Wing, Air Combat Command, Creech Air Force Base, Nevada.
The 18th Wing is the Air Force's largest combat wing, operating out of the service's largest base in the Pacific, according to the 18th Wing website.
Cunningham graduated from the Air Force Academy in 1994, according to the Las Vegas Review-Journal.
His previous tours have included command of the Air Force's air demonstration team, the Thunderbirds, from 2010 to 2012; vice commander of the 451st Air Expeditionary Wing at Kandahar, Afghanistan - a unit with more than 2,000 airmen and 10 different types of aircraft involved in combat operations; and, special assistant to the director of the Defense Advanced Research Projects Agency.
Cunningham has more than 3,000 flight hours operating F-15 Eagles, F-22 Raptors, F-16 Fighting Falcons, MC-12W Liberty intelligence, surveillance and reconnaissance aircraft and the MQ-9 Reaper, the Review-Journal reported. He also has 525 combat hours over Iraq and Afghanistan.
Cornish, a pilot with more than 2,200 flight hours in the F-15, AT/T-38 and T-37, assumed command of the 18th wing in 2015. He now travels to the Pentagon, where he will serve as deputy director of Operations Team One at the National Joint Operations and Intelligence Center.