Air Force bombers fly over South China Sea in latest foray into contested space
by
Wyatt Olson
May 1, 2020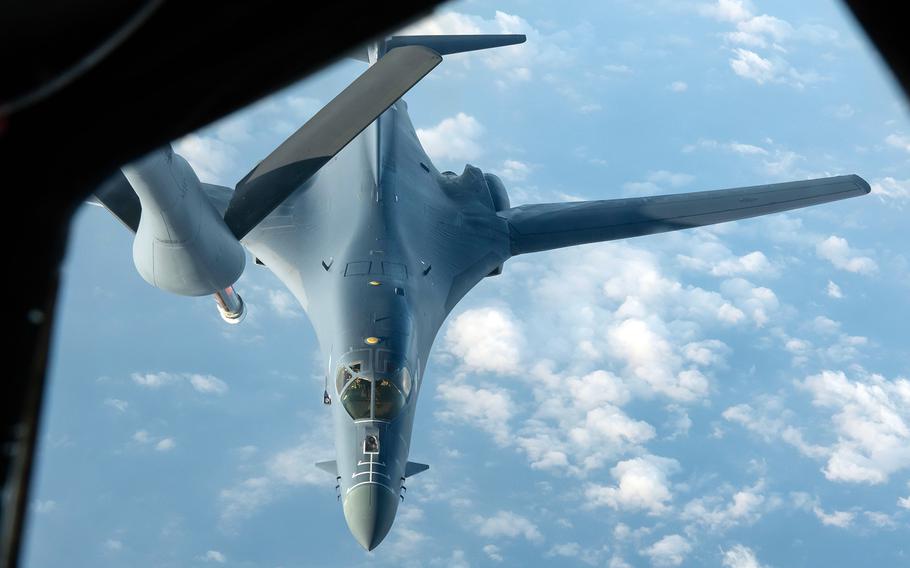 The U.S. military continued its weeklong show of force in the South China Sea with a sortie over the contested waters on Thursday by two Air Force bombers.
The B-1B Lancers from the 28th Bomb Wing at Ellsworth Air Force Base, S.D., flew a 32-hour round trip to conduct operations over the sea as part of a joint bomber task force by the U.S. Indo-Pacific Command and U.S. Strategic Command, the Air Force said in news release Thursday.
The mission further demonstrated the service's new "dynamic force employment model," which is intended to make its global bomber presence less predictable, the Air Force said.
China has claimed sovereignty over much of the South China Sea, an assertion disputed by other nations with competing claims, such as Vietnam, the Philippines, Malaysia and Brunei.
During the past week, Navy warships operated near the Spratly and Paracel islands, two of the archipelagos China has claimed most vehemently.
The guided-missile cruiser USS Bunker Hill sailed near the Spratlys on Wednesday as part of its so-called freedom-of-navigation operations. They are intended to challenge assertions by China and other claimant nations that military passing near the islands must first receive authorization.
The U.S. contends that international law allows for direct passage through the contested archipelagos.
On Tuesday, the guided-missile destroyer USS Barry sailed near the Paracel Islands.
The Air Force sortie on Thursday follows a similar B-1 bomber round trip April 22 from Ellsworth to Japan, where a B-1B Lancer joined 15 Japanese fighters for training near Misawa Air Base.
olson.wyatt@stripes.com Twitter: @WyattWOlson
---
---
---