Air Force bases in Japan toughen restrictions amid uptick in coronavirus cases
---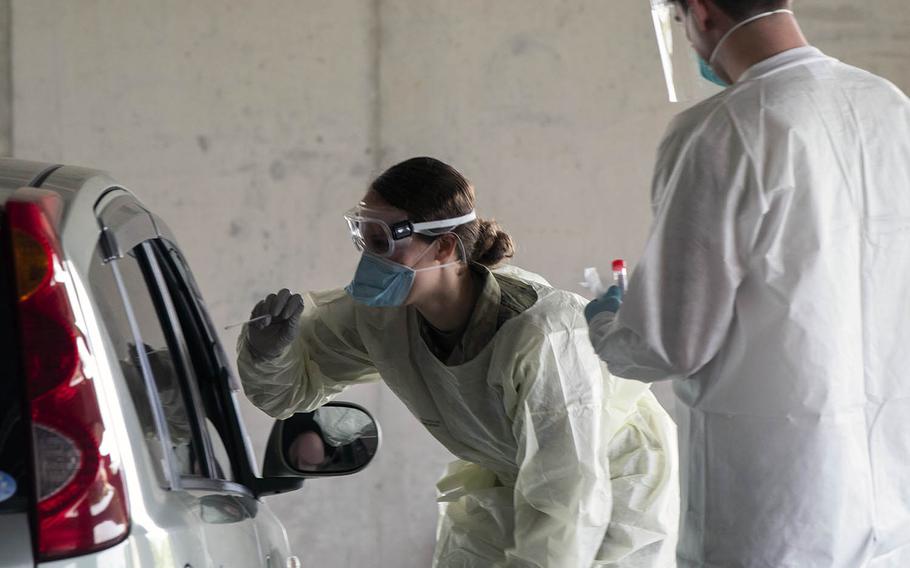 Stars and Stripes is making stories on the coronavirus pandemic available free of charge. See other free reports here. Sign up for our daily coronavirus newsletter here. Please support our journalism with a subscription.
YOKOTA AIR BASE, Japan — The Air Force has tightened restrictions at its bases in Tokyo and Okinawa but is holding off on tougher measures in northeast Japan as the military battles the coronavirus pandemic.
The new rules follow U.S. Forces Japan commander Lt. Gen. Kevin Schneider's declaration Monday of a public health emergency for U.S. military bases in and around Tokyo. Tuesday, Japanese Prime Minister Shinzo Abe announced a monthlong state of emergency for Tokyo and six other prefectures.
At Yokota Air Base in western Tokyo, home of U.S. Forces Japan and 5th Air Force, 374th Airlift Wing commander Col. Otis Jones on Tuesday widened restrictions imposed on active-duty troops late last month. Those restrictions on travel and activity now include U.S. and Japanese civilian workers, contractors, military retirees and family members.
Those with access to the base are now restricted to a local area that includes Yokota or, if they live off base, their homes, wing spokeswoman Capt. Alicia Premo said in an email Tuesday.
"For all personnel that live on Yokota Air Base, they are required to stay on the installation unless traveling within the immediate vicinity of the installation for the purpose of obtaining essential services," she said.
Those who live off base may travel to and from the installation and within its immediate vicinity or their home for essential services, Premo said.
Essential services include take-out food, grocery shopping, gasoline, postal services, medical supplies, veterinary services, household cleaning supplies and shopping for personal care necessities such as toiletries.
"All travel for non-essential services is prohibited," she said.
Non-essential services include but are not limited to sit-down restaurants, bars, night clubs, onsens (hot springs) and public baths, off-base fitness facilities, shopping malls, leisure shopping, movie theaters, arcades, indoor game centers and Pachinko (gambling) halls.
Personnel can participate in outdoor activities on the installation where social distancing can be maintained including, but not limited to, hiking, running, biking and walking a pet, Premo said.
"Before the Public Health Emergency, personnel were allowed to participate in outdoor activities off the installation, but now they are required to participate in outdoor activities on the base," she said.
The military's Tama Hills recreation area — about 15 miles from Yokota — was shuttered Wednesday afternoon, according to a post on the official base Facebook page. It did not say when the facility, which includes a golf course and horse-riding trails, would reopen.
On Okinawa, 18th Wing officials at Kadena Air Base — the only Air Force installation in Japan to have airmen test positive for the virus — noted a jump in new cases on the southern island prefecture, including 12 on Tuesday.
"In response to these changes in the local [coronavirus] threat, 18th Wing is increasing off-base travel restrictions to better protect our #TeamKadena family and our mission," officials said in a Facebook post Tuesday.
The new rules restrict personnel who live on Kadena to base and require those who live on another installation or off base to travel only between their home and work.
However, off-base activities are authorized, including taking kids to and from child care or school; housing and financial activities such as paying rent, utility bills or banking; grocery shopping and buying other essential household items; paying road tax; medical and veterinary care; vehicle repair and gas fill-up; takeout from restaurants and convenience stores, command-authorized health and wellness checks and outdoor exercise such as walking, running and biking, according to the post.
Civilian employees and family members of the 18th Wing and other personnel not associated with the wing are strongly encouraged to follow the above restrictions, the post states.
"Personnel with access to Kadena AB who engage in activities that pose a serious risk of [coronavirus] transmission or threaten the health, safety and welfare of our force could face loss of access to the base," the posts states. "Additionally, for dependents, this could result in loss of command sponsorship and an early return of dependents."
At Misawa Air Base in northeastern Japan, prohibited off-base activities include those banned at other bases, including hotel stays, dining in sit-down restaurants and going to malls, bars or movie theaters, according to the base's official Facebook page.
Misawa commander Col. Kristopher Struve has not yet declared a public health emergency. The base's prefecture, Aomori, is low risk for the virus, the 35th Medical Group said in a public health alert published Wednesday. Only 12 people in Aomori have tested positive and there have been no deaths.
"I don't want to go there when we don't have to," Struve said through a face mask during a virtual town hall on Tuesday, "because once we go there, we will probably be there for a little while."
robson.seth@stripes.com Twitter: @SethRobson1
---
---
---
---