Across Okinawa, US service members, spouses and Japanese workers make masks to combat coronavirus
by
Matthew M. Burke
April 22, 2020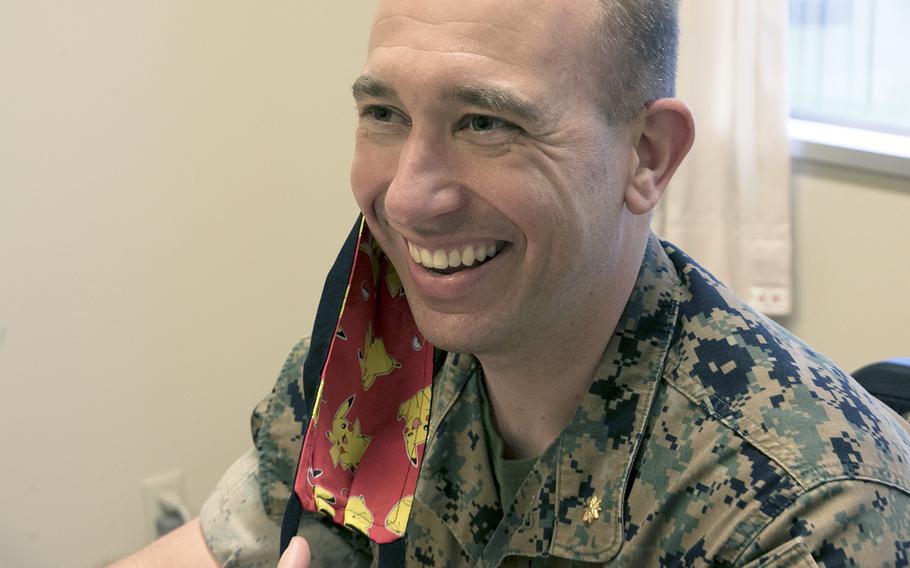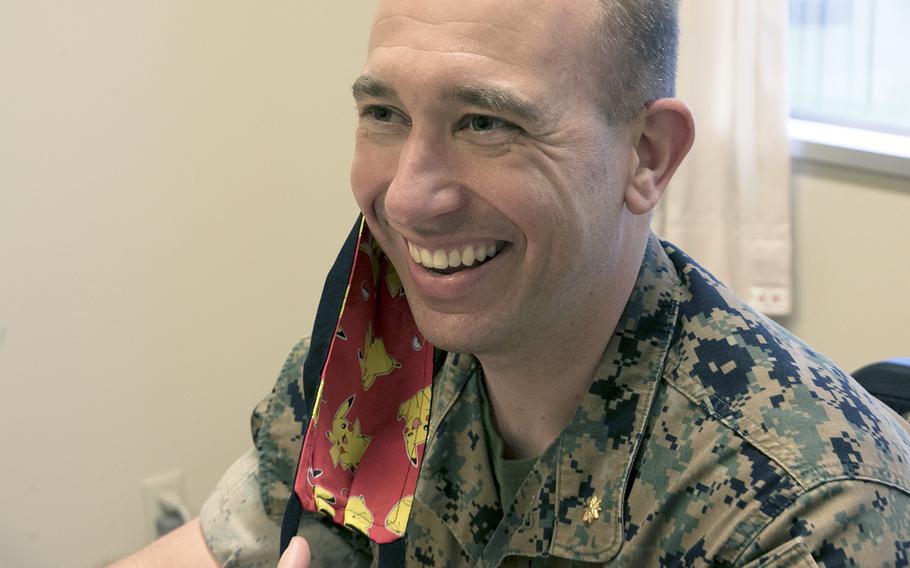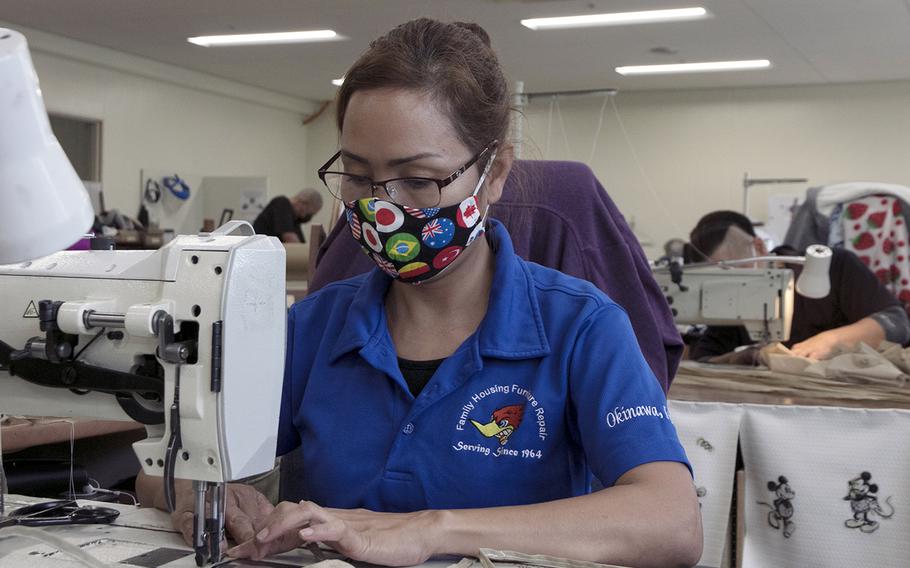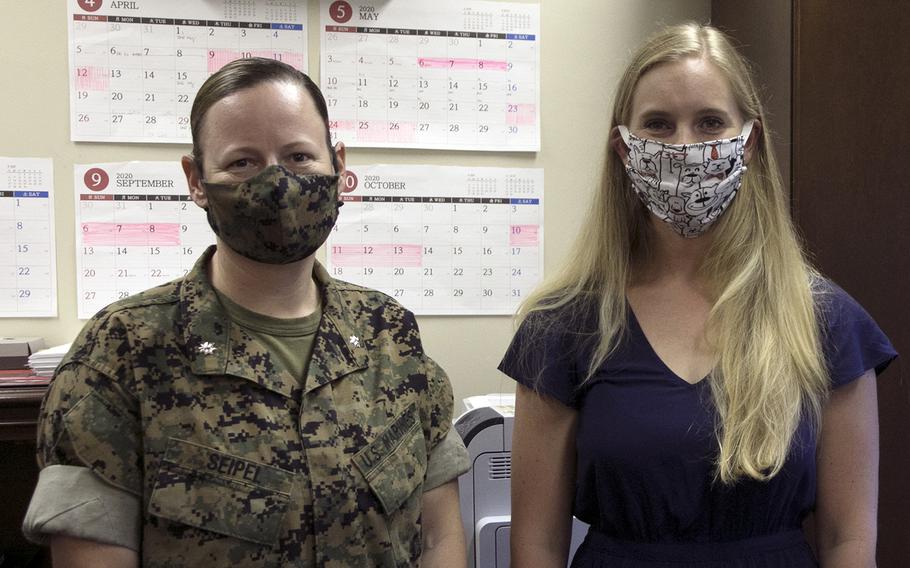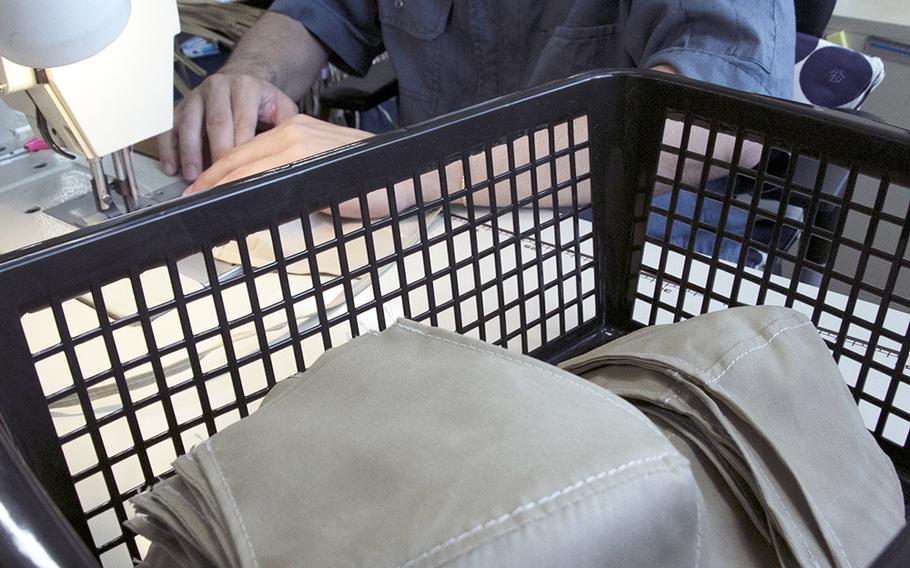 Stars and Stripes is making stories on the coronavirus pandemic available free of charge. See other free reports here. Sign up for our daily coronavirus newsletter here. Please support our journalism with a subscription.
CAMP FOSTER, Okinawa — Nami Takaki maintained a laser focus Monday as she slid and rotated the small fabric ear straps around the hungry needle of her sewing machine at the 718th Civil Engineer Squadron's furniture repair shop, just outside the gate to Okinawa's Camp Shields.
Takaki, a master labor contract employee, is one of 38 employees alternating daily shifts in the warehouse to churn out masks from furniture dust-cover fabric to help airmen on Kadena Air Base combat the coronavirus.
To date, they have made 1,200 face covers that are being dispersed to commands around the base.
"It's my pleasure to do the masks for everybody," she said. "We love helping people."
On April 5, Defense Secretary Mark Esper ordered cloth face coverings be worn on military installations where social distancing might not always be possible. At U.S. military bases across Japan, service members, their spouses and civilian and Japanese employees have mobilized to ensure everyone has adequate protection.
The furniture repair shop services all of Okinawa's U.S. bases and is the largest in the Department of Defense, said shop chief Pat Allbritton, a former Air Force senior master sergeant. The shop employees repair and reissue loaner furniture to new arrivals as well as those in housing on and off base. Besides Allbritton, the shop is staffed entirely by Japanese contract employees.
The idea to make face coverings was Allbritton's but the employees made it happen, he said. In the weeks prior to Esper's order, permanent change-of-station moves and the return and issuing of furniture had slowed.
The week before Esper's order came down, Allbritton asked Kadena officials if the repair shop could help out by making face masks, he said. One of the shop employees came up with the design, using the 100% cotton dust-cover fabric the shop has in rolls.
They made their first 10 masks on April 6, Allbritton said. They now make about 150 masks per day.
"It makes us feel good and the employees are super motivated about helping out and making something," Allbritton said. "They're not all fabric and upholstery folks. There's painters sewing; there's carpenters cutting and sewing out here, cabinet makers."
They've also made 80 desk shields out of plexiglass, he said. The shields slide into a wooden frame with a slot at the bottom so documents can be passed back and forth.
All the items made to combat the virus are going to the 18th Civil Engineer Group at Kadena and the unit control center, a task force of sorts that includes representatives of each unit, said 18th Wing spokeswoman Staff Sgt. Jessica Smith. Allbritton said the shop employees will continue making masks until they are no longer needed.
At Camp Hansen, Lt. Col. Petra Seipel, the executive officer at the III Marine Expeditionary Force Information Group, and Julie Ferns, a Marine spouse, put out a call on Facebook looking for like-minded people to help sew masks for the Marines of the group, Seipel said Tuesday. They recruited about 10 others who began working from their homes on April 7.
"We tend to get forgotten up here so I wanted to get as many volunteers as we could to make as many masks as possible," Ferns said.
They have since made about 400 masks, which have been distributed around the base. "Part of being a leader is taking care of your Marines," Seipel said.
The executive officer has sewn about 60 masks herself after work the past few weeks. She provides them free to any Marine who wants one, via a basket outside her office.
"It's been great to see everybody come together and support the Marines to make sure we get them what they need," she said.
As of Wednesday, Okinawa prefecture has reported 131 confirmed coronavirus cases, not including two U.S. airmen and a family member from Kadena Air Base and a woman who traveled to Okinawa from Tokyo and was counted in another prefecture, according to the Okinawa Times newspaper.
burke.matt@stripes.com Twitter: @MatthewMBurke1