AAFES' gas prices fall as coronavirus pandemic shrinks demand
---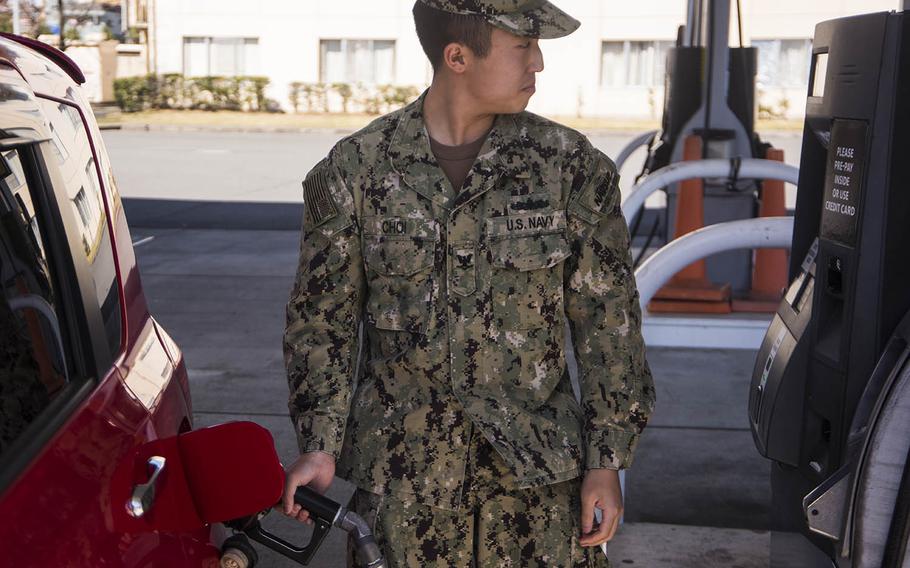 Stars and Stripes is making this story and other coverage of the coronavirus pandemic available free of charge. See other stories here, and sign up for our daily coronavirus newsletter here.
YOKOTA AIR BASE, Japan — Fuel prices at overseas military bases are feeling the effects of the coronavirus pandemic, though they haven't dropped as much as they have in Kentucky, where one gas station made news for selling out of 99 cents-per-gallon gasoline.
The Army and Air Force Exchange Service cut gas prices by 13 cents per gallon Friday at its stations in mainland Japan, Okinawa and South Korea.
On mainland Japan and Okinawa, a gallon of regular gasoline dropped from $2.43 to $2.30. That's well down from early January, when the price was $3.26.
In South Korea, AAFES' price fell from $2.46 to 2.33. On Guam, it went from $2.43 to $2.31.
Elsewhere, gas got about 11 cents cheaper per gallon in Germany, Netherlands, England, Turkey and the Azores, where Super and Super Plus grades cost between $2.86 and $3.20 per gallon. The price in the Netherlands dropped 29 cents to $3.46 for a gallon of super grade gas.
Falling demand due to the economic shock over the global pandemic has combined with surging output by Saudi Arabia to push down prices, CBS News reported March 8.
The Wall Street Journal website showed crude oil trading at $25.78 per barrel Friday, less than half of what the commodity sold for in January.
The national average price of a gallon of gas was $2.22 on Wednesday, Houston CBS affiliate television station KHOU11 reported in a story predicting that prices could fall much further.
A BP station in Kentucky sold out of its supply Wednesday after lowering the price to 99 cents per gallon, Fox News reported Thursday.
At Yokota, home of U.S. Forces Japan in western Tokyo, Petty Officer 3rd Class Philip Choi, of Baltimore, was gassing up at an exchange station Friday afternoon.
"I don't think it's much of a change but it's good enough to be able to still get around," he said of the price drop.
Nearby, Airman 1st Class Samuel Kim of Anaheim, Calif., fueled up his Subaru Legacy.
"I'm from California, so I'm used to gas at, like, $4, so I'm enjoying this," he said.
Stars and Stripes reporter Theron Godbold contributed to this report.robson.seth@stripes.com Twitter: @SethRobson1
---
---
---
---