A Yokota Air Base group is producing a new talk series, but don't call it TED
---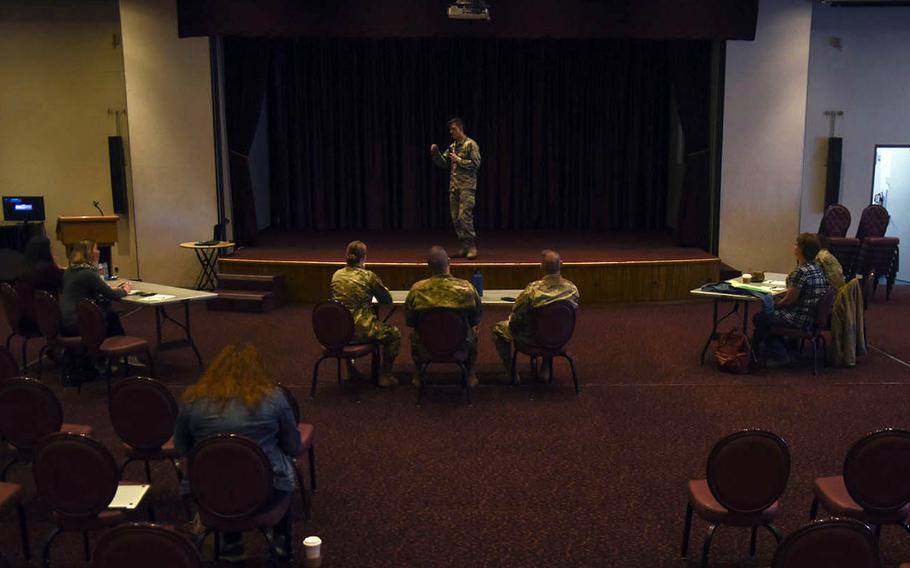 YOKOTA AIR BASE, Japan — A daylong series of brief, live presentations here on March 27 are planned around individual speakers expounding on an idea, just like a TED Talk.
But don't call it a TED Talk. Instead, call it Yokota Hanashiba, a Japanese word that means "talking place."
The organizers of Yokota Hanashiba wanted to produce a TEDx event but the TED Foundation, the U.S.-based nonprofit organization that owns the rights, would not license an event on an overseas military base, said Debbie Stevens, community support coordinator for the 374th Airlift Wing at Yokota.
So, she said, the plan evolved into something like TEDx, a series of talks and videos before a live audience at a local venue, in this case the ballroom at the Yokota Officer's Club.
"Putting this together has been like a riddle," she said. "We have kept to the TEDx format in preparation for trying [again] in the future."
TED stands for technology, entertainment and design. The organization is probably best known for short, pithy, inspirational videos on numerous topics by a variety of speakers posted on the TED website and YouTube.
The theme of Yokota Hanashiba is "Voices of Yokota," with speakers from a "diverse community," including a military spouse, a citizen of Japan and a teacher from the Defense Department schools on base, Stevens said.
"We didn't want only big named and polished folks," she said. "We wanted all the stories to be told."
About 10 people are expected to speak during the day, said Air Force 1st Lt. Tim Barbera, who plans on giving a talk about how social media uses up an inordinate amount of an individual's time.
"I just wanted to share some of the things I've learned," Barbera said. "I think we get locked into routine, our vision narrows in [our] day-to-day and events like this allow us to take stock."
Each "talk" should last no longer than 18 minutes, Stevens said.
Seating will be limited to 100, including staff. Tickets will go on sale March 13 to Defense Department ID cardholders. Stevens said they would likely cost $10. The event, scheduled to run from 9 a.m. to 2:30 p.m. with a lunch break, will be livestreamed on Facebook.
godbold.theron@stripes.com Twitter: @TheronGodbold
---
---
---
---