5 still missing after Army helicopter crashes in Hawaii; debris found
by
Wyatt Olson
August 16, 2017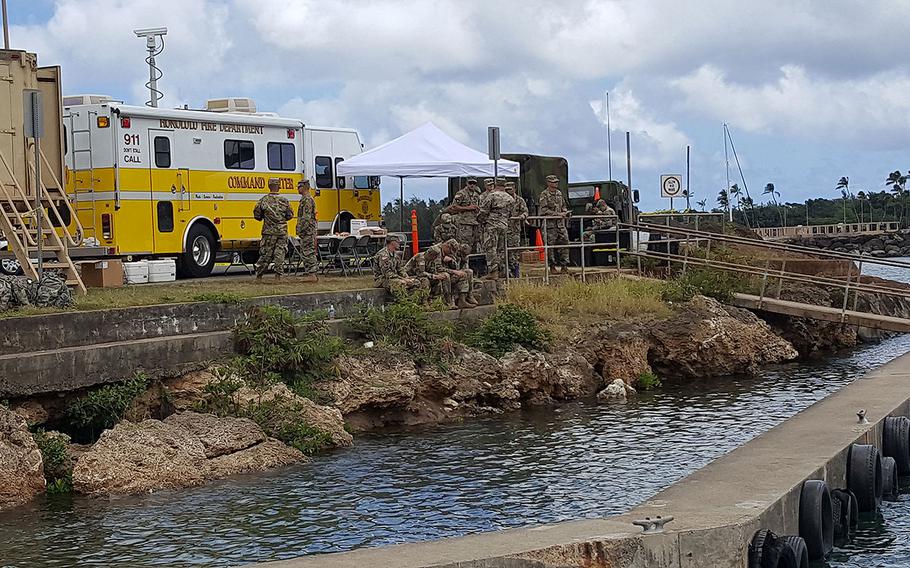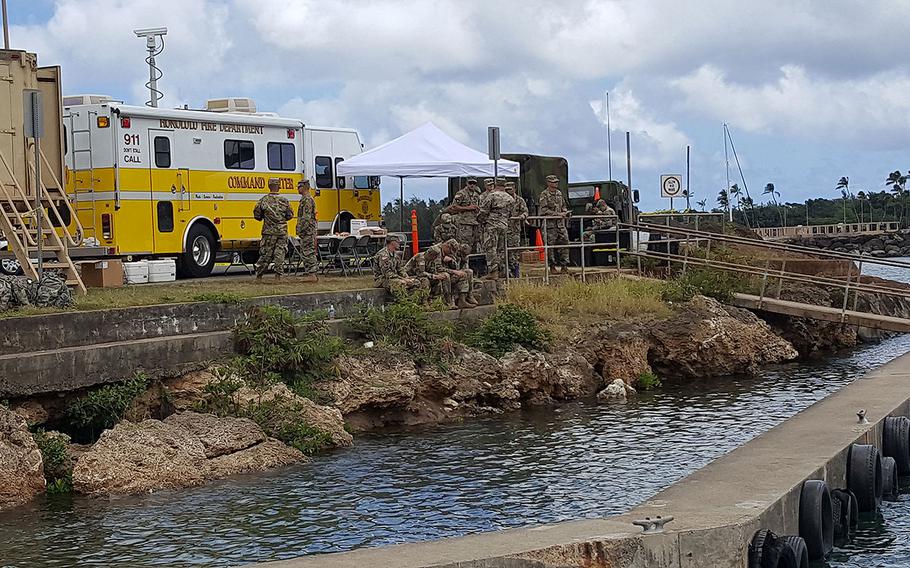 HALEIWA, Hawaii – Searchers spent Wednesday retrieving wreckage from an Army helicopter that went missing the night before about 5 miles off the coast of northwest Oahu; however, no trace of the five crew members had been found by mid-afternoon.
The Army had contacted family members of the UH-60 Black Hawk's two pilots and three crew members, said Lt. Col. Curt Kellogg, a 25th Infantry Division spokesman, during a news conference at the search's command center in Haleiwa Harbor. He did not identify the soldiers, who are with the 25th Combat Aviation Brigade based at Wheeler Army Airfield, Oahu.
"This is still a search-and-rescue operation," Kellogg said.
Using computer modeling, the Coast Guard is determining how the currents in those waters would likely be carrying debris and surviving crewmen, Coast Guard spokesman Lt. Scott Carr told reporters.
The water depth under the debris field is 500 to 600 feet, said Capt. David Jenkins of the Honolulu Fire Department.
Air and sea vessels from the Coast Guard, Army, Marine Corps and Honolulu Fire Department have been searching for survivors and debris near Kaena Point since late Tuesday night.
The Black Hawk was one of two helicopters conducting routine night training. It lost radio contact with personnel at Wheeler Army Airfield at about 9:30 p.m., at which time the second helicopter made a preliminary search.
That helicopter then returned to Wheeler, where it picked up a second helicopter before returning to continue the search, Kellogg said.
The Coast Guard was called in at about 10 p.m., bringing with it an HC-130 Hercules plane, MH-65 Dolphin helicopter and 87-foot and 45-foot cutters. The larger cutter will continue to search overnight to Thursday, Carr said.
Marine Corps helicopters have also joined in the search.
Stars and Stripes reporter Corey Dickstein contributed to this report.olson.wyatt@stripes.com Twitter: @WyattWOlson