3 USS Ronald Reagan jet squadrons to relocate to Iwakuni this fall
by
Tyler Hlavac
August 18, 2017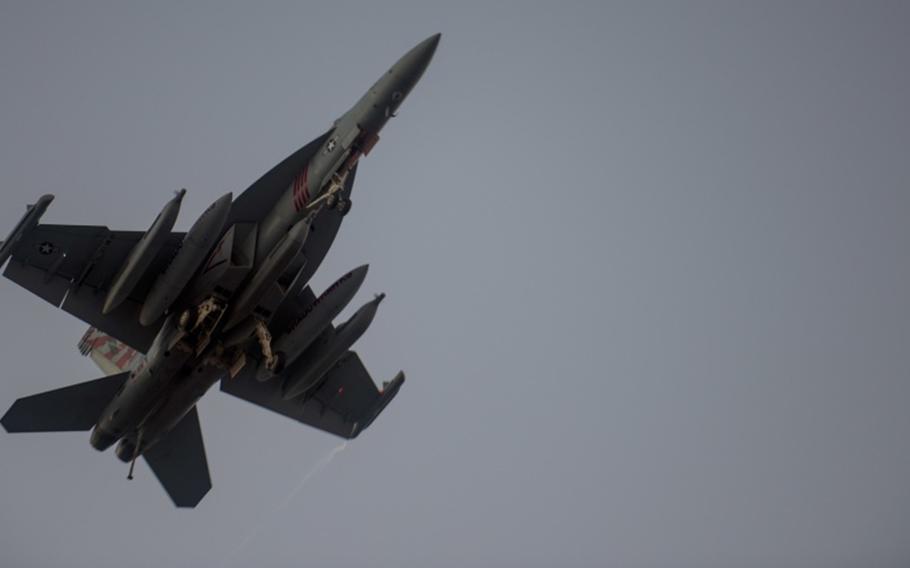 YOKOSUKA NAVAL BASE, Japan — Three squadrons from the USS Ronald Reagan strike group will relocate from Atsugi to Iwakuni this fall, the Navy announced Friday.
Strike Fighter Squadrons 115 and 195, along with Electronic Attack Squadron 141, will transfer from Naval Air Facility Atsugi to Marine Corps Air Station Iwakuni after the Reagan completes its fall patrol, the statement said.
The squadrons will join Carrier Airborne Early Warning Squadron 125, which arrived in Iwakuni last February and replaced the Atsugi-based Carrier Airborne Early Warning Squadron 115.
Both fighter squadrons fly the F/A-18E Super Hornet while VAQ-141 flies the EA-18G Growler on electronic countermeasure missions, the statement said.
The move is the latest step in efforts to transfer the bulk of Carrier Air Wing 5's nine squadrons to Iwakuni.
All of the unit's fixed-wing aircraft squadrons are scheduled to go there, with two helicopter squadrons remaining at Atsugi. The Navy has yet to announce a timetable for the relocation of Strike Fighter Squadrons 27 and 102 and Detachment 5, Fleet Logistics Support Squadron 30.
The relocations are based on construction of facilities for the squadrons at Iwakuni, the Navy statement said.
Naval Forces Japan Commander Rear Adm. Gregory Fenton has said that the moves, which will see the air station's population double to 10,000, are on track.
"The U.S. and Japanese governments have agreed to a timeline of the transfer," he said at a June change of command ceremony. "We've seen part of that executed. So, the process has initiated and we fully intend to adhere to the timelines we've agreed to with the government of Japan."
After the moves, Naval Air Facility Atsugi will continue to be used for training, refueling and maintenance purposes, the Navy statement said.