Video/gallery
20 soldiers battle to become 2ID's best warriors
by
Marcus Fichtl
April 15, 2018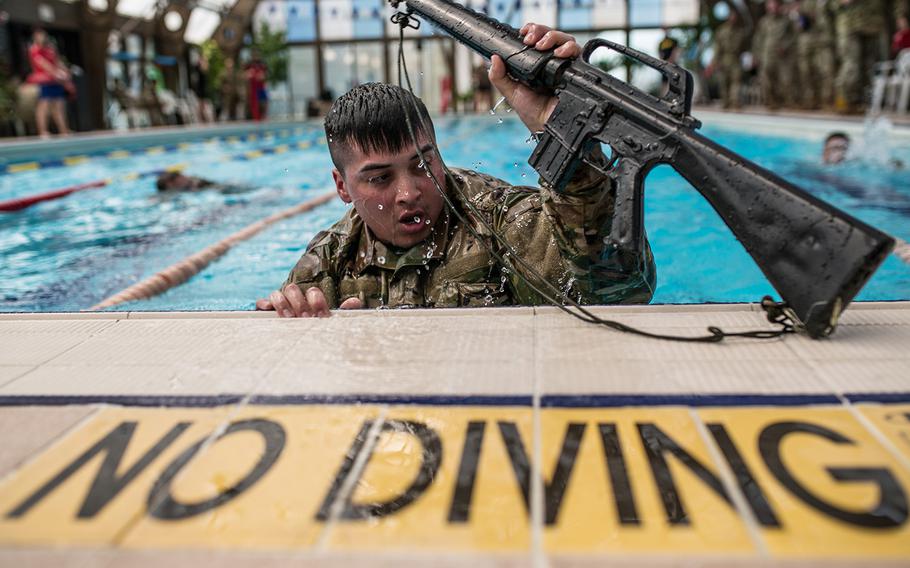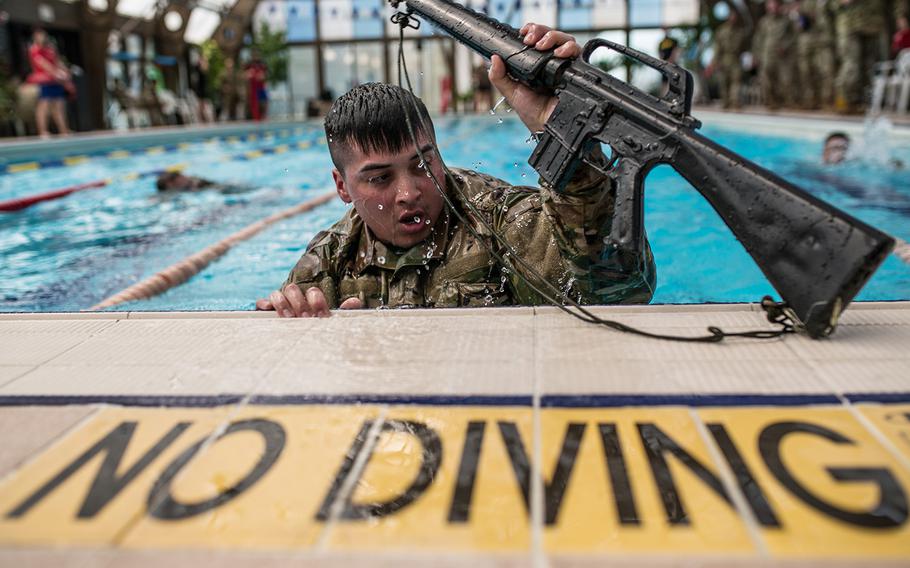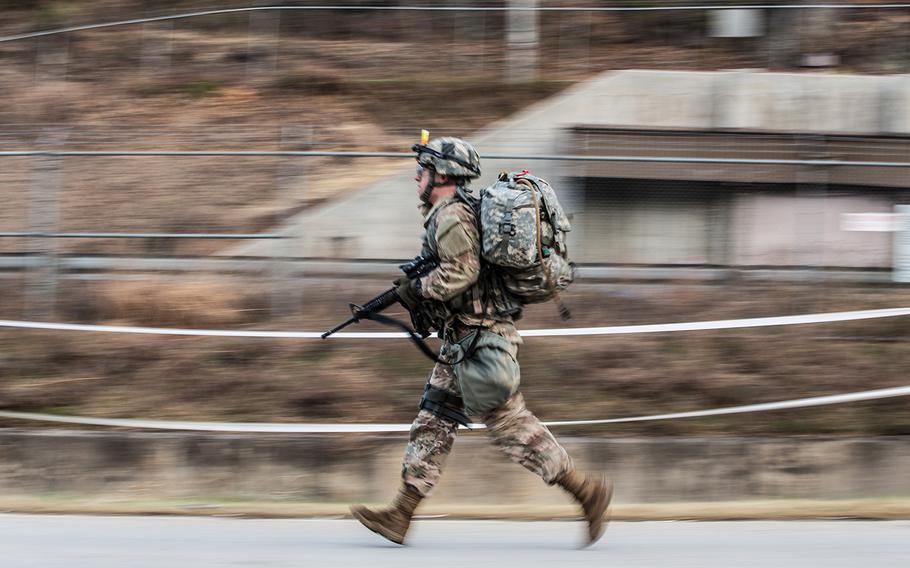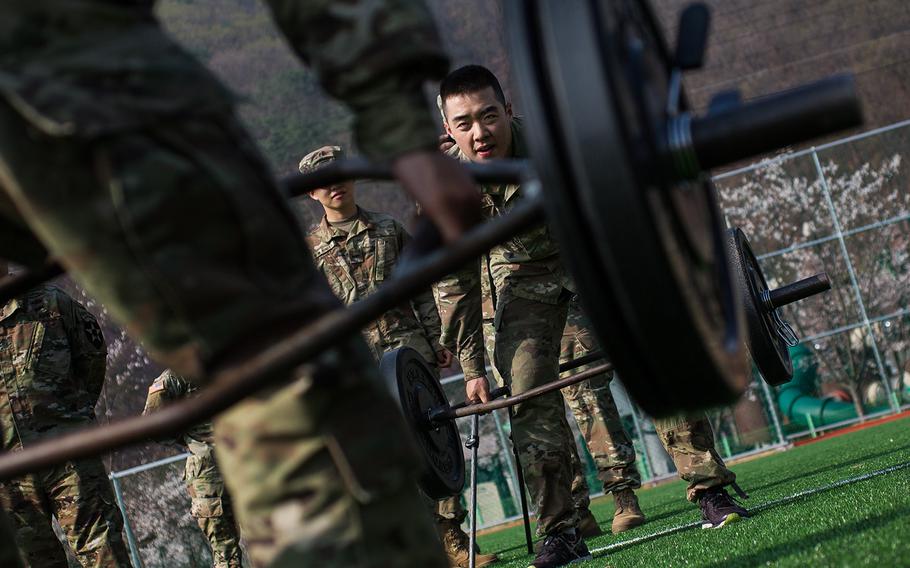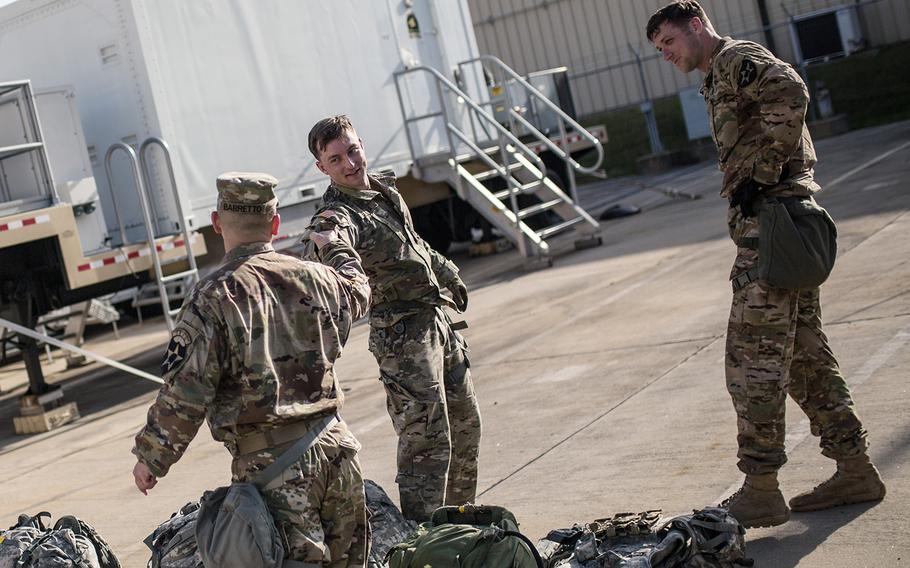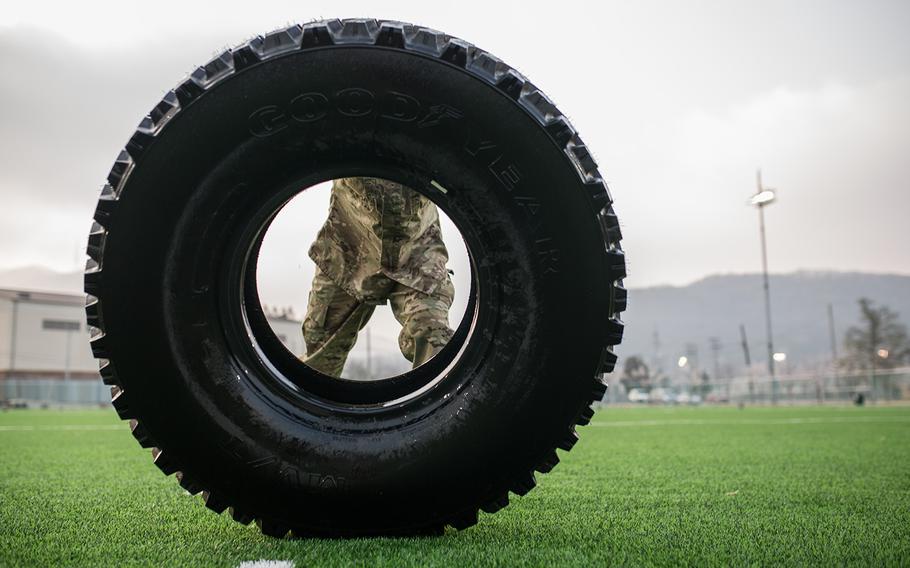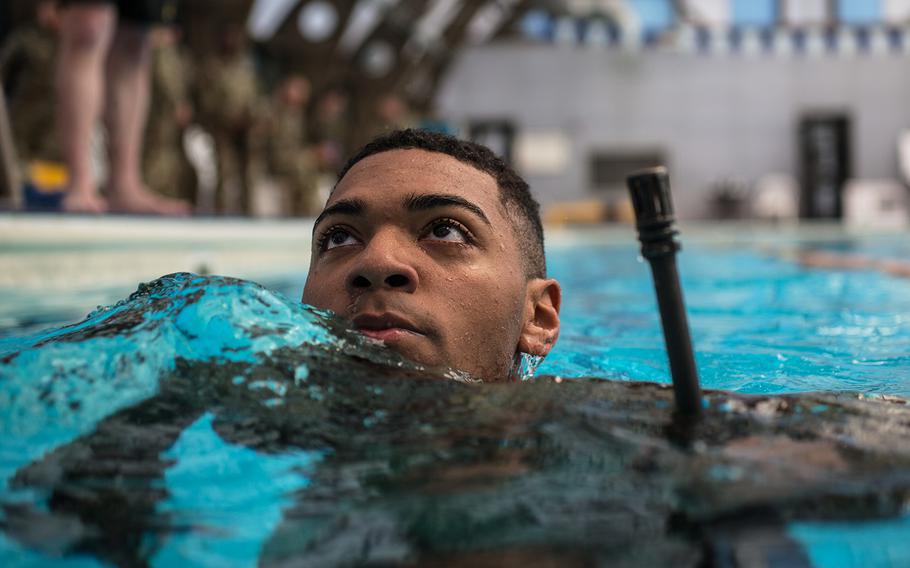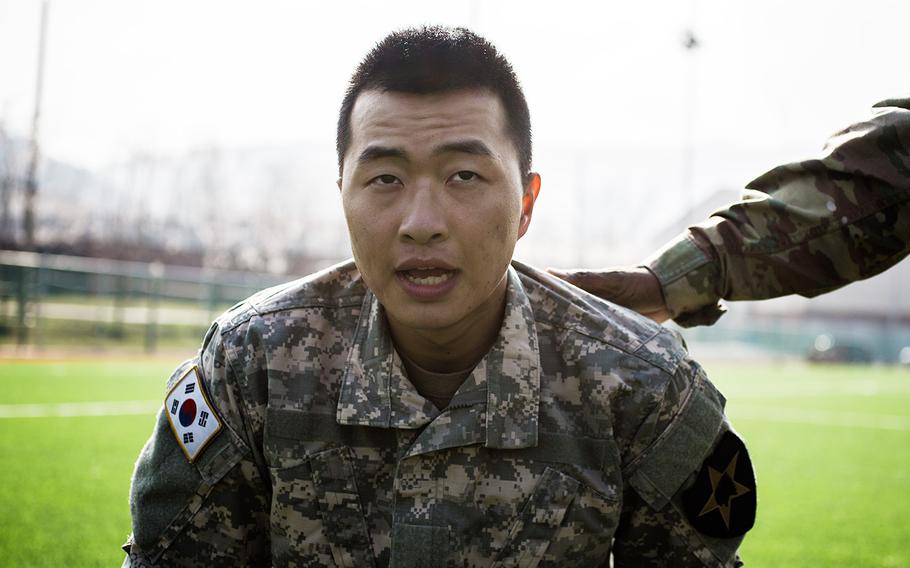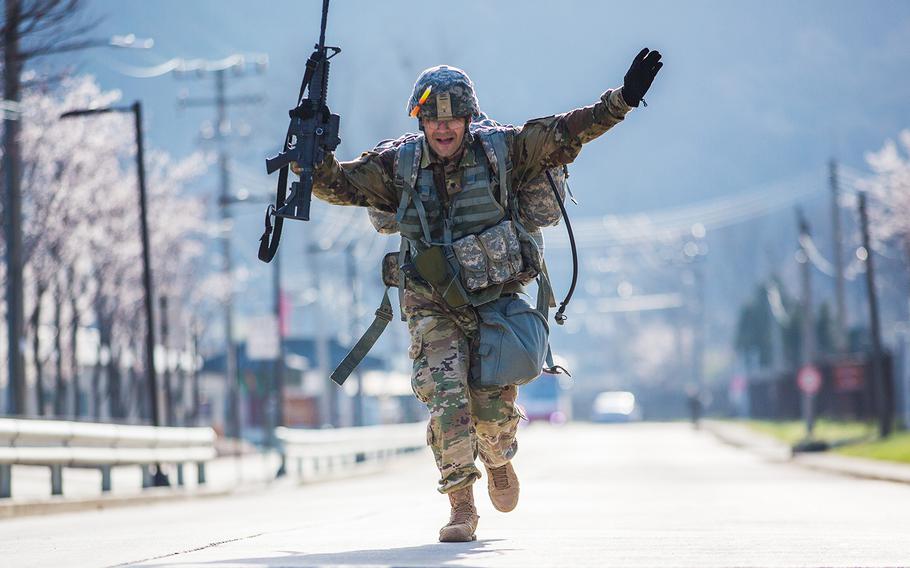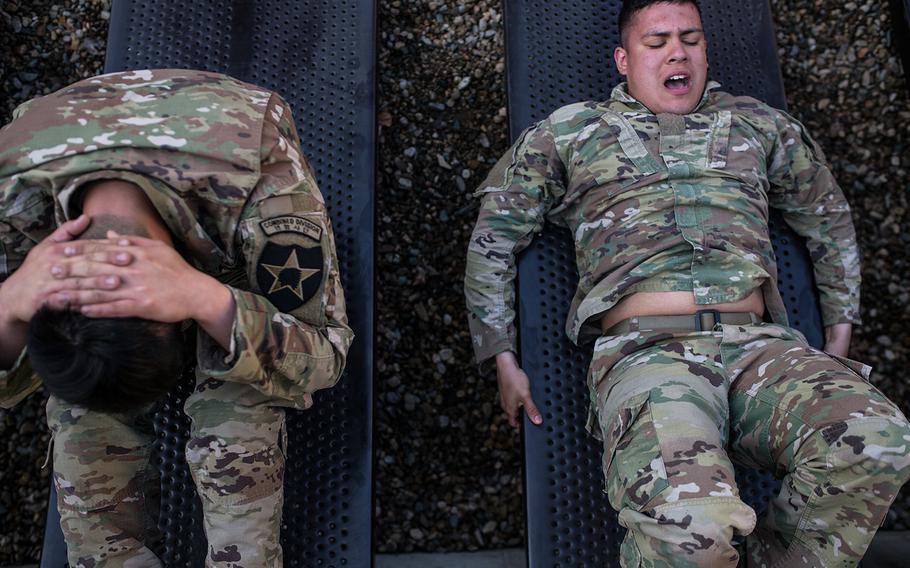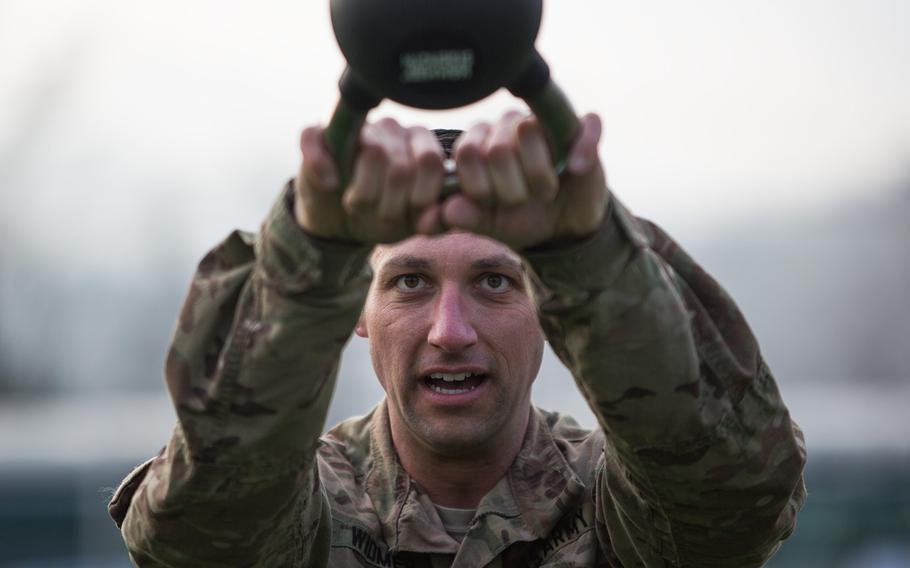 CAMP CASEY, South Korea — Some 2nd Infantry Division troops are involved in a grueling competition that tests their ability to march, swim and shoot at bases just south of the Demilitarized Zone.
Twenty soldiers — already champions of brigade-level contests — have been vying to be named the division's best soldier, noncommissioned officer, officer and KATUSA (Korean Augmentation to the U.S. Army).
The "Best Warrior" winners, which will be named Friday, will progress to the Eighth Army level and then possibly to the U.S. Army Pacific event. Those who make the grade will compete in an Army-wide contest later this year.
The troops have been tested on mastery of the fundamentals of soldiering, said 2nd ID Command Sergeant Major Phil Barretto.
"You're the best at your brigade right now," he told Stars and Stripes on Wednesday about what he said to the competitors. "Now I'm asking: 'Let's see who's the best in the division.' "
The competition started last Monday with a nearly 12-mile orienteering course where troops were tested on various tasks from calling for a medical evacuation to assembling an M9 pistol. They shot at targets while under stress, survived jumping into water and ruck-marched another 12 miles in under three hours.
Barreto called the events a "suck fest" that have made him more proud of his soldiers.
"I have a KATUSA who's never been in the water — in a pool ever," he said. "But you know what he told me, 'I'll learn to swim when I jump in, sergeant major.'"
Spc. Joong Gur Yoon, an intel soldier from the division's headquarters battalion, said he tested his physical limits every day of the competition.
"When I woke up this morning, I couldn't move," said the 28-year-old from Raleigh, N.C. "I didn't think I could do it, but we pumped each other up and went out there."
He finished just under the three-hour time limit.
Sgt. 1st Class Terrance Widmer, a chemical specialist with the 23rd Chemical Battalion and a graduate of the Army Ranger School, said he competed to set an example.
"Even though the E-4s aren't competing with me as an NCO, they want to beat you. Even though the officers aren't competing with you, they want to beat you," said the 34-year old from Ancona, Ill. "It makes them be better."
While Eighth Army has toned down its "Fight Tonight" rhetoric ahead of a potential meeting between President Donald Trump and North Korean leader Kim Jong Un, Barretto said his troops are training as hard as ever.
"2ID soldiers, we're quiet professionals right now," he said. "No one's talking crap, and we don't need to. Our actions speak louder than words."
Twitter: @MarcusFichtl
---
---
---