President Santos: Colombia may miss peace deal deadline
---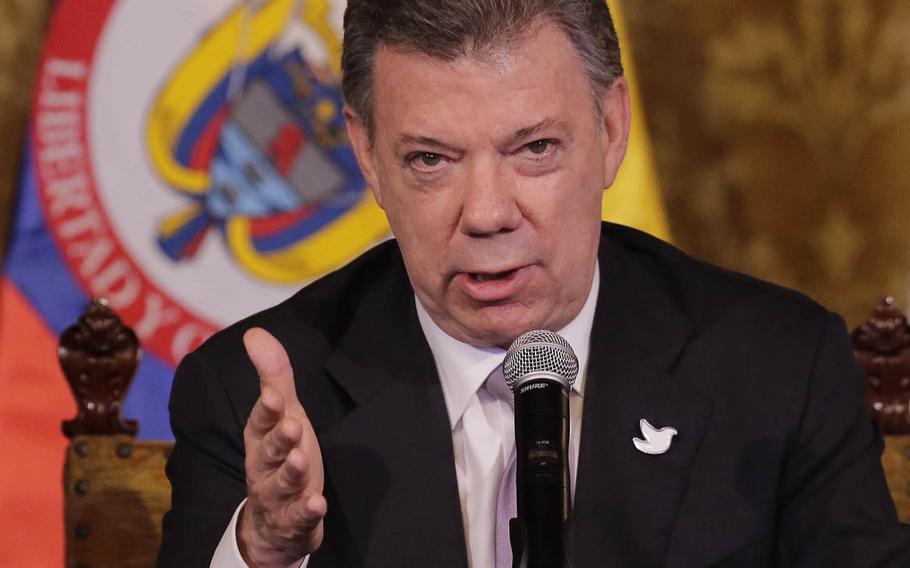 BOGOTA, Colombia — Colombian President Juan Manuel Santos acknowledged Wednesday that his government may miss a fast-approaching deadline to sign a peace deal with rebels and end the main part of the country's decades-long conflict.
"I'm not going to sign a bad agreement to meet a date," he Santos said at a public event. It was his first public statement acknowledging that the two sides may miss the March 23 deadline they agreed to last year.
Santos says if the government and the Revolutionary Armed Forces of Colombia have not come up with an acceptable deal, they will simply set a new deadline.
The two sides have come to agreements on many key issues in recent months during talks in Havana, but still have to hammer out a plan for disarming the guerrillas. A smaller rebel group has not joined the talks.
Because of the progress, U.N. Secretary-General Ban Ki-moon appointed veteran U.N. envoy Jean Arnault of France to head the new U.N. political mission in Colombia that will monitor and verify a future cease-fire. The announcement was made Wednesday.
Arnault has been leading U.N. preparations for deployment of the mission and has been working closely with negotiating teams for the government and the rebels on a sub-commission dealing with issues on ending Latin America's longest-running guerrilla conflict.
Arnault previously led U.N. missions in Georgia, Afghanistan, Burundi and Guatemala.
---
---
---
---