Esper, Trump say SOUTHCOM counter-drug fight has captured 120 metric tons of cocaine, 18,000 pounds of pot
by
Corey Dickstein
July 10, 2020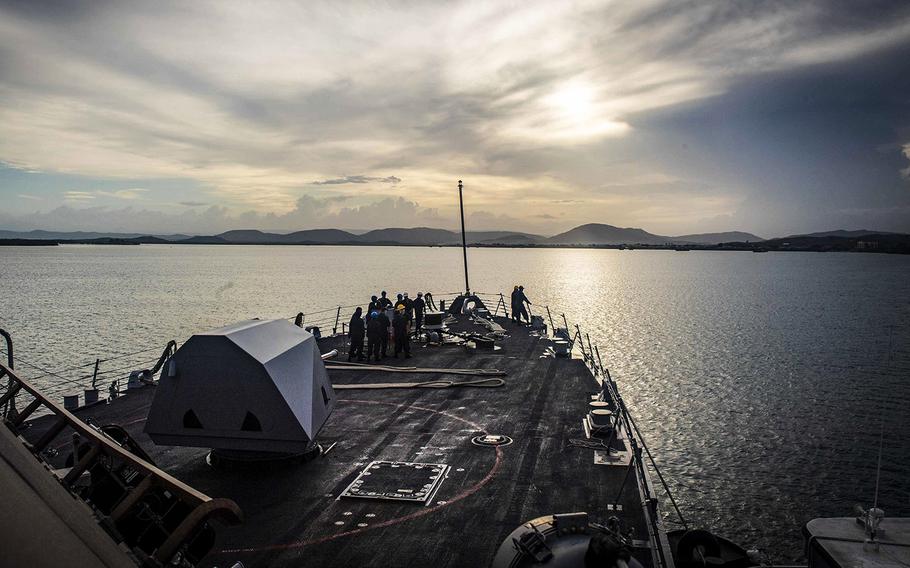 WASHINGTON — Three months into an increased effort to combat drug traffickers in South and Central America, the U.S. military has captured more than 120 metric tons of cocaine and 18,000 pounds of marijuana headed for U.S. shores, top American officials said Friday.
The Pentagon has flooded waters in U.S. Southern Command's area of operations off South and Central America with a 75% increase in surveillance aircraft and 65% more ships than usual as part of the operation launched April 1, Defense Secretary Mark Esper said. The Pentagon's top official said the new operations had "shown great success" already cutting into an estimated $90 billion drug-trafficking operation that benefits "bad actors," including Mexican cartels and Venezuela's embattled leader President Nicolas Maduro, who the United States has labeled illegitimate.
"Transnational criminal organizations have destroyed far too many American lives by smuggling heroin, cocaine, fentanyl and methamphetamines into our country, leading to drug overdoses and addiction in our communities," Esper said Friday during a visit to SOUTHCOM's Miami headquarters alongside President Donald Trump.
Esper said SOUTHCOM now has about one dozen Navy and Coast Guard ships patrolling waters in the Caribbean Sea and eastern Pacific Ocean and 15 military and law enforcement aircraft conducting intelligence, surveillance and reconnaissance missions in the region.
In brief remarks, Trump announced Coast Guard forces in May had found and halted three cartel submarines carrying "thousands of pounds" of narcotics. He warned the drug traffikers that they would be caught, saying the United States has apprehended about 1,000 suspected traffickers since April 1.
The Department of Justice has brought charges against at least 60 suspected drug smugglers so far as a result of the operation, said Amanda Liskamm, an associate U.S. deputy attorney general, who joined the delegation visiting Southern Command.
"We are taking the fight directly to the sinister cartels, and we are showing them no mercy," Trump said. "We are doing numbers like nobody thought possible. … Our message is clear: You will not threaten our citizens, you will not poison our children, and you will not infiltrate our borders. We will find you, we will stop you, and we will put everybody that we find behind bars, if you're lucky."
Military officials have said in recent months that the increase in operations in the SOUTHCOM region has been the largest boost in activity there in decades. Top Southern Command leaders, going back years, have continuously asked for more resources, especially to combat drug trafficking.
Navy Adm. Craig Faller, the Southern Command chief, said Friday that the increased U.S. commitment to the drug fight has encouraged partner nations to boost their own counter-narcotics initiatives. He said 22 countries in Central and South America have contributed, and credited Colombia and Brazil especially, for sending military generals to work alongside him in his U.S. headquarters.
The increased efforts have resulted in an about 15% uptick in "disruptions" of drug-trafficking operations and a 60% boost in the military's ability to target suspected narcotics smugglers, Faller said.
"I'm proud to say these efforts are … saving lives," he said.
dickstein.corey@stripes.com Twitter: @CDicksteinDC