US troops' 'incredible heroism' was key to repelling deadly Kenya attack, AFRICOM says
By
Stars and Stripes
January 16, 2020
---
STUTTGART, Germany — A small team of U.S. troops demonstrating "incredible heroism and courage" were responsible for fighting off militants who stormed a base in Kenya early this month in a raid that killed three Americans, a top U.S. Africa Command general said Thursday.
An investigation is underway into events surrounding the Jan. 5 attack at Manda Bay Airfield in coastal Kenya, but an initial assessment credited quick action by U.S. forces for repelling al-Shabab fighters who swarmed the base, AFRICOM's Maj. Gen. William Gayler said.
"We had a very small U.S. force following the initial attack absolutely repel the al-Shabab attackers away from the airfield. And they did that under fire," said Gayler, AFRICOM's director of operations. "A very small group of U.S. and Kenyans cleared every single building out at the airfield."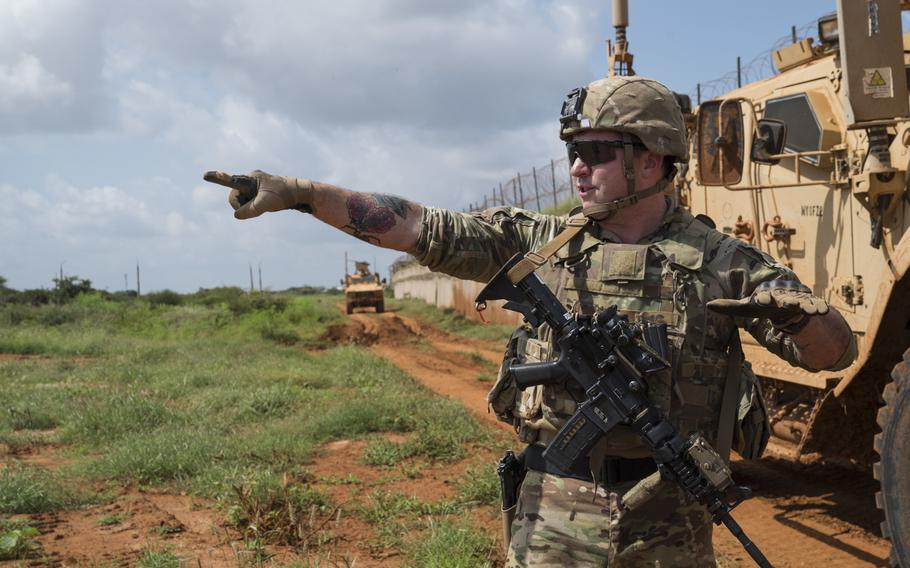 AFRICOM's probe into the circumstances surrounding the attack comes as the Pentagon reviews how the missions of different commands operating in Africa align with a strategy that is increasingly focused on countering Russia and China. The Pentagon is considering reducing AFRICOM's troops on the continent.
But AFRICOM officials say the U.S. has an interest in keeping pressure on terrorist and extremist groups such as al-Shabab. There are roughly 6,000 U.S. military personnel across the continent, including about 700 in Somalia, where al-Shabab is based.
Countering al-Shabab is currently AFRICOM's main focus.
"We know they possess the intent to attack the United States, even in the homeland," Gayler said.
So far, al-Shabab lacks the capacity to strike outside of Africa, but that could change if pressure on the group is lifted, AFRICOM has warned.
AFRICOM boss Gen. Stephen Townsend is likely to face questions when he testifies before Congress this month about the attacks in Kenya and whether any threat on the continent merits putting American troops in harm's way. Similar questions were raised after four soldiers were killed in a 2017 ambush in Niger. A special operations mission has since been scaled back.
U.S. troops in Somalia are major targets for al-Shabab, which uses high-profile attacks as a recruiting tool and to rally its force of roughly 6,000 fighters, AFRICOM said.
"They continue to look for soft spots. Anything they can find," Gayler said.
Like the Taliban in Afghanistan, al-Shabab frequently makes exaggerated claims on social media about the damage it inflicts. Over the years, the group has gotten more aggressive in getting its message out and making false claims, AFRICOM said.
Brig. Gen. Gregory Hadfield, AFRICOM's deputy director of intelligence, said the group's ultimate goal is to pressure and force foreign supporters of the Somali government out of the country.
"Al-Shabab wants U.S. and other forces out of Somalia," Hadfield said.
vandiver.john@stripes.com Twitter: @john_vandiver
---
---
---
---