AFRICOM denies Amnesty International claims that US airstrikes killed civilians in Somalia
by
John Vandiver
March 20, 2019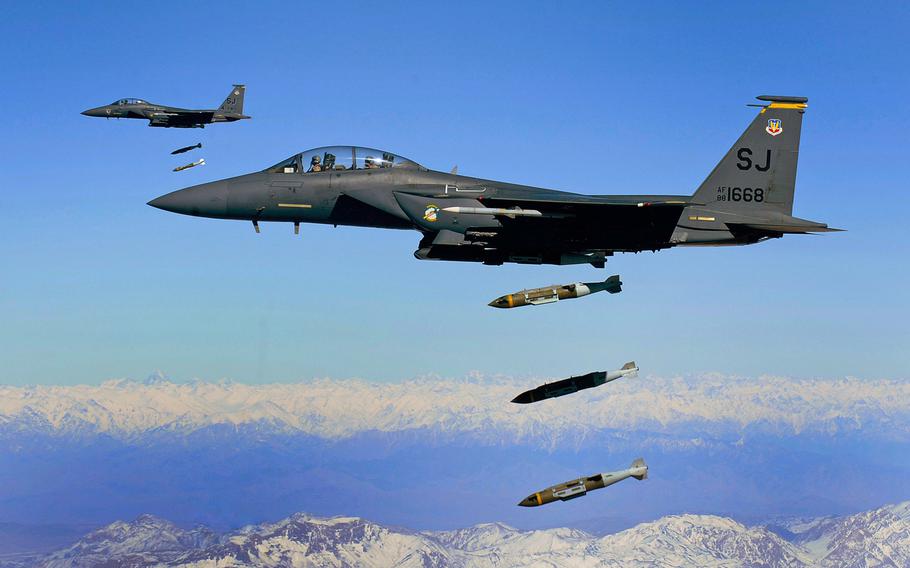 STUTTGART, Germany — U.S. airstrikes have caused the deaths of numerous civilians in Somalia, where the military's targeting methods could be in violation of international law, a new human rights report said Wednesday.
U.S. Africa Command has expanded its counterterrorism mission in Somalia with the number of airstrikes tripling since April 2017 — a spike that coincides with a Trump administration policy to grant military commanders broader authority. During that time, AFRICOM public statements announcing strikes have repeatedly said that no civilians were believed to have been caught in the raids.
However, Amnesty International in a report released Wednesday found five incidents in which 14 civilians were killed and eight injured in strikes. During its investigation, Amnesty said it found "credible evidence" that U.S. strikes in Lower Shabelle — an administrative region in southern Somalia — were responsible for four of the incidents and that the fifth was "most plausibly" caused by a U.S. airstrike.
The reported attacks happened between April 2017 and December 2018.
"In the incidents presented in this report, civilians were killed and injured in attacks that may have violated international humanitarian law (IHL) and could, in some cases, constitute war crimes," Amnesty International said in its report called "The Hidden U.S. War in Somalia."
Hours before the release of the Amnesty report, AFRICOM announced that it carried out another strike in Somalia, which it said killed three terrorists.
"Also, we are aware of reports alleging civilian casualties resulting from this airstrike," AFRICOM said in a Tuesday statement. "As with any allegation of civilian casualties we receive, U.S. Africa Command will review any information it has about the incident, including any relevant information provided by third parties."
Regarding the Amnesty report, AFRICOM said Tuesday: "Our assessments found that no AFRICOM airstrike resulted in any civilian casualty or injury. Our assessments are based on post-strike analysis using intelligence methods not available to non-military organizations."
During its investigation, Amnesty International said it interviewed retired Brig. Gen. Donald Bolduc, former head of U.S. Special Operations Command Africa, who described targeting methods to the group.
While Bolduc did not oversee the five incidents detailed in the report, Amnesty said targets were considered to be lawful based on four criteria: "age, gender, location, and geographical proximity to Al-Shabaab," the report said.
"According to General Bolduc, all military-aged males observed with known Al-Shabaab members, inside specific areas — areas in which the US military has deemed the population to be supporting or sympathetic to Al-Shabaab — are now considered legitimate military targets," Amnesty reported.
In a response to the AI report, AFRICOM said "BG Buldoc's [sic] purported articulation of targeting standards does not accurately reflect the targeting standards of AFRICOM or the [Department of Defense]."
The report spotlights a military campaign that has steadily intensified for several years, generally away from the public eye.
While AFRICOM publicizes its many airstrikes in the country, its assertions about no civilian casualties are getting more scrutiny. Amnesty also said not all strikes are publicly acknowledged by AFRICOM. In its response to Amnesty's allegations, AFRICOM said in four of the strikes at issue, civilian casualties were unlikely "based on contradictory intelligence that cannot be disclosed because of operational security limitations."
AFRICOM denied carrying out the fifth incident listed by Amnesty.
Amnesty called on the U.S. to conduct an independent investigation, acknowledge civilian casualties and offer compensation to the families of survivors.
The Pentagon says it has about 500 military personnel in Somalia, where AFRICOM conducted 47 airstrikes in 2018 and 35 the year before. So far, AFRICOM has launched about 30 strikes in 2019.
Somalia has emerged as AFRICOM's main effort during the past three years. U.S. special operations troops also serve on the front lines in the country as advisers to government forces.
The military push comes ahead of the anticipated departure in 2020 of a multinational African force, which has led the decadelong battle in Somalia against the insurgents. The U.S. aim is to weaken the group and prepare government forces to lead the fight once the African Union force ends its deployment.
Amnesty said security concerns and access restrictions prevented it from doing on-site investigations for its probe. Instead, interviews took place in-person or over encrypted voice calls placed from phones located outside al-Shabab-held territory, the organization said.
Amnesty said it interviewed 65 witnesses and survivors of the five alleged U.S. airstrikes at issue.
vandiver.john@stripes.com Twitter: @john_vandiver