101st Airborne troops deploy to Somalia for training mission
by
John Vandiver
April 14, 2017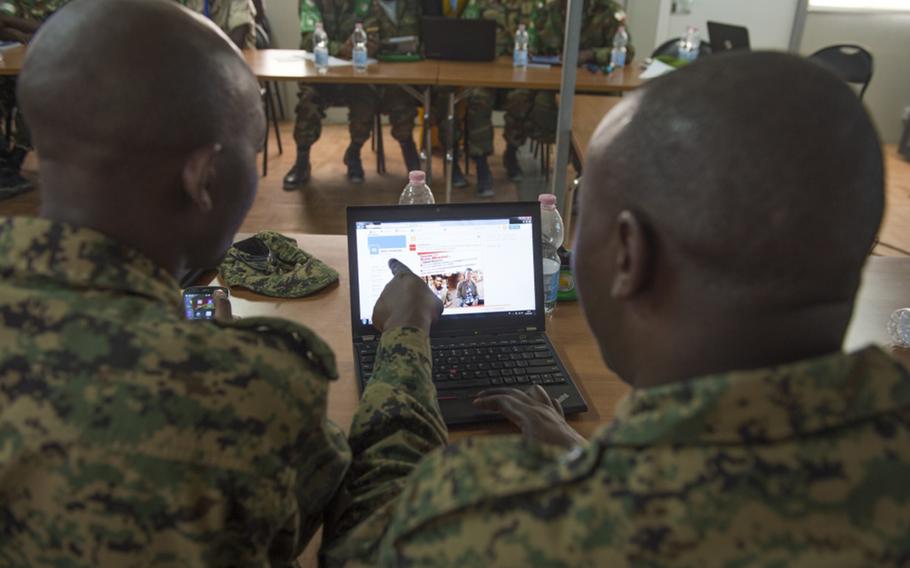 About 40 soldiers from the 101st Airborne Division have been dispatched to Somalia as efforts intensify to improve the capabilities of local forces entrenched in a multiyear battle with Islamic militants.
The Fort Campbell, Ky.-based troops will focus on bolstering the Somali army's logistics capabilities rather than conducting combat arms training, U.S. Africa Command said.
"This mission is not associated with teaching counterextremism tactics," said Chuck Prichard, an AFRICOM spokesman, who added that Somalia's government requested the training.
The April 2 deployment, planned months ago, comes as the White House granted expanded authorities to AFRICOM to carry out strikes against the extremist group al-Shabab.
The soldiers join a small contingent of special operations forces who have maintained a steady presence in Somalia, where they have trained and advised government forces and African Union troops aiding the war-torn country in fighting the al-Qaida-aligned Shabab group. Some of those U.S. forces have operated near the front lines in a mission that has taken on greater risk for teams in the field.
The addition of 101st Airborne soldiers to the growing training mission is yet another sign of the Pentagon's expanding effort in Somalia. The arrival of the Fort Campbell troops marks a rare deployment of regular Army troops to Somalia since 18 American soldiers were killed in the 1993 battle of Mogadishu, commonly known as the Black Hawk Dawn incident.
In the years after Black Hawk Down, the U.S. largely walked away from Somalia, which disintegrated into a failed state. In the past couple of years, however, the U.S. has seen signs of hope in a fragile central government that is struggling to take root.
In June, the United States appointed its first ambassador to Somalia in 25 years.
While the U.S. military has long maintained a small, quiet presence in Somalia, with training efforts going back to about 2007, those efforts have begun to creep out of the shadows. In 2014, the military publicly acknowledged an ongoing effort to train Somali forces and lethal airstrikes that were once highly secretive started to be accompanied by news releases after the fact.
The forward presence of U.S. forces in Somalia coincides with a spike in airstrikes against al-Shabab, which was the target of at least 14 strikes or raids in 2016 compared with only a handful a year earlier. AFRICOM's stepped up efforts are linked to a push to prepare Somali forces to carry on the mission against al-Shabab without the backing of Africa Union troops, who could be pulling out of the country in the coming years.
The union's mission in Somalia, known as AMISOM, involves a mix of regional armies, including troops from Kenya and Uganda, was key to pushing Shabab out of various former strongholds.
The African Union has said it expects to begin pulling out forces in 2018.
Five years ago, Shabab threatened to overrun Somalia's capital of Mogadishu, but the AU proved effective in delivering a series of defeats that had the militants on the defensive. More recently, Shabab has begun to reassert itself.
With expanded powers from the White House to carry out strikes, it is likely that AFRICOM could be stepping up operations in the months ahead.
"For operational security issues, we will not discuss specifics of military efforts nor speculate on potential future activities or operations," Prichard said.
Vandiver.john@stripes.com Twitter: @john_vandiver