Zama tops Osan in rushing battle, game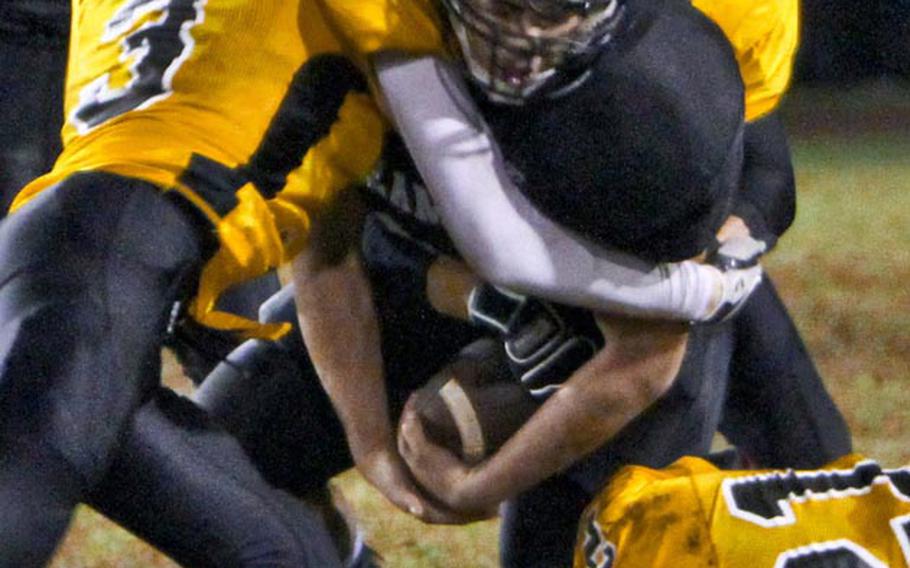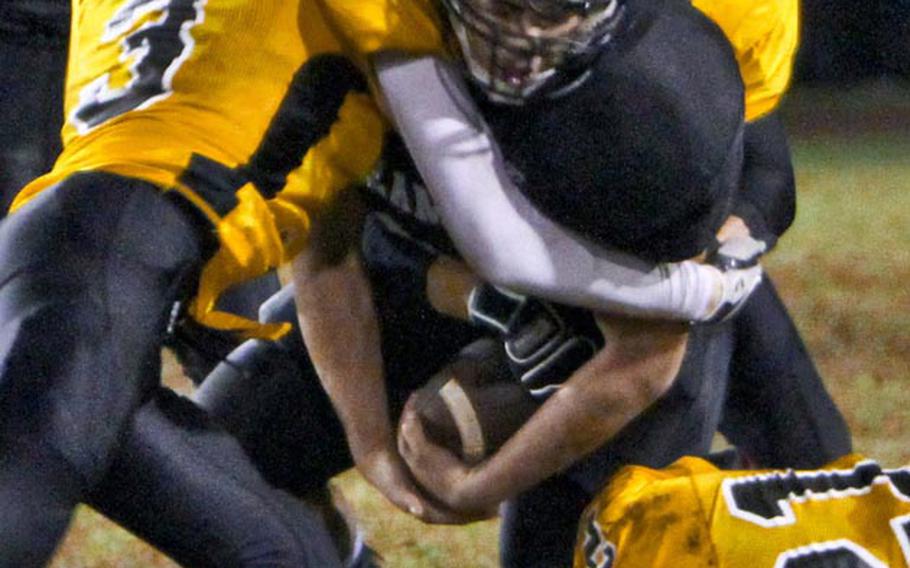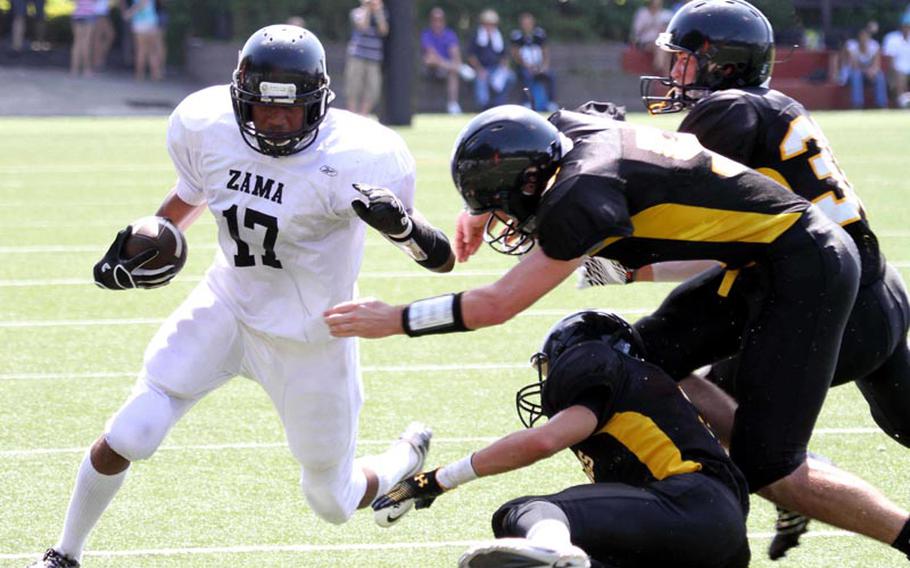 CAMP ZAMA, Japan – Andre Encarnacion and Mitchell Harrison are starting to equal, if not make Zama American football fans start to forget, the feats of their star running back predecessor.
Encarnacion rushed 18 times for 243 yards and four touchdowns and Harrison added 228 yards and two scores on 15 attempts as the Trojans outlasted Osan American 42-26 in an historic first meeting between the two schools on a school-record rushing evening for Zama.
It's the first time since Nov. 13, 1993, when Kadena's Josh Brandt (232 yards) and Robert Eaves (236) accomplished the feat, that a Pacific team had two running backs go over 200 yards in a game. Kadena beat Yokota 35-12 that night.
"That's awesome," Zama coach Steven Merrell said. "I love offensive production. I was really pleased with that."
One of Merrell's concerns entering this season was replacing the 2,276 yards and 23 touchdowns racked up by Michael Spencer, who graduated last spring.
Encarnacion, a junior, is third in Japan with 511 yards on 67 carries, with a Japan-high 10 touchdowns. Harrison, a sophomore, is second in Japan with 531 yards and four TDs on 42 carries – a 12.64 average. Yokota's Morgan Breazell paces Japan with 578 yards on 73 attempts.
Despite the rushing pyrotechnics, Merrell expressed concern that his team "didn't finish like we wanted," being outscored 20-14 in the second half.
"We saw some things that worked well and other things we need to work on," Merrell said. "But it's nice to get the W; that's always what we work for."
Zama accumulated 579 yards on 47 carries.
The Cougars did well on the ground and in the air, posting 425 yards on offense.
B.J. Bryant, injured in Osan's 39-18 loss two weeks ago to Seoul American, ran 25 times for 210 yards and two touchdowns – giving the game a combined three 200-yard rushers.
Patrick Lunsford completed 8 of 16 passes for 105 yards, including a 60-yard TD pass to Jacob Ives, who had three catches for 89 yards. Lunsford also ran 12 times for 105 yards, including a 45-yard touchdown run. He also threw three interceptions.
"We had some bad field position; they ended up with short drives," Cougars assistant coach Duke Allen said. "They (Zama) had some big plays and we missed some tackles. That was a big problem."
Zama improved to 2-2 with its second straight win. The Trojans next play Robert D. Edgren (0-3) at Yokosuka Naval Base for the right to represent Japan in the Far East Division II championship Nov. 5 at either Osan or Daegu American.
Osan (0-2) visits Daegu (0-3) on Friday, the first of two regular-season meetings to determine which will host the D-II title game.