Zama's Quallio handles success with humility
---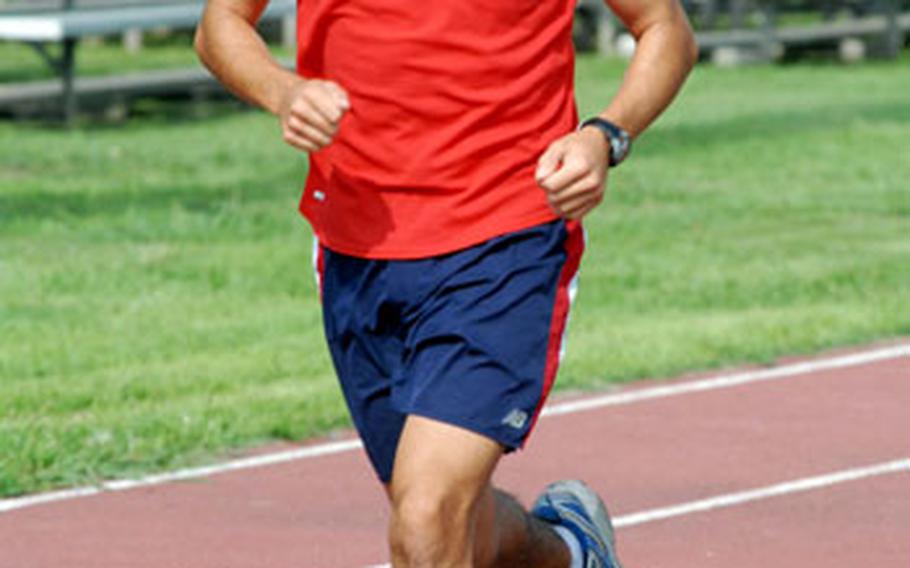 CAMP ZAMA, Japan — It could be easy for teammates to feel slighted by Andrew Quallio's success as a runner for Zama American.
After all, the senior's blistering of tracks and cross country courses in Far East meets and his being named a Stars and Stripes athlete of the year last spring is heady stuff.
But teammates say none of it has gone to Quallio's head.
"He's liked. He's respected," sophomore Mallarie Ashliman said.
Said senior Michael Palomino: "Most athletes like that are hot-headed, they don't care about anybody else. But he's always out there helping his teammates. He motivates us. He would be the yardstick that makes us want to do better."
Even his coach and opposing coaches say he's the same guy he was when he came to Zama from Florida 18 months ago.
"You can tell the kid's been raised right," 20th-year Kubasaki coach Charles Burns said. "He's level-headed, he understands life and keeps it in perspective. He has the right attitude about winning and work. He's a coach's dream. A picture-perfect, old-school style athlete."
As far as Quallio's concerned, last year's adulation doesn't give him a pass for this year.
"You're in a prestigious position," he said. "You have to carry yourself upright. You can't have a big head. There's always somebody out there better. You have to stay humble, focused and do your best."
He has goals, he and Trojans coach Mitch Moellendick say. He has a Far East Cross Country 3.1-mile individual race title to defend in November at Misawa Air Base, Japan.
Quallio would like to follow that by finishing in the Top 25 and becoming an All-American in USA Track and Field's Junior Olympic meet in December at Richmond, Va. He placed 27th last year at Lincoln, Neb.
Then come springtime, he'll have new challenges to conquer, the Olympic-distance 1,500- and 3,000-meter runs, which replace the old one- and two-mile races.
"There are many challenges still, a big hill to climb," Quallio said.
Toward that end, the former Top 10 Florida 4-A runner from Sandalwood High in Jacksonville worked out over the summer, running 50 to 60 miles per week and doing endurance weightlifting four or five days a week, Moellendick said.
Moellendick says Quallio wasn't happy with his time in the Far East meet last November on Okinawa, 16:44, nearly a minute faster than Kadena's Brant Casteel. Nor was Quallio satisfied with his 17:10 at Lincoln.
"I know he'd like to do better than that," Moellendick said.
If the opening Kanto Plain Association of Secondary Schools 2.9-mile race Saturday at Tama Hills Recreation Center is any indicator, he's ready. Quallio ran a personal-best 15:20.4, 1:36.8 faster than runner-up Ion Fukazawa of St. Mary's International.
He's to the point, Moellendick said, where he's running against the clock instead of competitors.
"That can be difficult, running by yourself. You need somebody to push you," Moellendick said.
One opposing coach, Tom McKinney of defending Far East team champion Kadena, hopes his team can at least plant a seed of doubt in Quallio's head. He feels his four boys, whom Quallio left in the dust last November, are capable of pushing him — and Quallio's ex-teammate Jacob Bishop transferred from Zama to Kadena as a bonus.
"You have to have a good group of runners to push him," McKinney said. "I believe anybody is catchable. You have to train kids to push up and at least have him look over his shoulder, seeing a group 100 yards behind him, and he's going, 'Oh, no, I'm not alone.'"
---
---
---
---