Zama-Perry round one may or may not preview D-II final
---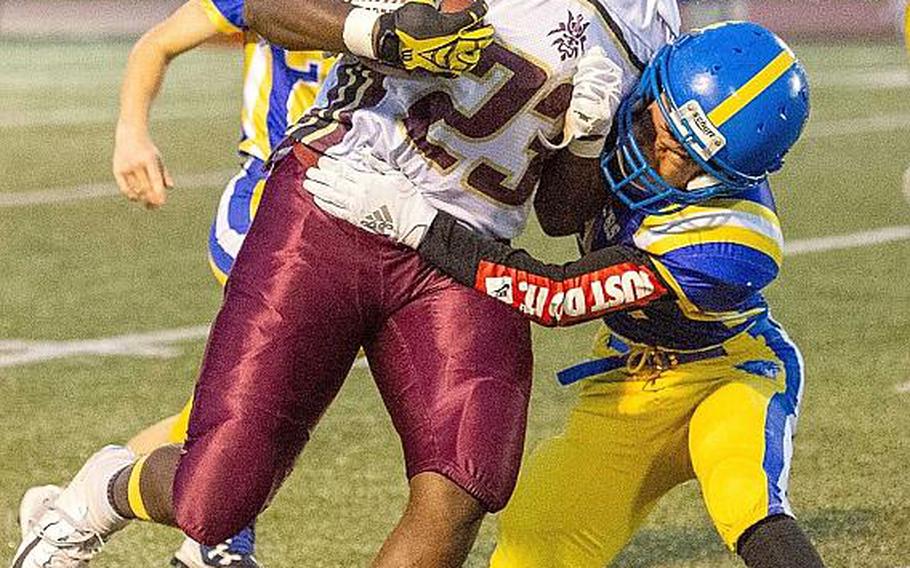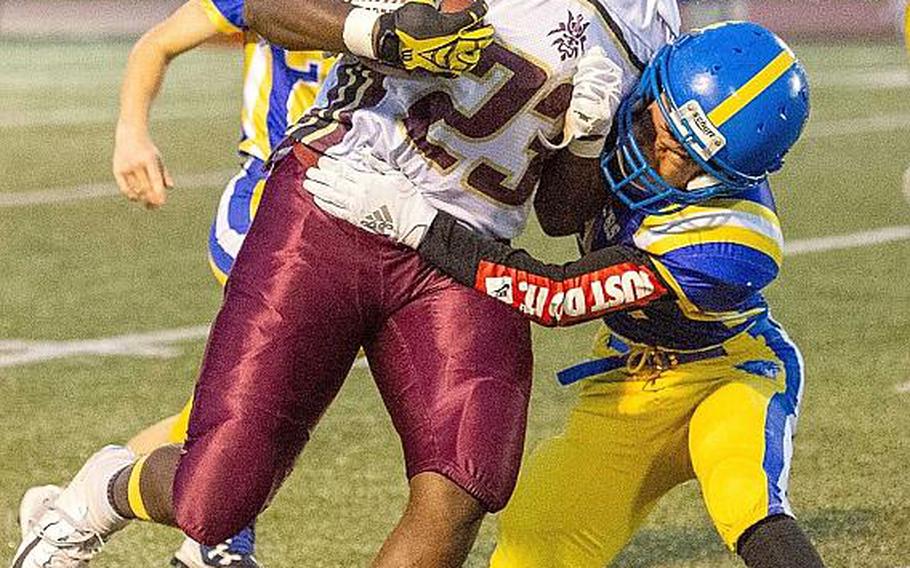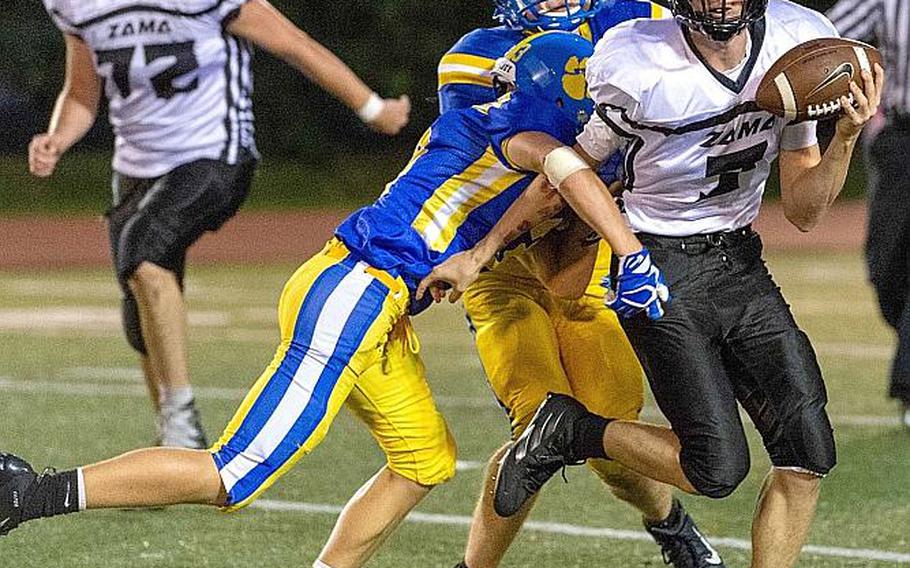 There's probably no better way possible for two teams to prepare for a championship game than by facing each other two weeks beforehand.
That's the luxury that Zama (4-0) and Matthew C. Perry (6-0) have as they brace for their Far East Division II football final, scheduled for Nov. 8. The Trojans host the Samurai in each team's regular-season finale Friday at 6 p.m.
"At the end of the game, somebody will be undefeated and somebody will not," Trojans coach Scott Bolin summed it up.
It can be a plus or a minus, depending on one's approach to such a contest, Samurai coach Frank Macias said. "It will be a cat-and-mouse game," he said.
The point being: How much do each of the teams dare show one another to give each a chance to better prepare for their championship meeting? Macias remembers what happened to his Samurai two seasons ago after they faced a similar situation against Humphreys.
Perry beat Humphreys 20-10 on Oct. 13 at Blackhawks Field. Two weeks later, in the D-II final, the Blackhawks took advantage of a Samurai team battered by injuries 39-0.
"The first time, we probably showed more than we should have and they pasted us the second time," Macias said. Thus, he and the Samurai might probably approach Friday's showdown with the Trojans conservatively.
"Or you could show everything and overwhelm them and make them figure out what to do, (prepare for) everything and get them to stop everything, not just one thing or another," Bolin said.
Zama and Perry are practically even in the D-II standings, each 4-0 with the Trojans having outscored opponents 186-43 and the Samurai 131-32. But their respective approaches to the game are vastly different.
Zama plays a flamboyant, wide-open spread attack, going to the air about 60 percent of the time, while the Samurai stick with their trademark double-wing ground game, passing maybe once or twice per contest.
"We have to play our style of football," Macias said. "Give me the 8- to 10-minute drive, keep the ball out of their hands. That's our cup of tea. We have to stay with the freight-train formula. If we let them have multiple touches, it will be a long night for us."
Then, there are mistakes, which can be prevalent on a slippery field. The forecast calls for heavy rain in the morning, tapering off by afternoon.
"That's going to be key," Bolin said of who can better take care of the football and execute their game plans. "It'll be a matter of which school of thought prevails best from either team."
Two other games with playoff implications take place Friday, with Humphreys visiting Kubasaki and American School In Japan at defending Division I champion Nile C. Kinnick. The Blackhawks and Red Devils each are still alive for the second D-I finals berth at Kadena on Nov. 9.
District championships continue in preparation for Far East tournament play the week of Nov. 3-9. Okinawa's cross country district finals are at 4 p.m. Friday at Cape Zanpa near Torii Station. On Saturday at 9 a.m. at Tama Hills Recreation Center, the Kanto Plain cross country finals take place.
ornauer.dave@stripes.com Twitter: @daveornauer
---
---
---
---