Far East DII softball
Zama outlasts Yokota to take title
by
Dave Ornauer
May 17, 2017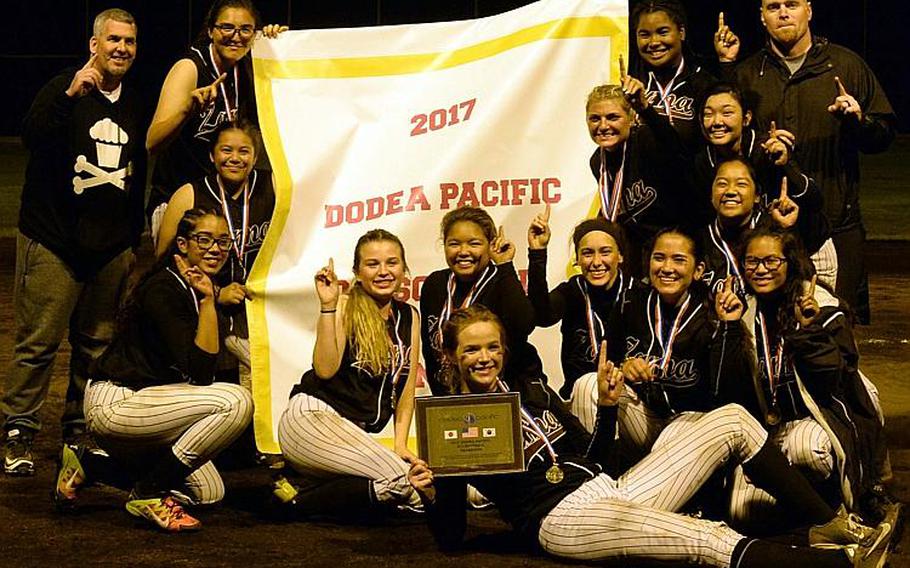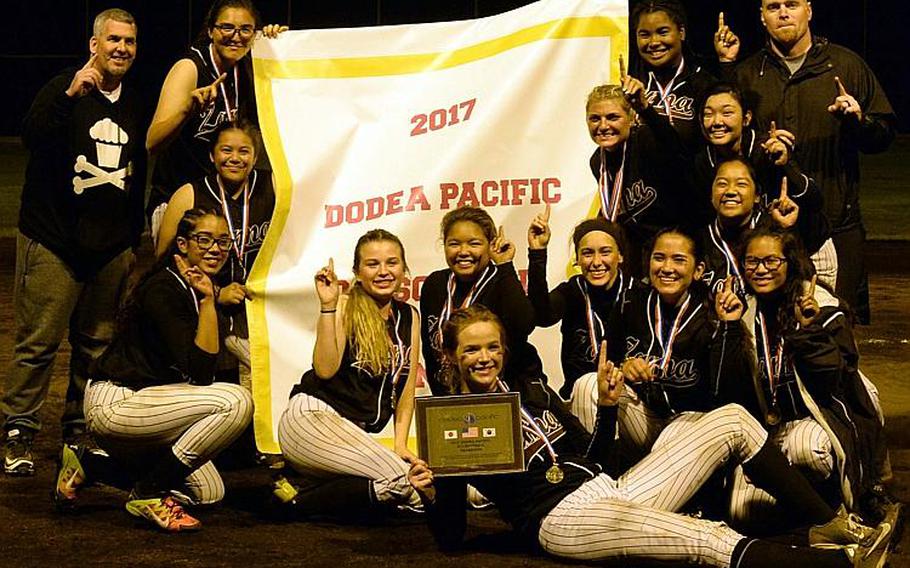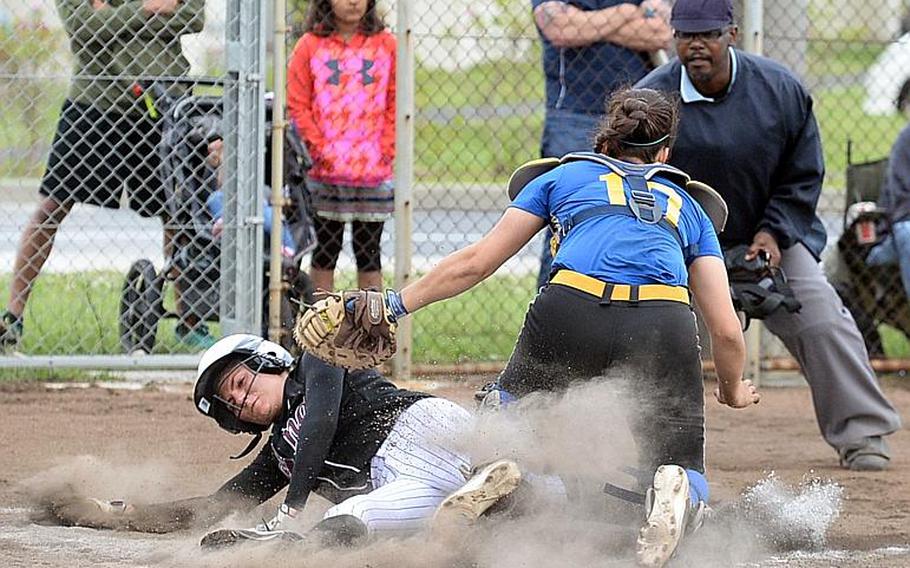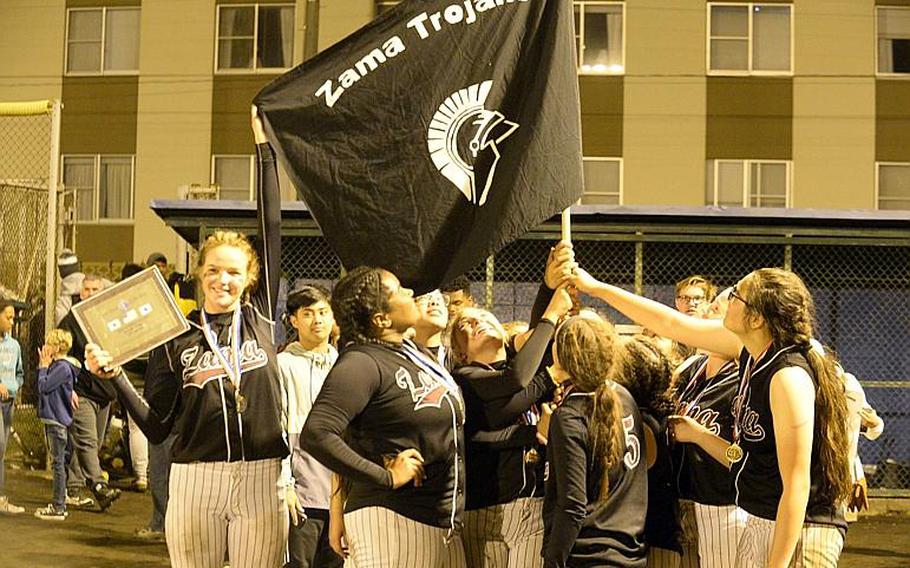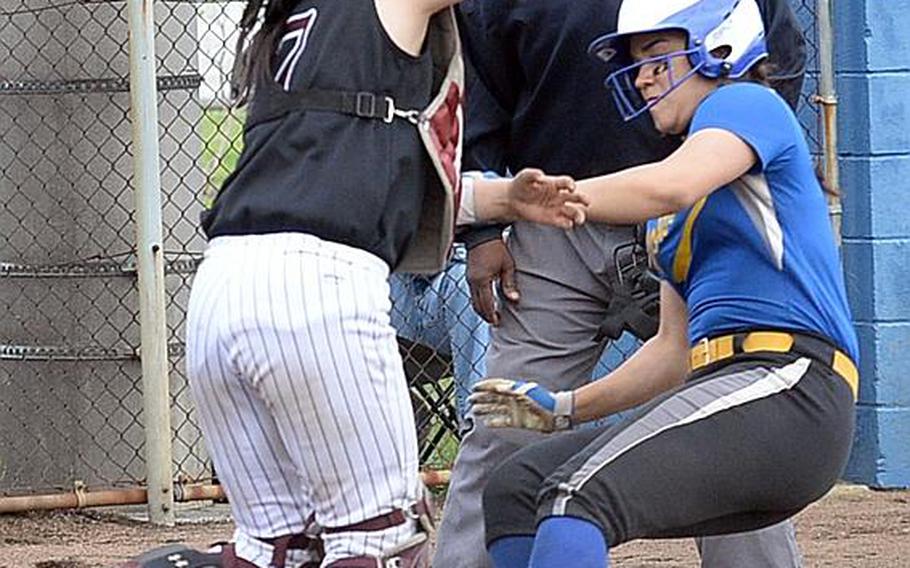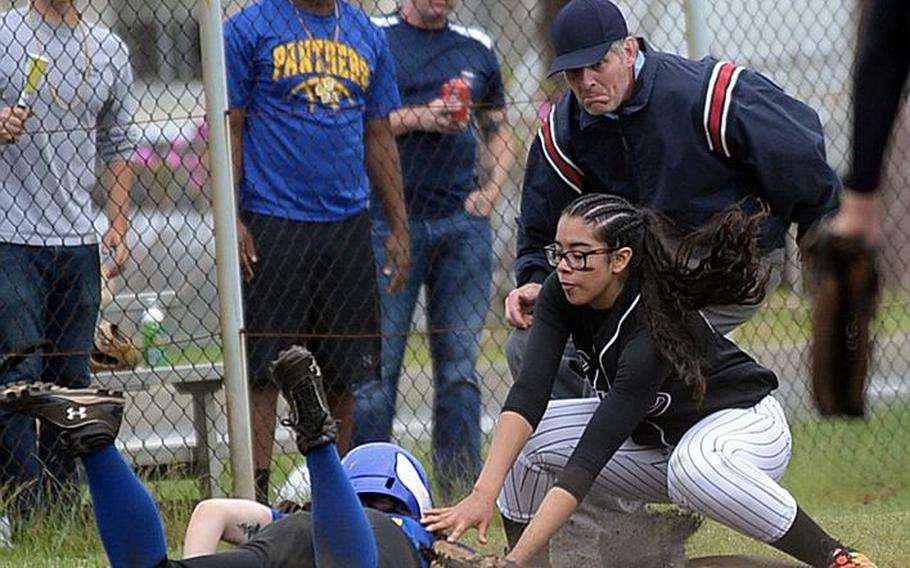 CAMP ZAMA, Japan – It took Zama three games Wednesday against arch-rival Yokota to finally end a Far East Division II Softball Tournament title drought that had lasted five season.
Danielle Cruz's two-run single sparked a three-run first inning that put Zama ahead to stay en route to a 13-3 title-clinching win over the Panthers in the third game of a three-game triple-elimination final. Earlier, Yokota kept alive its hopes for a third straight crown by routing Zama 16-0, then surviving a close 10-6 second-game encounter.
"I'm exceedingly happy for this team," said coach Aaron Wells, whose Trojans had come exceedingly close the last couple of years against Panthers teams in basketball and softball, but finally captured a Far East banner by beating their closest rivals.
"These girls have worked so hard. I'm really proud of them," Wells said, citing senior Ally Chiarenza, the team's veteran catcher and pitcher who started all three games Wednesday and got the win in the clincher. She was accorded tournament MVP honors.
"I've worked with her for three years. She's done so well. She's our MVP. I'm really proud of her."
Zama had cruised through the first two days of the tournament without a defeat, only having to come from behind to beat the Panthers 15-13 in Tuesday's winner's bracket final, sending the Trojans to the title game needing only a win to seal their first title since winning in 2012.
Irene Diaz went 3-for-3 with three RBIs and Katie Lambie 2-for-3 with two RBIs as the Panthers poured it on in the first final game. Diaz drove home two runs with a single and scored on Lambie's single to put the Panthers ahead in the second game 8-5.
"I was scared to death" following the second defeat, Wells said. "They could very easily have gone 3-0 and won it. They're a tremendous team and they're very well coached."
"We were disappointed" after the 16-0 loss, Chiarenza said. "We weren't expecting it. It was a shock."
For her part, Cruz said she felt "from the beginning" that the Trojans would hang on. Her two-out, two-run single gave Zama its first lead in any of the three games, one the Trojans would not lose.
"We lost those two games, but I knew we could come back and we did," Cruz said.
"We played for each other and came through," Chiarenza said.
Krisha Reyes and Litzie Figueroa each knocked in runs with short singles, Kiara Coleman drove in a run with a fielder's choice and Hannah Schindler and Paris Hingel each drew bases-loaded walks as Zama scored five times in the second.
Zama sealed it in the fifth when Chiarenza singled in a run, Ayumi Davis ripped an RBI double, Cruz singled in another run and Schindler hit a run-scoring fielder's choice groundout. The game ended after five innings due to the 10-run mercy rule.
"It feels amazing," Hingel said.
Twitter: @ornauer_stripes