Zama can't corral Mustangs' ground attack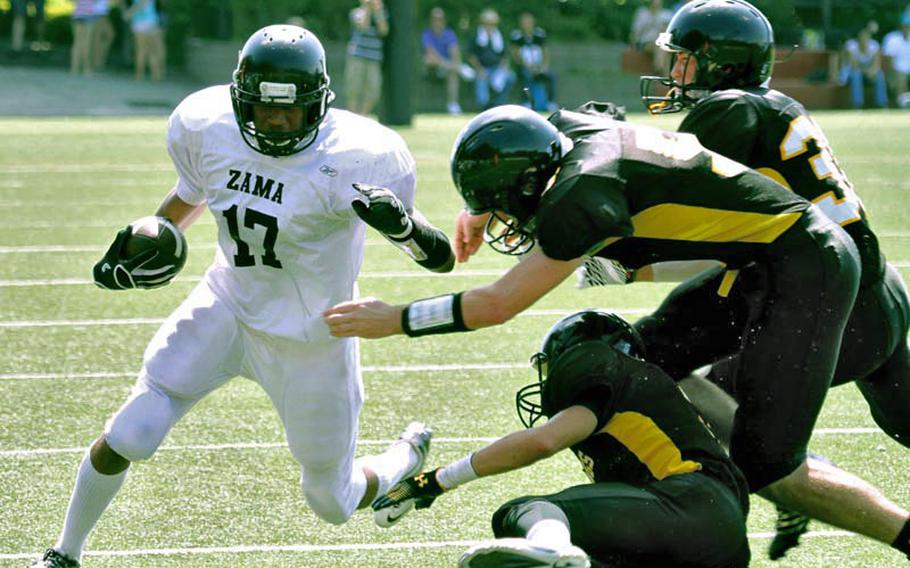 TOKYO – More noted for its flamboyant air attack the last two seasons, American School In Japan stepped a bit out of character on Saturday, going with an explosive ground game to open its Kanto Plain Association of Secondary Schools football campaign victoriously.
Ken Yajima and Zach Oshima combined to rush for four touchdowns and 289 yards as the Mustangs rallied from a 20-14 third-quarter hole past Zama American 42-26 in a rare Saturday game at Mustang Valley.
"They both had a great game," longtime ASIJ coach John Seevers said. "They ran really well and the line just kept pounding away. Zama's a good team. The score doesn't indicate how close the game was."
Most ASIJ opponents might be wary of senior quarterback Hayden Jardine's totals of the past two seasons, 97-for-190, 2,179 yards and 28 touchdowns. But he was just 7-for-14 on Saturday for 86 yards, including a 2-yard TD pop pass to Sam Hopkins, according to team statistician Tom Jardine.
Instead, this was the day for running backs.
Yajima ran 12 times for 175 yards, scoring on runs of 14 and 11 yards. Oshima added 114 yards, including TD runs of 3 and 35 yards, on 17 attempts, Tom Jardine said. Haru Kent had the other score, a 2-yard run after a 50-yard interception return. Anthony Bernardi also picked off a Zama pass.
The Trojans stayed within six points most of the way, even led briefly 20-14 after James Liker's 30-yard touchdown pass to David Coleman. Andre Encarnacion had a 6-yard TD run. Holden Limas recovered a fumble by a Zama teammate in ASIJ's end zone, and Richard Castillo returned a fumble 45 yards for the Trojans' other touchdown.
"Zama always has great athletes," Seevers said of a team that's 0-2 but has scored 52 points in two games. "They'll be a team to contend with this year."
Liker went 6-for-10 for 123 yards. Coleman caught five passes for 113 yards. Mitchell Harrison broke off some long runs for Zama en route to a 146-yard, 6-carry day. Encarnacion added 90 yards on 16 attempts.
"It didn't come out like we wanted," Zama coach Steven Merrell said.
"We did some things well, but we saw some things we need to work on. Defensively, we need to improve at each position, fulfill responsibilities and be more aggressive. We have to continue to work to get in better shape. And we need to make our blocks on offense."
Zama next visits Nile C. Kinnick (2-1), while ASIJ travels to Yokota (2-0) on Friday, the latter a showdown between the last two Kanto Plain league champions.
"We hope we're competitive," Seevers said. "We look forward to the challenge."
ASIJ is playing its home games by daylight this season, a concession to neighbors of its Chofu campus in western Tokyo having to make do with less electricity due to the power crisis spurred by the March 11 earthquake and tsunami.