Young Zama girls soccer team wants to contend now
by
Dave Ornauer
March 22, 2007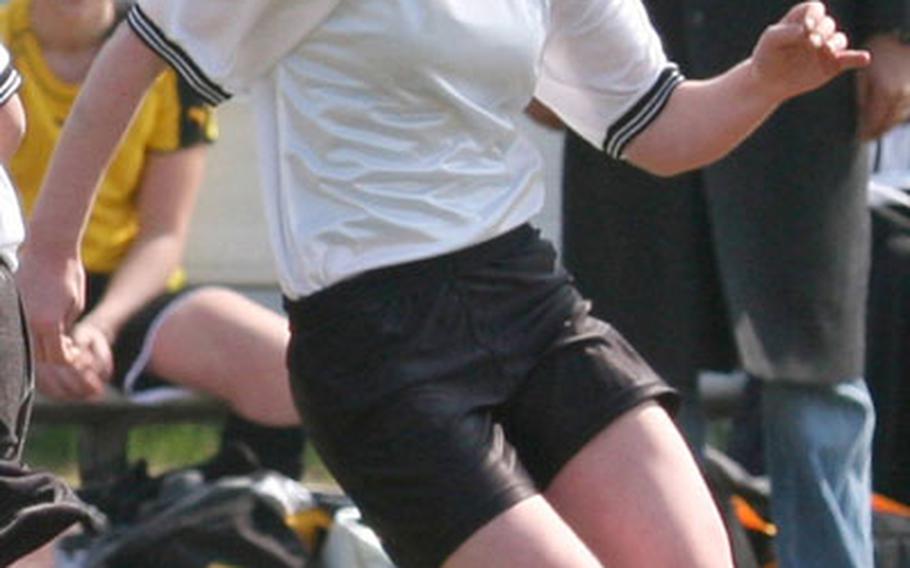 Ordinarily, any team that starts with a roster dominated by underclassmen and a new coach, and then sees last year's leading scorer transfer right before the start of the season, could pack it in and look toward next year.
Not the Zama American girls soccer team.
To paraphrase an old movie title, the kids are all right. Coach Vanessa Little's team has won half of its four matches and even scored two goals on last year's Class AA runner-up American School In Japan last Saturday at Camp Zama.
Despite being so young — six freshman, five sophomores and just two returning starters — Little and her players say they aren't content to wait for success. They feel their time could be now.
"We're determined to learn and develop quickly. Everybody is just wanting to play," said freshman transfer Whitney McWherter, a midfielder who has five goals and two assists this year.
"During tryouts, I realized how inexperienced everyone was," said fellow freshman transfer Aubrey Ashlinman (seven goals, two assists), a forward. "I didn't know how well we would play together, but we're starting to learn how each other plays and getting to know our positions better."
Coach Little agreed.
"They're getting better. They've gotten better since the first day" of tryouts, she said.
Not bad for a team of almost entirely new faces from the one that went 6-11-5 last year and finished last in the 12-team Class AA tournament on Okinawa. They even lost last season's leading scorer, sophomore Rachel Ravelo (22 goals), who left for South Carolina this month.
"We're not worrying about last year," McWherter said. "We're coming back playing better than anybody thought. Everybody will know they've been in a game when they play Zama."
The team's makeover began with the arrival of Little, who coached last season at Keflavik, Iceland, and the previous four seasons in Florida after graduating from West Virginia-Wesleyan.
A first glance at Zama's tryout prospects and "I figured it was going to be one of those rebuilding years," Little said. "Plus, with me being new, I knew that going over new drills and formations and things, it was going to be rebuilding regardless whether we had freshmen and sophomores or not."
Defense surfaced as an issue as the season got started two weeks ago, Little said.
"Our defense isn't used to playing together. Some of them haven't played defense, so they're having to get used to that," she said.
But that might have been a small hurdle compared with Keflavik, where Little said most of her players hadn't played before at all.
"I thought I was going to have to start from square one, but the girls had some background already," she said. "They knew how to play and they knew their positions."
Key to the team's early fortunes is the tandem of McWherter and Ashlinman. They each lived in Nevada from birth until the second grade, then their families both moved to Virginia Beach, They each attended private schools and played for the same traveling team in Virginia.
"She's midfield, I'm forward, we each know where each other is going to be, where she's going to pass the ball, and I'm there," Ashlinman said. "We bring experience, so we can help the other players improve."
Adding to the team's surprising success is the fact that the players get along well on and off the field, players and coach say.
"I was actually surprised," Little said. "Usually, you have to deal with some drama, but the seniors and juniors see how good the freshmen are, and how they're an asset to the team. Honestly, this is the first team where I haven't had any drama between the girls. No arguing. No fighting. Knock on wood, so far."
Zama's early success hasn't gone unnoticed by opponents.
"They're a good team," Edgren coach Larry Allen said. "I thought they were very well disciplined, well coached and I definitely could tell that they were young only by their roster.."
So, just how far can this young bunch take their early success?
Entering Tuesday's match at DODDS-Japan and Kanto Plain Association of Secondary Schools champion Nile C. Kinnick, players and coaches feel that much still needs to be done.
"Not just one specific area," McWherter said. "The team as a whole needs to improve. But overall, everybody's improving as a whole. Everybody's learning their positions and getting better every practice, every game."
Is a DODDS-Japan or Kanto Plain title, perhaps placing high in the Class AA tournament May 21-25 at Yokota, out of the question?
"I think we can, definitely," McWherter said. "We've improved so quickly. We hung with ASIJ. I think we can step up and become even better and contend at Far East this year."
Little says she's taking a cautiously optimistic approach.
"We're building toward Far East, but we need to focus on each game as it comes," she said. "We're not looking too far ahead."
---
---
---