Yokota wins Rising Sun
by
Dave Ornauer
November 17, 2003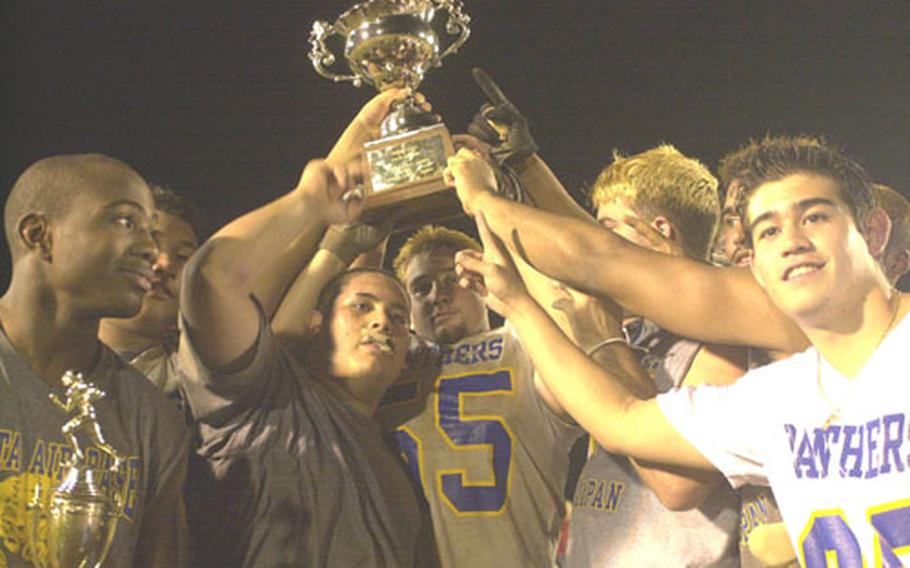 KADENA AIR BASE, Okinawa — What began in August as the most challenging building project of Tim Pujol's five-year tenure as Yokota football coach ended in one of his finest hours Saturday.
Seniors Roy Roach and Jeremiah Pearcey each ran for two touchdowns as the Panthers once again captured the Rising Sun Bowl All-Japan championship, defeating the Kadena Buccaneers 31-3 before nearly 3,000 at Kadena's McDonald Stadium.
"We really take a special pride in how much we've been able to accomplish this season," said Pujol, who came into the season having lost 20 of his 28 players from last year. "These kids made an incredible commitment to the program. They deserved it."
In addition to winning its fourth straight Rising Sun Bowl,
Yokota (11-0) tied its own Far East record with its 39th straight victory on the field, dating back to the 2000 season. Yokota had to forfeit two games during the 2002 season for using an ineligible player.
Roach, who led all rushers with 225 yards on 24 carries, broke the Japan Football League season rushing record, finishing with 1,891 yards, 89 better than previous record-holder Darren Taylor of Yokota in the 2001 season.
Keeping it simple on offense, handing the ball to Roach and Pearcey, dashed with economical passing by first-year junior quarterback Shawn Novak and a defense that hawked Buccaneers star back A.J. Morgan all night were keys to victory, Pujol said.
"The pieces all fell into place," he said.
Though Morgan racked up 197 yards of total offense, he was held to just one breakaway run, a 51-yarder early in the fourth quarter that ended when Morgan tripped at Yokota's 14-yard line. He went just 2-for-10 passing, had no returns and didn't score.
"It's 11 players, our defense, our team," said senior lineman Jason Correll, who led the defensive charge with 16 tackles. "Every single player did his part."
After a scoreless first quarter, Yokota broke the ice on Karl Gerstner's 24-yard field goal 1:28 into the second quarter. Chris Roach's interception led to Pearcey's first touchdown, a 2-yard run 6:57 before halftime.
Then came what was likely the backbreaker for the Buccaneers (7-2). Tyler Schmidt intercepted a Novak pass at the Buccaneers' 4-yard line with 18 seconds left in the half.
Instead of taking a knee and running out the clock, coach Brian Wetherington called for a quarterback sneak. Morgan appeared to take a knee before rising and rushing forward, only to lose his grip on the ball.
Senior Koji Nowell — who played for the Bucs in their 42-14 Rising Sun Bowl loss to Yokota two years ago — recovered the ball. On the next play, Roach ran in from 9 yards out to make it 17-0 at halftime.
"We didn't protect the ball in that situation. That was seven gimme points," Wetherington said, adding he didn't consider taking a knee just before half. "We figure when A.J.'s on the field, he's going to make something happen."
Pearcey upped the margin to 24-0 with his second TD run, a 2-yarder, as the fourth quarter began. Thomas Armani finally got the Bucs on the board on a 32-yard field goal with 8:29 left.
Chris Roach's second interception set up Yokota's final touchdown, a 61-yard run by Roy Roach. Shamarr Howell promptly intercepted a Bucs pass on the next possession, and Yokota ran out the clock.
Chris Roach had 105 all-purpose yards. Corie White caught all three of Novak's completions for 70 yards.
Morgan rushed for 129 yards on 24 carries. Armani and Chris Doran each recovered a fumble, but it wasn't enough to offset Kadena's miscues.
"Mistakes cost us the game," Wetherington said. "You turn it over and it kills you, especially against a team that can run it at will."