Yokota track star Taylor is closing fast
---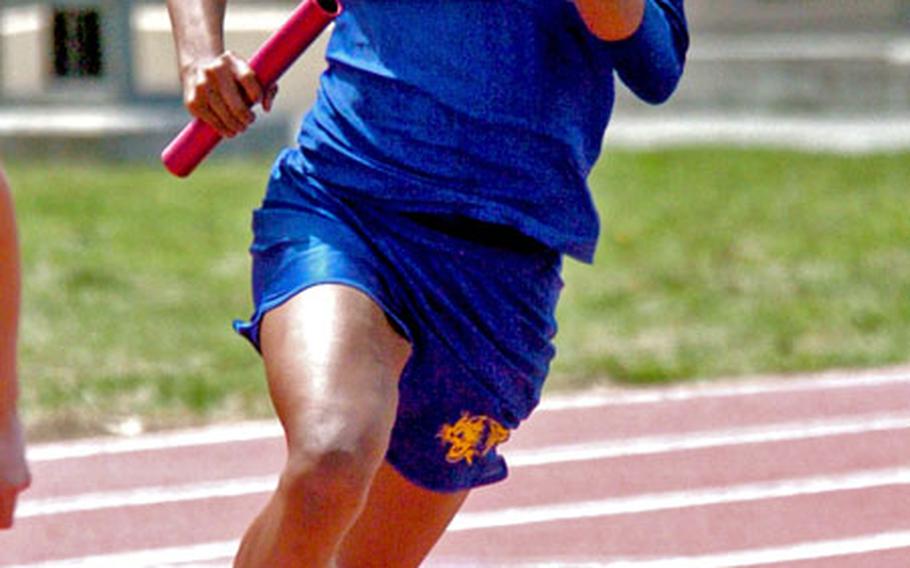 Matt Grant knew the instant he saw Charlotte Taylor playing basketball last winter that she had the potential to be a record-setter for his track and field team at Yokota.
"Her reflexes ... how quick she was stealing balls," Grant said of his impressions after basketball coach Ric Cabral called his attention to the speedy freshman. "When I saw her play, I told her mom that I had to have her out for track."
Taylor has proved Grant right. She has won all eight events she has entered in three meets this season.
She's run a season-best 12.6 seconds in the 100 meters, a tenth of a second shy of the league record, and her 26.2 in the 200 is .7 seconds behind the Kanto mark.
And last weekend, she ran the 400 for the first time in a Yokota High meet, finishing first in a race that was deemed unofficial because it was marked improperly.
"Anything I put her in, she'll win," Grant said. "She works harder than practically anybody on the team. ... That's why she's so far ahead of the field."
All this from a freshman with no previous training or pedigree other than being the younger sister of former Japan Football League rushing champion Darren Taylor. He might have planted the seed that became a star sprinter, when Charlotte was a fourth-grader in Yokota, she said.
"He always raced me in the street, and he would always win. I always wanted to beat him. He told me to keep working on it."
She especially worked on it since last year, when Taylor was in middle school, clocking times two to three seconds slower than she is this year.
Taylor hit the stairmaster and treadmill hard in the base gym, as orthodontic braces restricted her diet. She dropped 30 pounds and kept pushing.
"I said when I got to high school, my goal was to beat Lindaya Brown," Taylor said.
She succeeded — and credits a new mind-set for her success.
"There's no such thing as 'I can't do it,'" she said. "If there's a record out there, I'm going to [break] it."
Her presence gives an already strong team "a whole new dimension," Grant said. "I have so many guns now."
One deficiency on Yokota's girls track team, he said, is the distance events dominated by non-DODDS schools. That might prevent the Panthers from winning team titles. But with his cadre of sprinters, Grant said, he believes records are within reach.
Other coaches have noticed Taylor.
"Not very many have come along like her," said Craig Eby, Christian Academy In Japan track coach since 1977.
For Taylor to be competitive in short and middle-distance sprints shows "she has the ability to last."
But unfortunately for Grant and Yokota, the Taylor family is to transfer in July, their destination unknown.
For now, Taylor plans to continue basketball and track.
"Both of them are my strong sports," she said. "I'm working really hard here, so when I get to the States, I can get even better. I'll still set my goals and I'll still reach them."
Eby, who has sent a handful of athletes to stateside universities, said he believes Taylor could do well on the next level.
"A lot depends on where she wants to go," he said. "With motivation and continued training at the higher level, she can succeed, definitely."
But he hopes that ultimately, she chooses track.
"I know she likes basketball," he said, "but she was born to run."
---
---
---
---