Yokota's Jay Irwin making a habit of give and take
---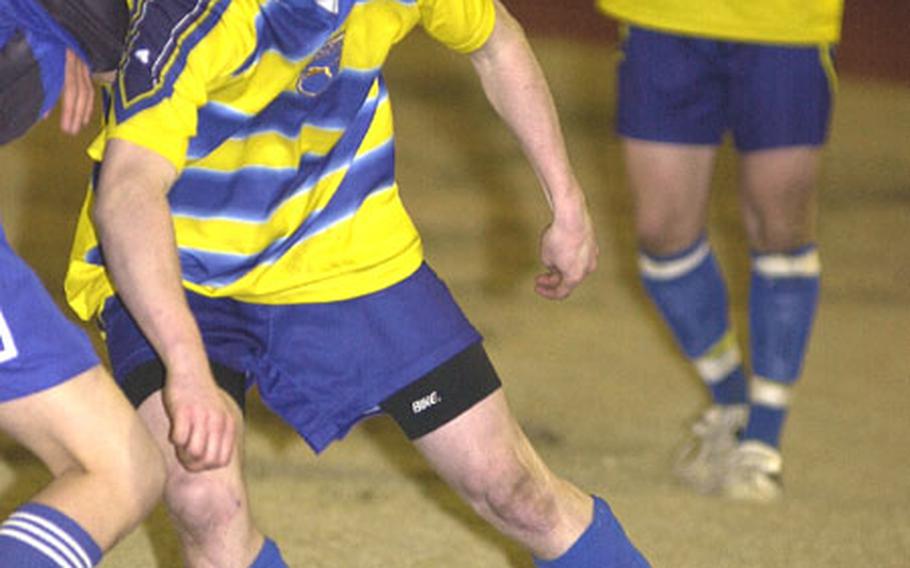 YOKOTA AIR BASE, Japan — For somebody who scores plenty of goals, Jay Irwin is also pretty adept at setting them up.
The senior center/forward assisted on the first three goals Tuesday as Yokota entered the weeklong spring break with their 11th straight victory — a 5-1 defeat of the Christian Academy In Japan.
"It's much better to give than to receive," Irwin said, adding, half-jokingly, "I just hate to score goals."
His numbers dictate otherwise. While he's scored seven times this season, the team's fourth-highest total, he also has a club-high seven assists. Three came in the first 15 minutes of Tuesday's triumph over the defending Class A Far East Tournament champion Knights, who were playing their opener.
On the first goal, by Karl Gerstner in the seventh minute, "I saw Karl cut through to the net, and I just led him," Irwin said.
Six minutes later, Irwin sent a give-and-go pass down the right side to Ian Kingery, who lofted the ball high and over the head of goalkeeper Silas Cole. "I thought he was going to cross it, but the ball banged in off the post," Irwin said. "He made me look good on that play."
Irwin delivered his third assist in the 15th minute, on a pass to his brother, Matt, which he grounded through Cole for a 3-0 lead.
"I just love my brother," Jay Irwin said, an arm draped around Matt, who leads Japan with 16 goals this season. "I want him to be successful at this game."
The Panthers (11-0) have outscored their opposition 60-2. But despite Tuesday's lopsided verdict, Jay Irwin said the Knights were Yokota's toughest test thus far.
"You had a sense that they knew what they were doing. They're quick and in shape. They'll have a lot to offer the league this season," he said.
It was a match the Panthers needed. Through Tuesday, last year's Class AA runners-up had beaten five schools with a combined record of 7-22.
"I'm glad we had that before the break," said Jay Irwin, looking ahead to this season's Class AA tournament, set for April 28-May 2 at Camp Foster, Okinawa. "That's the kind of thing we'll see at Far East. Every team will be like that."
---
---
---
---