Home Team
Yokota's Ettl making a name for herself as No. 1 singles player
by
Dave Ornauer
September 30, 2010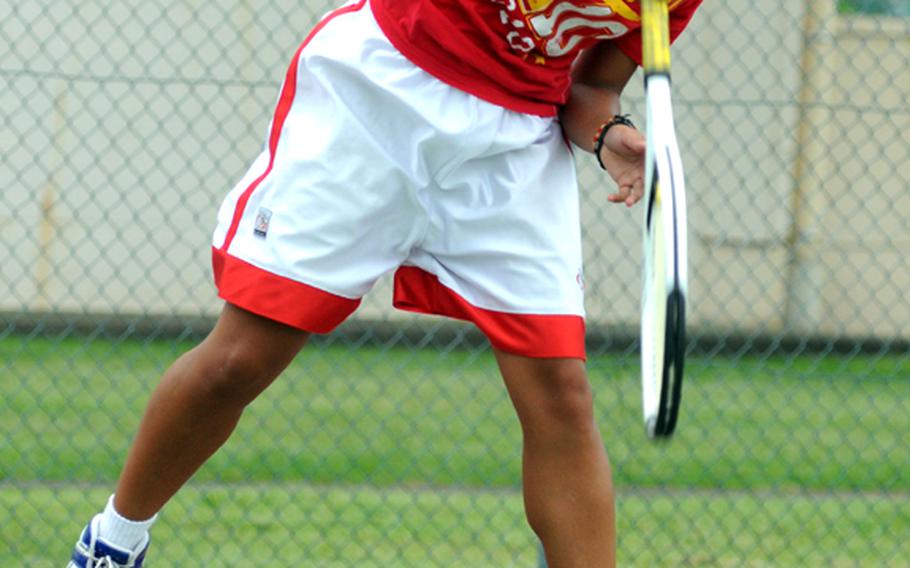 YOKOTA AIR BASE, Japan
Erika Ettl was considered the "other" Erika last fall, an afterthought, the perpetual No. 2 singles seed living in the shadow of the more renowned freshman Erika Youngdahl on Yokota's tennis team.
Now, with Youngdahl having transferred to Kadena on Okinawa, Ettl has shed the "other" Erika label and thrust her way atop the Panthers' lineup. And the way she's charged out of the gate, going 8-0 to start the season, Ettl's campaign could mirror that of Youngdahl's in 2009.
"I think she's capable of anything right now," coach Tommy Palmer said, adding that a year ago, "natural athleticism" was Ettl's big ally. "This year, she's a tennis player, and not just a tennis player but a tennis player to be reckoned with."
From one who got by primarily with a big serve a year ago, Ettl's game has rounded out, Palmer said. "She's got the stroke, the serve, the footwork, she's got the mind game," he said.
"And she's still learning. She doesn't let anything get to her. She makes a mistake, she laughs it off and looks toward the next shot."
Ettl isn't just handling DODDS Japan opposition, but has already faced up to international school competition, including the girl who vanquished her at the Kanto Plain Association of Secondary Schools tournament last October.
Ayu Kitaura-Rachman beat Ettl 8-3 in the Kanto finals first round last November; Ettl got her back 6-2, 6-3 on Sept. 21. Six days earlier, Ettl topped the same player Youngdahl beat to become the first DODDS player to win a Kanto singles title. Ettl beat Kelsey Leon of American School In Japan 6-2, 6-3; Youngdahl needed three sets to beat her in the Kanto finals.
"The way I move on the court, the way my racket finishes, my targeting, positioning, where I want to hit the ball, I've gotten stronger," Ettl said. "Definitely much better overall."
All the while, Ettl says, she remains in close touch with an ex-teammate who could have become the bitterest of rivals and created drama along the lines of what one might see on TV shows like "Make It Or Break It." The two say they remain as close as they were when they were teammates.
"Last year was my first playing tennis, so I knew from the beginning I wasn't going to be as good as her," Ettl said. "But we were good friends. On the court, we were always competitive with each other."
Rooming together and talking on the bus on road trips to far-flung locales such as Misawa, Iwakuni and Sasebo put to rest a lot of "those rumors that you hear in high school," Youngdahl said. "We were like, 'Oh, that didn't happen' and it kind of melted away."
That the two are similarly competitive could have taken their relationship in the opposite direction. "We could have easily not gotten along, hated each other, but somehow we're friends," Youngdahl said. "We're competitive. It might not seem like it (but) the reason we're such good friends is because we're similar."
Very quietly, Ettl was the one who ended up with the unbeaten regular season, going 14-0 while Youngdahl went 13-1. Youngdahl took fourth place fourth at Far East, while Ettl finished a spot behind her and with so much attention focused on the former, Palmer said, he didn't even congratulate Ettl on her season.
"She was undefeated and nobody knows it," Palmer said, calling his omission "my fault, my mistake. I've had to apologize to her profusely. I've apologized to her many times this year. I got caught up in the hype as much as anybody else did."
As Ettl has gotten off to a fast start, so, too, has Youngdahl gotten into high gear in the first of her three seasons on Okinawa, where she was born and lived the first three years of her life.
Through Sept. 21, Youngdahl was 3-0 in singles play and has teamed with Kadena four-year veteran Christin Gentz to also go unbeaten in doubles.
Thanks to social-networking sites such as Facebook and good old-fashioned cell-phone texting, the two pretty much keep each other updated about their every move on court.
Youngdahl was renowned for her hard-slicing backhand shots in her freshman season at Yokota, but has gradually added a forehand and serve to her repertoire, coaches and foes say.
Only going by what she's seen, Youngdahl says "consistency" is the hallmark of Ettl's success. "She won't hit it by you, but she'll force you to make mistakes," she said.
Former teammates-turned-friendly rivals say they fully expect to meet somewhere down the line. Kadena and Yokota don't play regular-season matches with each other, so any meeting would have to come during the Far East tournament Nov. 8-11 at Kadena's Risner Tennis Complex.
"I can see us having a tough match," Youngdahl said. "She's one of those players who can catch you off guard. But I know Erika and I know her game. … If we play, of course, I'd want to win, but I'd be happy to see her get it, too."
For her part, Ettl foresees a meeting between the two "somewhere in the finals or the top four. I just want to meet her at Far East," she said.
ornauerd@stripes.osd.mil
---
---
---
---