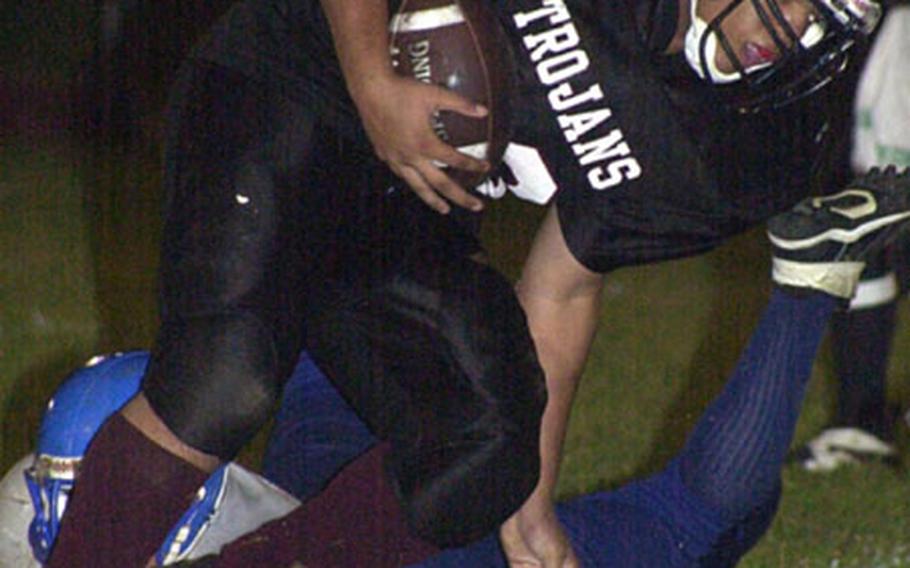 CAMP ZAMA, Japan — Roy Roach's breakout couldn't have come at a better time for the Yokota Panthers in Friday's Japan Football League season opener.
The senior tailback, a transfer from Virginia, took a pitchout 42 yards on a broken play with 4:18 left for his second touchdown of the night, rallying Yokota to a 22-17 triumph over the Zama American Trojans.
"My goal was to get us a touchdown, get us back in the game," Roach said.
Yokota came back from deficits of 8-0, 11-8 and 17-16 against a physical Zama team.
On first-and-10 from the Trojans 42, first-year quarterback Shawn Novak ran right and appeared to be hemmed in by three Zama defenders. Leaping high, he half-threw, half-lobbed the ball to Roach, who also found trouble in the form of two more Trojans.
"I saw two of them coming. I just kept my legs going," said Roach, who finished with 213 yards on 22 carries, just 13 days after arriving in Japan with his brother, Chris.
"The defense boxed him in pretty well. I don't know how [Novak] got [Roach] the ball," Yokota coach Tim Pujol said.
The Trojans had two more chances but turned it over on downs at their own 35 with 2:21 left before Panthers sophomore free safety Shamarr Howell got the second of his two interceptions with eight seconds left.
Using its trademark running game to amass 300 yards on 41 rushing attempts, Yokota won its 29th straight regular-season game on the field. Two victories last year were forfeited when it was found Yokota had used an ineligible player.
Roach, who totaled 224 all-purpose yards, and fullback Jeremiah Pearcey, who ran 15 times for 83 yards and a TD, accounted for nearly all of Yokota's offense.
This was far from the dominant Yokota team that outscored opponents 428-46 last season.
Anthony Garcia recovered a fumble and intercepted a pass for Zama, which got 149 all-purpose yards from running back Donovan Nance and piled up 205 yards on 44 plays.
Trojans quarterback David McMahon went 6-for-13 for 87 yards, including a 43-yard TD pass to Brandon Waters and a 24-yarder to Corey Stacey. Jon Gilgenast added a 31-yard field goal.
"Jeremiah and Roy ran the ball really hard. What a great individual effort on their part. But we have a lot of work to do," Pujol said. "We have to work to win the line of scrimmage, which we didn't do tonight."
Losing senior center Karl Gerstner, also the team's placekicker and punter, to a knee injury early in the third quarter didn't help matters, Pujol said. The extent of the injury was unclear, and Gerstner will be re-evaluated Monday.
Meanwhile, the Trojans, beaten 21-6 and 55-0 by Yokota last season, were much closer this time. But critical mistakes, including not cashing in on a first-and-goal from the Yokota 9 in the fourth quarter, cost Zama dearly.
"We need to work on offensive timing," coach Ron Geist said. "We need to get our plays to flow. We need the backs to hit the hole when it's made. And we need to cut down on mistakes. We'll bounce back."
Zama visits Nile C. Kinnick next Friday at 7 p.m. in a battle of teams expected to challenge Yokota, the four-time defending JFL and Kanto Plain Association of Secondary Schools champion. The Panthers head to Iwakuni Marine Corps Air Station on Saturday for a 1 p.m. encounter with Matthew C. Perry.
---
---
---
---