Yokota influence is felt despite Raiders' absence from tourney
---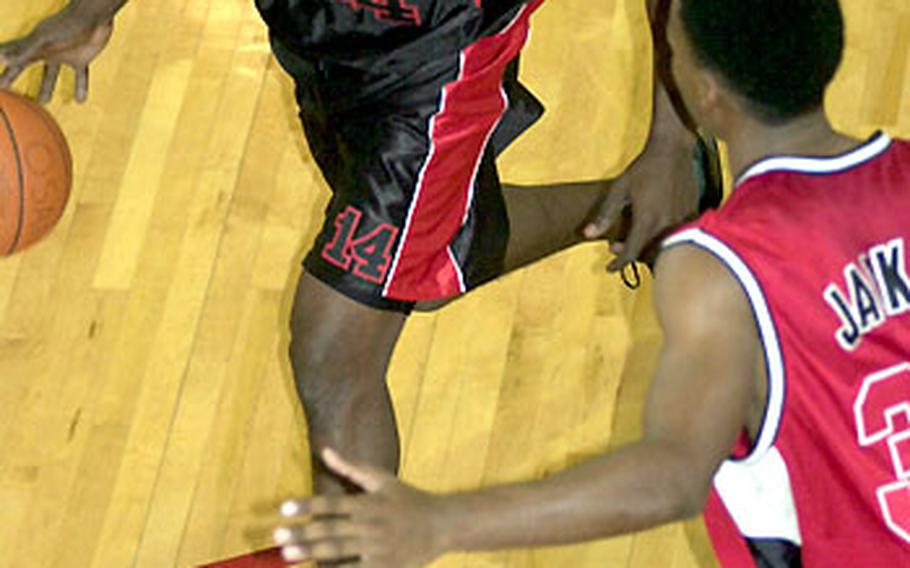 OSAN AIR BASE, South Korea — Though Yokota Air Base's interservice basketball team didn't make the trip from Japan to the Osan Pacificwide Invitational Basketball Tournament, the Raiders still have a presence here.
Two former Raiders, guard Darrell Harmon (1994-97) and post Cedric Tanner (1999-2002), are playing for host Osan. Go back even further, and you'll find coach Gerrard Barnes of Guam's Andersen Bombers, who cut his teeth on Yokota basketball in the mid-1970s.
There's also Marlowe Grimsley, a Raider guard the past five seasons, picked up by the Bombers after only six of their 16 players could be released from duty in the wake of Typhoon Pongsona.
This is Grimsley's first chance to play in the Osan event, and Barnes was happy to have Grimsley's services.
"He's a veteran and brings a lot of leadership to the team," he said. "The chemistry isn't there yet, but his performance allows him to mesh with the team. It'll get better as we go along."
"We sort of use Osan as a way into and out of other bases," Tanner said. "No matter how long you're out here, you see a lot of people who have played for [Osan coach] Tony Jones. It just so happens a few, like us, have also played for Yokota."
There was one drawback, Grimsley said, to playing here: Andersen was set to face Osan on Wednesday, and he would take the court against Tanner for the first time, former Raider vs. current Raider.
"I wish I could have him now. I need him back," Grimsley said. "Now, we're playing against each other. I'll be ready, and I know he will, too."
---
---
---
---