Yokota High swimmer Heimbach has Olympic aspirations
by
Dave Ornauer
November 6, 2003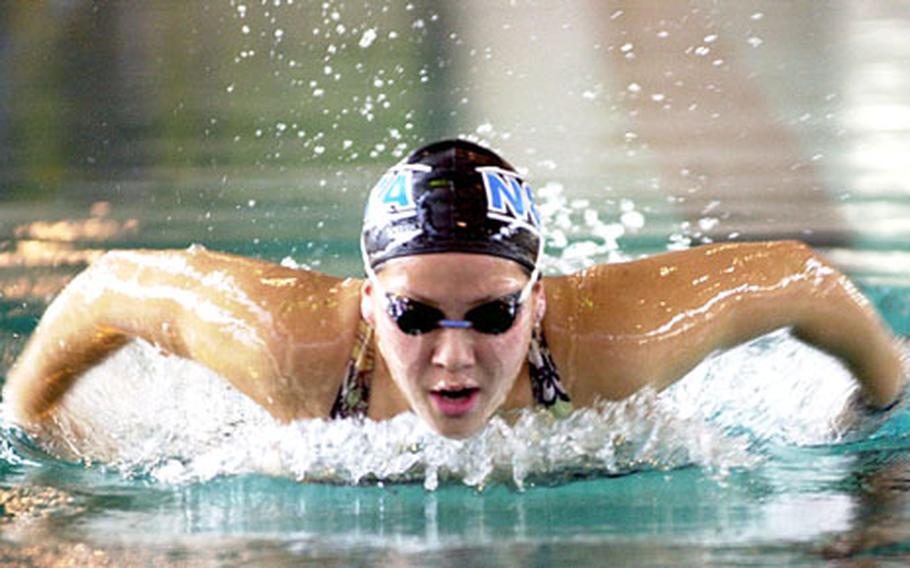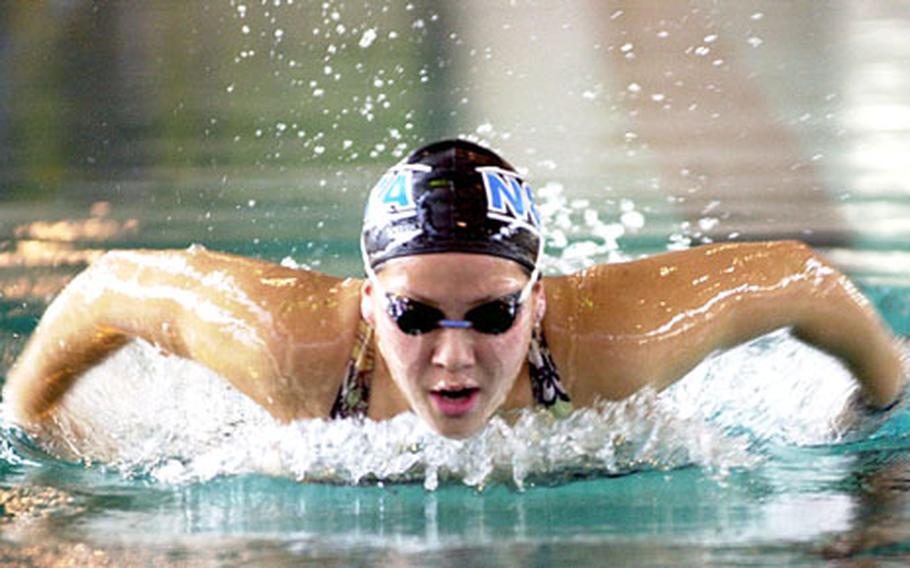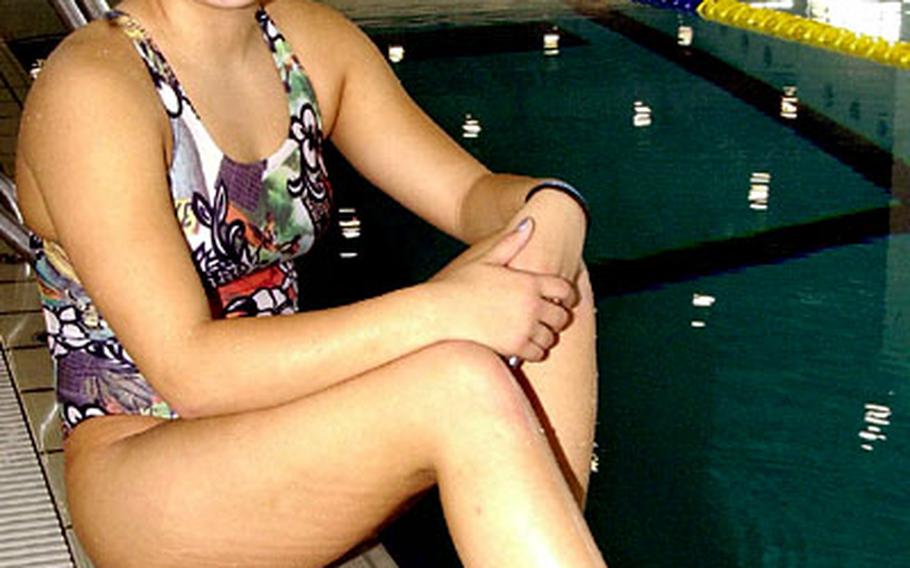 Every now and then, Elliko Heimbach looks through an old Sports Illustrated or Swimming World, or browses the Internet, seeking history-makers' names and reading their achievements.
Kyoko Iwasaki, the Japanese teen darling of the 1992 Barcelona Summer Olympic Games. Janet Evans, Tracy Caulkins and Amy Van Dyken, all U.S. Olympic medalists, who have inspired a generation of young American women swimmers.
Heimbach, 16, a Yokota High School junior who has competed against Japanese and American swimmers since she was 10, hopes to join that list.
In six months, she'll hit the Tatsumi International Swim Center for the Japanese Olympic team trials, competing for a spot in the 2004 Summer Games in Athens.
In the Suburban Tokyo Club Swim Championships on Oct. 26, she finished the 100-meter butterfly in 1 minute, 1.75 seconds to qualify for the Olympic trials. Because she holds dual American-Japanese citizenship, and because the U.S. qualifying time is 1:02.39, she also could try out for the U.S. team in July in Long Beach, Calif.
"I want to do this," Heimbach said. "I sought this goal for a long time. I've worked hard to get it."
The Japanese trials, scheduled for April, are the crowning achievement of Heimbach's six-year ride.
"If I could get a good time, my best time, and get up there with those big swimmers, that would be so cool," she said. "There's no pressure. I mean, there is pressure, but I'm having fun with it."
She adopted that outlook last summer in Irvine, Calif., with Novaquatics, one of Southern California's foremost swimming clubs.
Novaquatics coach and CEO Dave Salo and Irvine High School coach Scott Hinman, she said, "showed me a whole new way to view swimming: Just have fun with it."
In Japan, "I just wanted to have a fast time," she said, but in the States, "there's so much more to it. … It's having fun to race. Swimming became so much more fun. It's fun now. It was fun before, but there's not as much pressure as there was when I was younger."
Her longtime coach, Yoko Yatsuzuka, whom Heimbach describes as strict, says blending two approaches to swimming has served her well.
"She has a very good sense in swimming … her kicking timing is very good and her swimming is very dynamic," Yatsuzuka said. "Elliko is still growing, and her potential is unlimited. She has the best of both America and Japan. She knows where she stands and is always very positive-minded, yet very humble and takes swimming very seriously."
"She cares about me so much and she's always been a good coach," Heimbach said of Yatsuzuka. She always has pushed me "to keep setting higher goals. To keep going, keep digging, to keep challenging myself."
Competing for Novaquatics and Irvine also strengthened her confidence.
"In practice, there I am, racing against Hayley Peirsol [who finished second in the 1,500 in this summer's World Championships]," Heimbach said. "That I could be training with these people, that gave me confidence."
Her coaches also spent time sharpening her skills.
"My strokes are a lot more efficient now than they were two years ago," Heimbach said. "We worked a lot on skill and technique. It wasn't all much about training, but getting to know your body more and the way you should race. … That made me a lot faster."
Heimbach entered an American Swim Council in Japan meet Oct. 4 and set council records in the 100 freestyle (59.29 seconds), 100 butterfly (1:05.16), 200 individual medley (2:26.84) and 200 freestyle (2:08.95).
Grabbing a spot on the Japanese Olympic team, Yatsuzaka cautioned, depends on how she performs before the trials.
Although Heimbach "has the ability," Yatsuzaka said, "Japan's standard for butterfly is very high. Japanese teams remain in the finals in most of the Olympic events."
Chiyomi Sumida contributed to this report.