Yokota boys, Kinnick girls taking aim at conference leaders
---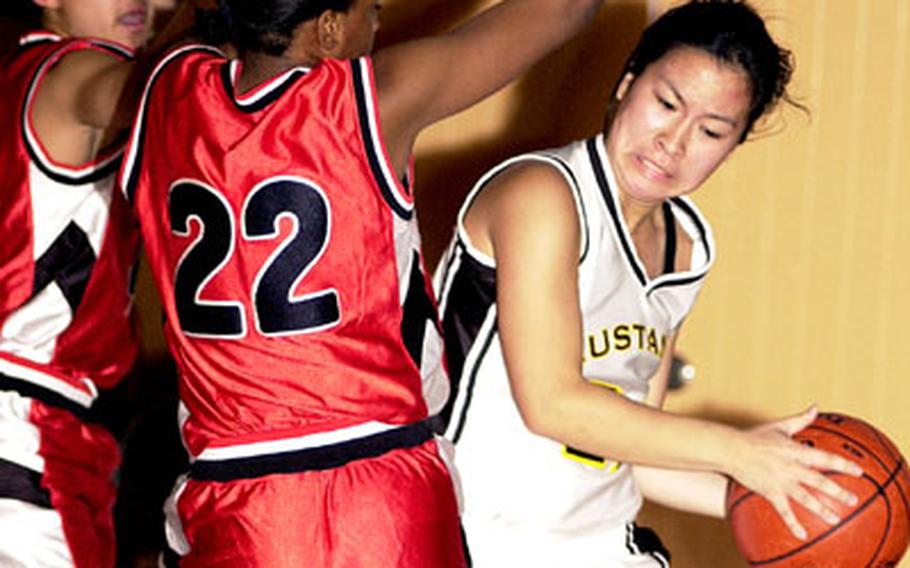 TOKYO — The Yokota boys basketball team has more in common with the girls squad from Kinnick than just winning games at the American School in Japan on Wednesday night.
Both teams are trying to catch conference leaders that got off to quick starts this season while also attempting to time their peak for the Far East tournaments in February.
Yokota's boys improved to 4-2 in the Japan Basketball League and 6-2 in the Kanto Plain by beating ASIJ 55-45 to keep the pressure on Kinnick, which is 8-0 in both leagues and will host the Panthers on Feb. 17.
Yokota coach Paul Ettl is hoping for a reversal of fortune from last season when the Panthers peaked with an 11-game winning streak last January, only to tumble in February.
"We tried to learn from our mistakes. We want to peak in the third week of February, instead of the third week of January," Ettl said of the Class AA tournament Feb. 21-26 at Kadena High School on Okinawa.
Cameron Cooper led the Panthers with 30 points, including four three-pointers, against the Mustangs.
"They work really hard. They've got good chemistry. There's no big star," he said. "Instead of one guy getting 30, we have three getting 15 most games. We have pretty good balance."
Kinnick's girls share a late-season swoon in 2004 with Yokota's boys. They went unbeaten in the regular season, winning the JBL and Kanto titles before fading to fifth place at Far East.
Kinnick coach Henry Falk knew he had an experienced starting five at the start of the season, but it's the team's improving bench that gives him hope for a better Far East finish this year.
"As the weeks go by, we get much more help from the bench," Falk said after Lualhati Johnson netted 14 points and Tomika Lynce added 11 points, seven rebounds and five steals in Wednesday's victory.
Rather than peaking too early, Falk thinks the best is yet to come, with the Class AA tournament Feb. 21-26 at Seoul American the big goal.
"We're still improving and we still have a lot more to go," he said. "We still haven't peaked yet."
The Red Devils looked good Wednesday, using a pressure defense to overwhelm ASIJ 50-26 to give the front-running Yokota girls reason to be wary, especially with Panthers coach Ric Cabral scouting the game.
Cabral's club won its first 14 games before losing 54-42 last Saturday at Seisen International. Cabral cited that as an example of other teams stepping up their game as the season wears on.
"In the second half of the season, teams have picked up their game, honed their skills and they find they're a lot more aggressive," Cabral said.
That raises the question as to whether the loss to Seisen is a sign that Yokota's girls could follow the example set last season by the Yokota boys and Kinnick girls.
"It's very tough to climb a second peak," Cabral said. "We have to take it to another level. Everybody's gunning for Yokota. Now that Seisen has beaten us, that gives everybody else more confidence."
---
---
---
---