Yokosuka clinches first place
---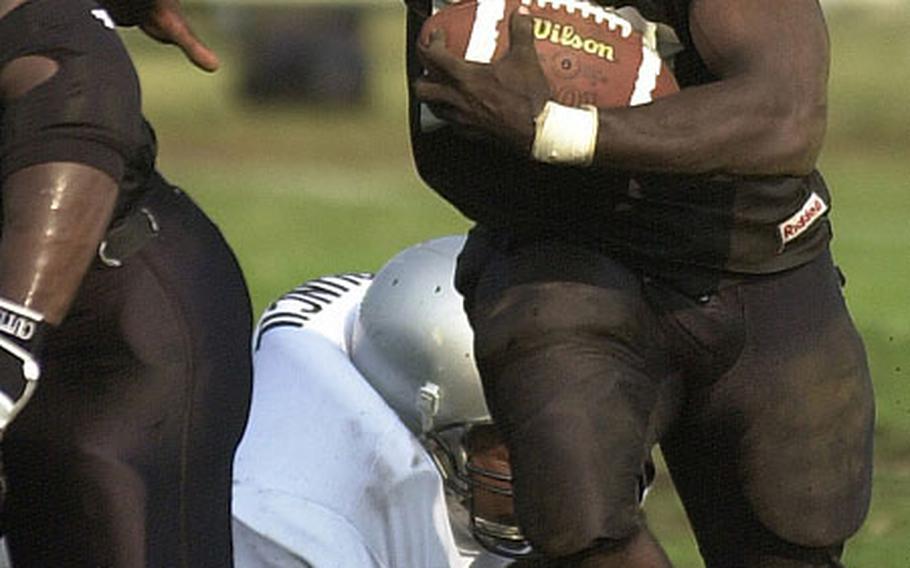 YOKOSUKA NAVAL BASE, Japan — What Yokosuka lacked on offense, Leon Howell made up for on defense and special teams.
The cornerback/return specialist ran back two Yokota punts for touchdowns and took an interception 101 yards for a score on the last play of the Seahawks' 28-0 shutout of the Raiders on Saturday at Berkey Field.
At Atsugi Naval Air Facility's Reid Memorial Stadium, Misawa routed Atsugi 47-6, creating a three-way tie for first place between the Seahawks (4-2), Raiders and Marauders, who each beat each other once during the regular season.
Based on the league's second tiebreaker — point differential in games between the three tied teams — Yokosuka surged to its fifth straight U.S. Forces Japan-American Football League regular-season title and home-field advantage throughout the playoffs.
Yokosuka hosts Atsugi Sept. 4 in one semifinal, while Misawa finished second. Yokota, which held the top spot throughout the regular season, fell to third place.
The Raiders travel to Misawa to play the other semifinal, with the Sept. 4 winners to square off in for the championship in the Torii Bowl on Sept. 11.
Yokosuka 28, Yokota 0: "I'm relishing the moment," Seahawks coach Isaac Lee said.
Yokosuka faced a tough task, made tougher by Misawa's victory over Atsugi. Starting the day in third place, the Seahawks needed to beat Yokota by 18 points to sew up second place or win by 23 to capture the regular-season title.
Lee said his mind was foremost on the game in front of him, rather than the point differential.
"I knew we had to go out and play well just to beat them, first thing," Lee said of the Raiders, who beat Yokosuka 14-10 in the season opener. "We didn't give up the big plays that we did the first time."
The Seahawks extended their winning streak to three games after losing two of their first three.
"It's good that these kids bounced back. We could have folded at 1-2," Lee said.
Howell keyed Yokosuka's biggest victory of the season. He returned second-quarter punts 92 and 55 yards to put the Seahawks ahead 20-0 at halftime.
Robert Trisby opened the scoring by catching his sixth TD pass of the season, an 8-yarder from Alvin Johnson. Gary Hicks had 2½ sacks, running his league-leading total to 11½. Andre Mitchell added three sacks and Thomas Curry intercepted a pass.
Yokota, which lost its second straight, had its chances. The Raiders didn't even need to beat the Seahawks to keep first place and home field, only to lose by fewer than 13 points.
But a third-quarter touchdown pass was called back by an ineligible-receiver penalty. The defense later had Yokosuka backed to its 2-yard line, but two personal foul penalties got the Seahawks out of the hole.
With one last chance to score, from Yokosuka's 6-yard line, Raiders quarterback Jacob Dowdell threw to the corner of the end zone, but Howell intercepted the pass and ran it back 101 yards as time ran out.
"We misfired in a lot of areas," Yokota coach Ricardo Young said. "We were confident going into the game. It was minor mental mistakes, nonsense penalties … that got us into the hole. We didn't execute and it came back to hurt us."
Misawa 47, Atsugi 6: For the Marauders, the task was simple: Win and guarantee themselves at least second place and the right to host a semifinal, or lose and finish third.
"We were a bit antsy waiting on word from the other game. But we had no control over the other game. We couldn't do anything about it," Misawa assistant coach Thomas Mangan said. "It was interesting, stressful, but that's OK."
Misawa led 21-0 at halftime. With darkness approaching, and Atsugi well behind, officials went to running time in the third quarter before ending the contest with seven minutes left.
League-leading rusher James Coleman racked up 197 yards on 21 carries, including TD runs of 17, 2 and 6 yards. Fullback John Pappas ran seven times for 79 yards, with touchdowns of 22 and 21 yards. James Garcia added scoring runs of 12 and 21 yards.
Atsugi scored in the third quarter on a 60-yard pass from Josh Bunn to Kenneth Morris.
---
---
---
---