Yokosuka claims USFJ-AFL title again
by
Dave Ornauer
September 10, 2007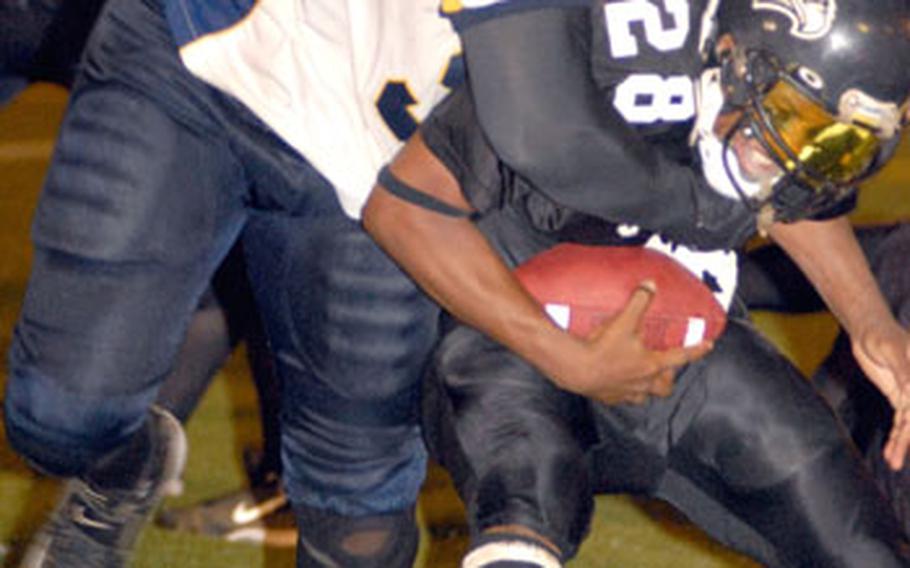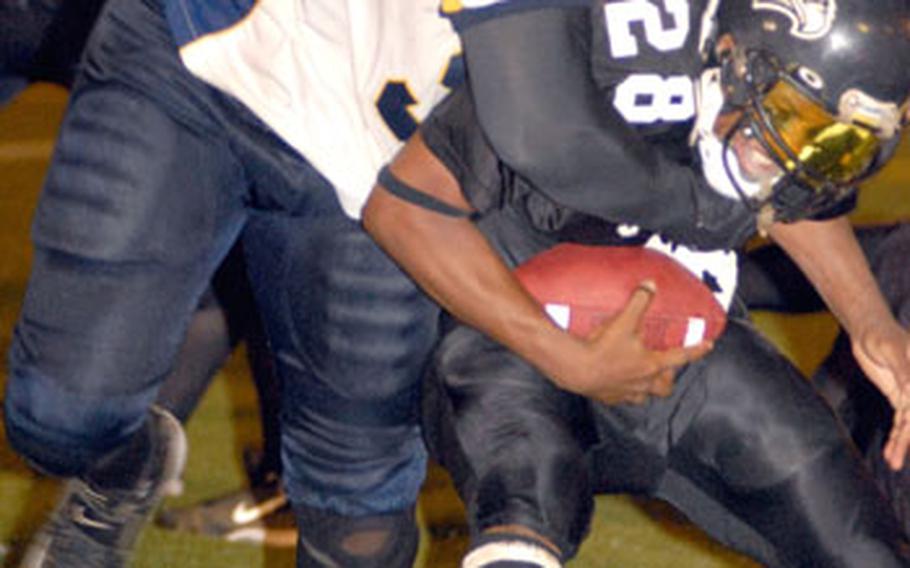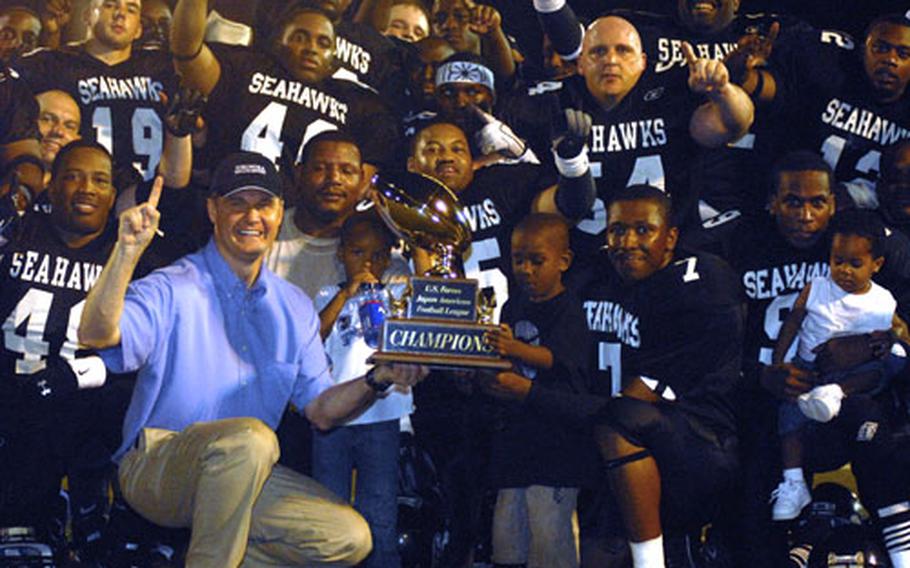 YOKOSUKA NAVAL BASE, Japan – Yokosuka cornerback Stryon Linder could not have timed his only interception of the season any better.
With neither offense generating a thing, Linder returned an interception 80 yards for a touchdown with 7:44 left, leading Yokosuka past Yokota 7-0 in Saturday's Torii Bowl at Yokosuka's Berkey Field.
It is the Seahawks seventh U.S. Forces Japan-American Football League title after the lowest scoring Torii Bowl in league history.
"A championship is a championship," Yokosuka coach Robert Cole said.
Yokosuka was playing its first game in five weeks, since losing the regular-season finale 6-3 at Yokota. Since then, the Seahawks managed only one good practice with many players deployed or facing other duty issues.
"We knew it would be tough going in," Cole said. "We won this game because no one has more heart than we do. And nobody can touch our defense."
Defense certainly ruled a day on which the Seahawks and Warriors combined for 98 yards – less than one trip down Berkey's new turf surface. Yokota forced three turnovers; Yokosuka recorded three takeaways and five sacks.
The Seahawks managed to penetrate to Yokota's 19-yard line on the first play of the final quarter, while the Warriors only got as far as Yokosuka's 44 twice.
Yokota took the ball following a 24-yard Seahawks punt at the Yokosuka 47 with eight minutes left. Quarterback Leonard Ooten threw down the left sideline, going for wideout Bruce Turner, but Linder stepped in front of the ball and darted up the right sideline.
"I was thinking I had to get to my wall" of blockers, Linder said. "I needed to find the wall. As I kept going, I could see the wall form, I had one man to beat and once I got him, I saw the guys lay them down, lay them flat. It was all a team effort."
"That was huge," Cole said of Linder, adding that he's faced "all kinds of battles" this season, including ankle surgery later this month. "He should have been tackled three or four times. But he played his backside off, and that's very much like this team plays."
Yokota had two tries to tie it, the first ending on a sack with 4:27 left and the other when A.J. Eversley was forced to punt from the back of the end zone with just under a minute left.
It was the third defeat in three Torii Bowls for Yokota; the Warriors lost 12-6 at Yokosuka in 2000 and 30-21 at Misawa in 2005.
"For a lot of these guys, it was their third try and it hurts. It hurts me," Warriors coach Christopher Bell said. "I don't know what to say. Their offense didn't score on us in two games and we gave them that interception. This is tough."
USFJ-AFL playoffs
Semifinal
Saturday, Aug. 18
Yokota 9, Misawa 6
Torii Bowl
Saturday, Sept. 8
Yokosuka 7, Yokota 0
At Berkey Field, Yokosuka Naval Base, Japan
Yokota……….0 0 0 0—0
Yokosuka……….0 0 0 7—7
Fourth quarter
Yokosuka-Stryon Linder 80-yard interception return (Kevin Abney kick), 7-0, 4:16
Yokota Yokosuka
First downs 5 2
Rushes-yards 22-(-78) 40-69
Passing yards 107 0
Comp.-Att.-Int. 9-34-2 1-5-1
Total offense 56-29 45-69
Returns-yards 3-29 3-86
Total yards 58 155
Sacks-yards lost 5-33 0-0
Fumbles-lost 1-1 2-2
Penalties-yards lost 11-80 13-80
Individual statistics
Rushing-Yokota, Mardie Wilson 1-2, Dominique Carvin 7-(minus-3), A.J. Eversley 1-(minus-7), Terrence Nash 4-(minus-11), Leonard Ooten 9-(minus-57). Yokosuka, Damien Williams 24-43, William Batten 3-12, Cameron Haines 7-12, Will Lee 4-4, Eric Bodkin 1-(minus-1), Dayon Banks 1-(minus-1).
Passing-Yokota, Leonard Ooten 9-34-2-107. Yokosuka, William Batten 1-2-0-0, Cameron Haines 0-3-1-0.
Receiving-Yokota, Michael Mathis 5-66, Mishandray Etienne 1-17, Lee Sinclair 1-16, Stanley Gray 1-7, A.J. Eversley 1-1.