Würzburg's wrestling Painter brothers aiming high in tournament
by
Rusty Bryan
February 12, 2004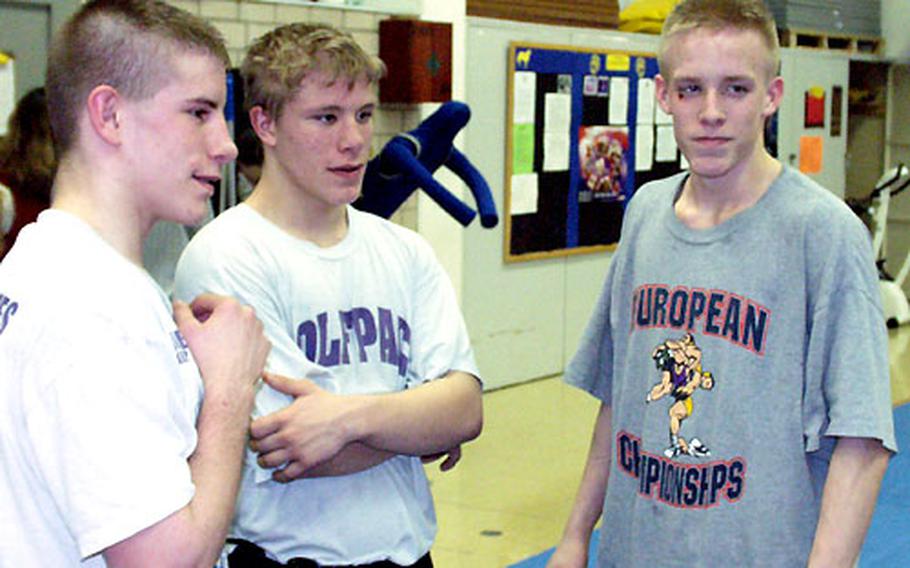 WüRZBURG, Germany — Juniors Jesse and Jonathan Painter, twin brothers who both placed as sophomores for Würzburg at last season's European wrestling championships, return to this weekend's tournament hoping for more.
And the bad news for the Wolves' future opponents is that another Painter is on the way.
Next year, Jesse and Jonathan will be joined by younger brother Brian, an eighth-grader who already has shown a lot of promise, according to Würzburg wrestling coach Duane Werner.
"If Brian were a freshman," Werner said flatly, "he'd be on our team."
Brian, oddly enough, is the one who introduced his older brothers to wrestling.
"Brian got me into wrestling," said Jesse, who placed sixth at 125 pounds in last year's Europeans. "He got into youth wrestling in Virginia and got me started."
Jesse then passed the bug along.
"He got me started," Jonathan said, nodding at his twin.
Until the youngest in the family showed them a different way, Jesse and Jonathan were, respectively, a football player and a cross-country runner.
Both still compete in those sports, with considerable success. Jonathan, who placed fourth at 119 pounds in last year's European wrestling championships, finished 13th in the European cross-country championships in October.
Jesse still plays football but prefers the highs and lows in this most individual of all amateur sports.
"I love this so much better than football," Jesse said. "I love the competition. It's such a good feeling when you win and such a bad feeling when you lose."
Jesse's enjoyment is heightened by the all-out style he's adopted on the mat.
"I enjoy taking risks out there," he said. "It's more exciting that way."
Even though they're twins, the Painters differ in their approaches to the sport, according to Werner.
"Jesse is more of a bull in a china closet," Werner said of the football-playing brother. "He will make mistakes going full bore, but usually can get out of them with his aggressiveness. Jon is a little more technical, but all of them can go full bore."
"Full bore" pretty much sums up Würzburg's team philosophy, and all three Painters agreed that the team is vital for motivation, even though a wrestler steps onto his playing field by himself.
"They can really support you," Jonathan said of his teammates. "Each single person affects the team score, so you have to give it all you've got."
"A lot of time you work harder in practice," Brian said, "just so you won't let the team down."
In the case of the Painters, training is the bread-and-butter of their daily existence. The dedication hasn't gone unnoticed by Werner.
"I can count on them to do the work you have to do outside of practice," he said. "All three of them are able to go six minutes and not get tired."
The conditioning edge is mental as well as physical, Werner added.
"They're still thinking at the end because they're not out of gas," he said. "Wrestling is a thinking man's game."
Werner's Wolves were savaged by graduation and transfers this season. Twenty-three of his 29 wrestlers are freshmen and sophomores, yet the team still finished fourth in last weekend's Division I championships.
Wrestling in a brutally tough 119-person field, Jonathan placed fourth, while Jesse just missed a 125-pound crown in a 9-7 loss to champion Adam Johnson of Heidelberg.
Werner's counting on an augmented squad of Painters to help pull Würzburg back into the hunt next year.
"We're going to be good," Werner said. "I like the youth and enthusiasm. The last time I had a team like this year's, we went out and won three straight titles."
---
---
---
---