Würzburg's Goodman quickly became a superb shooter
---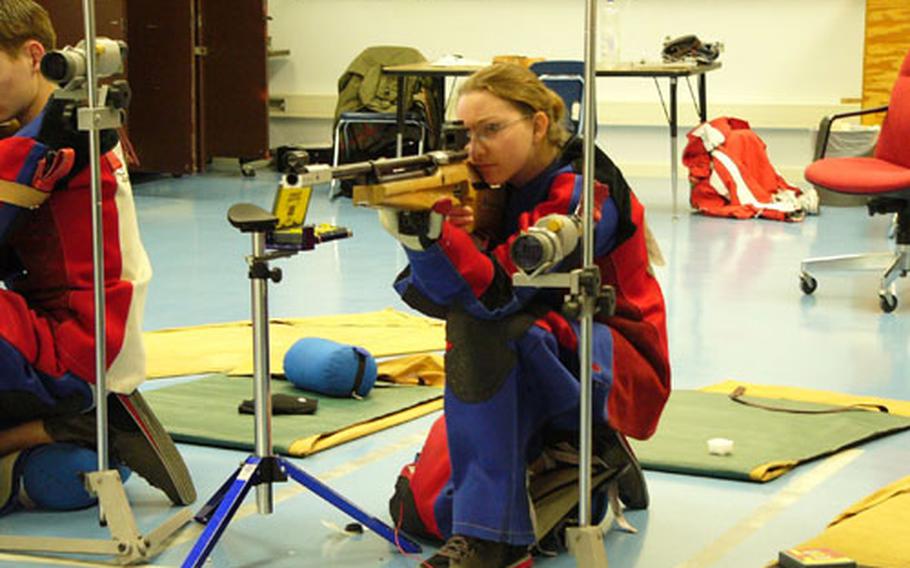 There are quick studies, and then there's Brenna Goodman.
Goodman, a junior at Würzburg High School who has set the DODDS-Europe marksmanship record two weeks in a row, had done no shooting before August 2005. That's when 1st Sgt. Jack Wayne of the Würzburg Junior ROTC invited her to try out for the rifle team.
"I had always been interested in shooting, but I wasn't sure," she recalled during practice Tuesday. "I thought I'd go try it and stay if I enjoyed it."
Goodman, 16, did more than enjoy her first experience with the sophisticated precision air rifles used for marksmanship. By last January, she had tied teammate Carly Sipes for the individual European championship. By last February, she had qualified for the JROTC national meet at Fort Benning, Ga.
And just last month, she set a DODDS-Europe record, 291 of a possible 300. Saturday, she broke that mark by firing a 293, which included a perfect 100 in the prone position, and a hard-to-believe 98 of 100 in the standing position.
Hard-to-believe, that is, until you see her in action.
"Look at the muzzle of her rifle," Würzburg co-coach Douglas Rudd whispered as Goodman lined up a dead-center, 10-point shot at a bull's-eye the diameter of a pencil eraser 10 meters away. "It doesn't move at all."
Rudd is one of several coaches Goodman credits with her rapid progress. Chief among them is co-coach John Freeman.
"Sgt. Maj. Freeman gave me the nitty-gritty on getting into the 290s," Goodman said. "He taught me things like the basic point of aim, shifting your body so that the rifle naturally falls on the target. It helps keep the rifle from drifting right or left."
Goodman apparently comes by her ability naturally. Uncles Mark and Marshall Goodman are avid hunters, she said, and her father, Rob, is an Army officer.
"He always qualifies expert," she said.
Rudd thinks Goodman's main strength is her ability to focus.
"To be a good shooter, you've got to be able to concentrate," he said. "You can see how well she concentrates in everything she does, from giving a briefing to senior officers to here on the range."
Right now, Goodman's concentration is on helping the Wolves win their eighth straight DODDS-Europe title. That chance arrives Jan. 27 at Patch High School. Rudd believes that Würzburg — with Goodman, Sipes, a junior who shot a kneeling 100 last Saturday, freshman Kahlen Lacy; junior Eli Jensen and senior Mark Dixon — will be the team to beat.
"This is the best team we've ever had," he said.
Goodman agrees about the team's quality, but not just for its prowess on the range.
"The best thing [about shooting] is being on the team, making friends and getting to hang out with them," she said. "There's a lot of satisfaction in seeing the team win."
Goodman has already qualified for next month's nationals at Fort Benning. Her 293 is the best score posted so far nationally, according to Rudd, and 11 points higher than her mark last year at the Europeans.
For her part, Goodman hopes to continue in the sport she's taken to so quickly.
"I'd like to get a rifle scholarship," she said. "I'd like to make the Army Marksmanship Unit some day."
Does she think the steep learning curve she's ridden so far will flatten out?
"I hope not," she said. "There are always 10s to hit and 300s out there."
---
---
---
---