Würzburg right on target in taking DODDS-Europe rifle title
---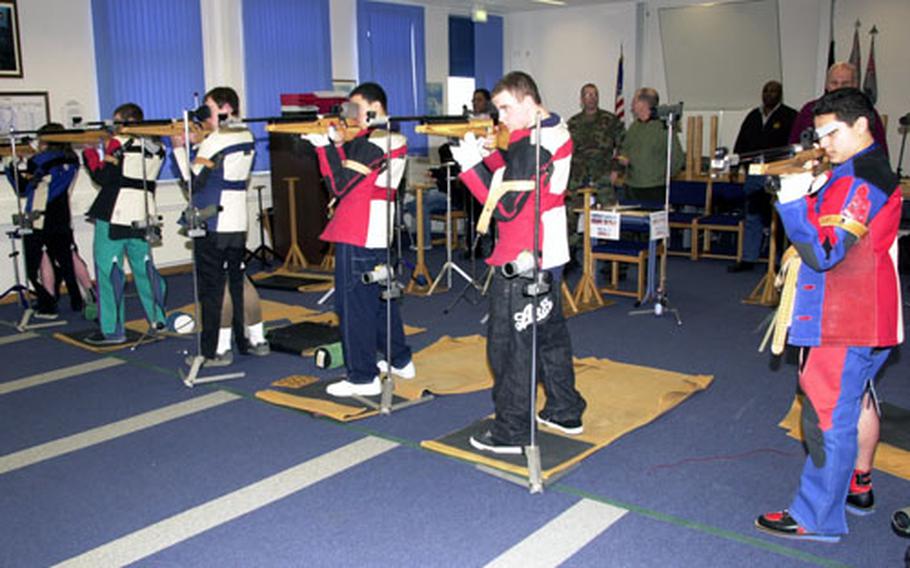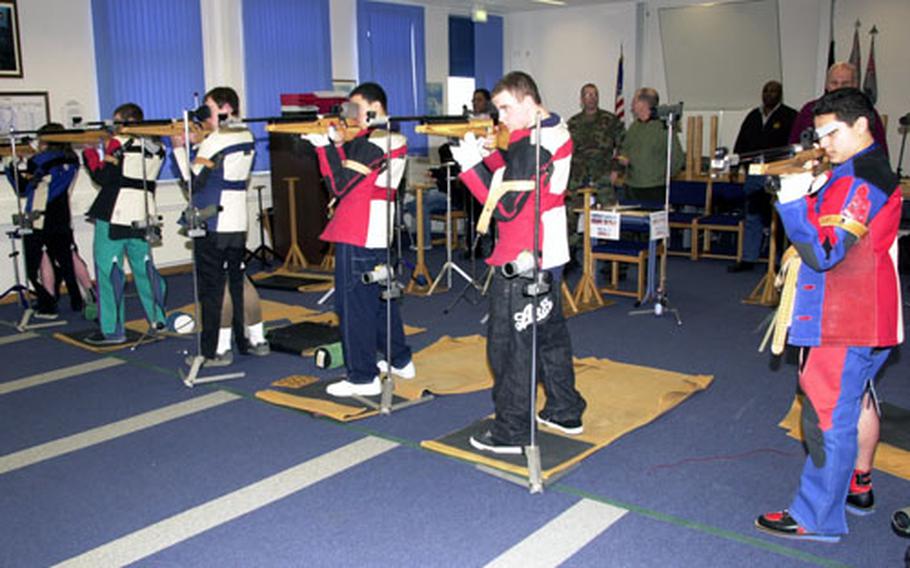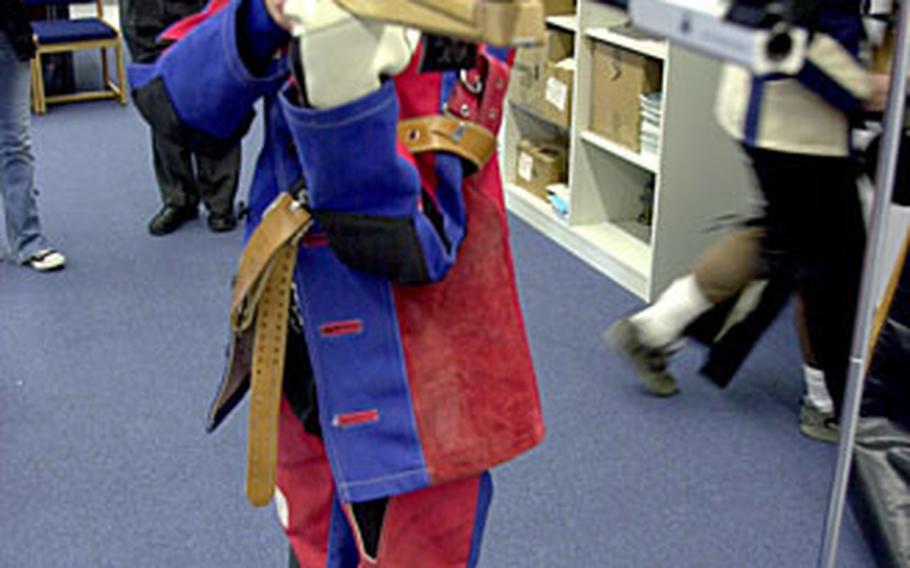 HOHENFELS, Germany — Würzburg's rifle team once again demonstrated its shooting skills by winning the DODDS-Europe marksmanship championship Saturday.
The six-gun Würzburg team scored a combined total of 1393 in the competition, beating Hohenfels, which shot 1348, and five other competitors.
Next stop for the shooters: the national finals at Fort Benning, Ga. The team qualified for the finals earlier this month in a mail-in contest that involved shooting targets at their home range, then posting the results to Fort Benning to be judged.
Bob Hase, organizer for Saturday's championship at Hohenfels, said the mail-in contest was held because the DODDS-Europe results come too late to qualify teams for the nationals.
On Saturday, Würzburg proved that no matter how the winner was selected, it was the best of the 12 teams competing in Europe this year — including the seven that qualified for the final.
Würzburg swept the top three overall spots with Brenna Goodman and Carly Sipes both posting 282 and Ana Ikstrum a 280 out of a maximum of 300 points. Contestants fire 10 shots in each of three positions — prone, standing and kneeling — to determine scores, which are based on how close shots come to the target's center.
In the individual positions, Ikstrum and Sipes tied for first in kneeling and Goodman took first in standing. Chastyns Anglesey of Patch won the prone position with a 99, the top score of the day.
Goodman, 15, who took up shooting after moving to Germany six months ago and finished the year with the highest score for the season, 1408, said coach Jack Wayne is the main reason for the team's success.
"He knows every little thing about shooting," she said of Wayne, a retired Army first sergeant. She said one of the ways he rewards the team for good shooting is by letting them fire at plastic toy Army men.
Wayne, 58, has coached marksmanship since 1986. His teams have won eight European championships in a row, he said. There was no DODDS champ last year because the European finals were canceled due to an accident in the United States that led to a moratorium on ROTC marksmanship while safety guidelines were reviewed.
"The key is having kids who are dedicated to the sport and who want to be shooters," he said. "The next big thing is being at the range with them and watching every move they make and fine-tuning their positions. And practice, practice, practice."
The Würzburg team includes five girls and a boy. Ikstrums, 16, who started shooting last year and is the team captain this year, said the reason is simple: Girls are better at concentrating.
"We can focus more and guys get angry too fast. When they shoot poorly they get mad at themselves. You are supposed to completely blank your mind when you are shooting," said Ikstrums, who sings classical music in her head when she is lining up targets.
Teamwork is an important part of shooting and it was a big factor in Würzburg's success, she added.
"You'd think it would be individual but when you shoot a bulls-eye you think: "That's one for the team,'" she said.
The only boy on the title-winning team, Ben Guerrero, 16, said the fact that all his teammates are girls was great for motivation.
"It's like having your own squad of cheerleaders," he said.
The marksmen compete with precision air rifles supplied by the Army. Apart from the barrels, the Feinwerkbau .177 caliber rifles are the same as the weapons used in the Olympics, Hase said. Teams shoot on a standard 10-meter international range at paper targets.
U.S. Army Europe and Junior ROTC co-sponsor the championships with DODDS.
European championships
Saturday at Hohenfels, Germany
Team scoring: Würzburg 1303; Hohenfels 1348; Patch 1337; Vilseck 1287; Giessen 1274; Mannheim 1265; Hanau 1245.
High scorer: Brenna Goodman and Carly Sipes (Wzbg) 282 each; Ana Ikstrums (Wzbg) 280.
Prone: Chastyns Anglesey (Pat) 99; Patrick Smith (Hoh) and Ikstrums 98 each.
Standing: Goodman 94, Sipes and Emily Weber (Pat) 89 each.
Kneeling: Ikstrums and Sipes 97; Joanne Pack (Mann) 95.
Highest scoring team, regular season: Würzburg 6948.
Highest scoring individual, regular season: Goodman 1408.
---
---
---
---