Würzburg, K-town combine to end Heidelberg's long hoop reign
---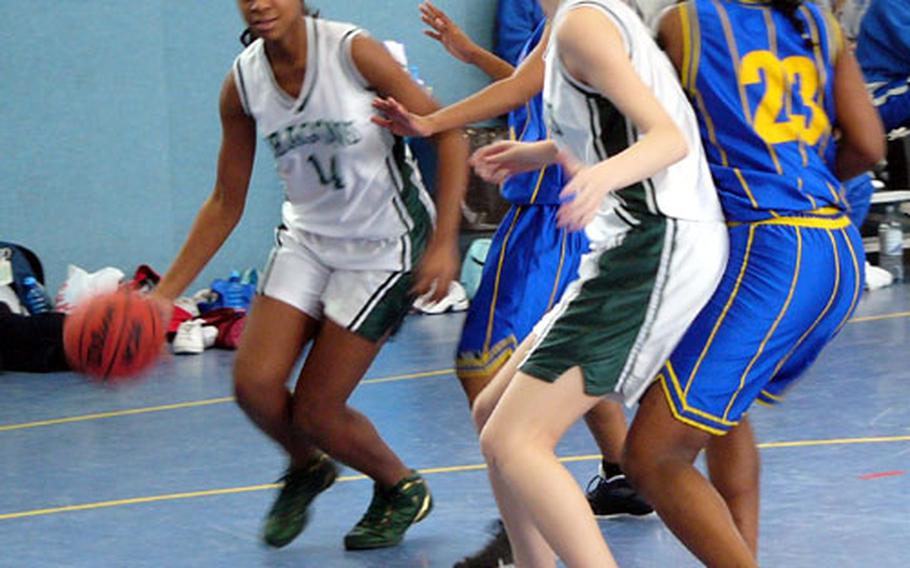 (Scores of Wednesday's games at end of story)
MANNHEIM, Germany — After six years, there will be a new boys Division I basketball champion.
The Heidelberg Lions, who have won the past five European Division I titles, fell to fifth-seeded Würzburg 44-43 and fourth-seeded Kaiserslautern 45-32 on Wednesday's first day of play and fell out of title contention.
"We tried to do something that they weren't used to," said Kaiserslautern coach Clinton Robinson after his Red Raiders frustrated Heidelberg with a stall that consumed the final 2:55 of the first quarter and most of the second quarter.
K-town, which led 7-4 after the opening quarter, attempted only one field goal in the second quarter, a three-pointer by Quentin Strawder, but still outscored the Lions 7-6 in the period. The Red Raiders then put the game away with a 14-8 run over the first 5:50 of the third quarter, largely on the scoring of Jamal Anene.
Anene had a game-high 14 points, all in the second half.
Clinton Robinson III, the coach's son, put the final nail in the Lions' coffin, dropping in a long three that made the score 35-27 with 2:25 left.
"We've been waiting for this for a long time," said Anene.
The game was a must-win for each team after each had lost to surprising Würzburg earlier in the day.
Würzburg's Justin Gennings hit the game-winning free throw in the victory over Heidelberg, a shot in the final 10 seconds that gave the Wolves their first lead of the day.
"We kept our composure and fought back," said Würzburg coach Allen Archie, whose team earned a spot in Thursday's semifinals.
The Wolves had earlier defeated K-town 54-51, again taking control late in the game. Würzburg's Jonathan Ortiz scored 15 points against Heidelberg and 14 against K-town. Soo Soo Taulellei scored a game-high 16 against K-town.
Next up for the Wolves is a 6:30 p.m. semifinal Thursday against the runner-up among Ramstein, Wiesbaden, International School of Brussels and Lakenheath; K-town will take on the champion of that pool. The title game is scheduled for 8 p.m. Friday.
For all its success on Wednesday, Würzburg isn't taking anything for granted.
"We've got a lot of tournament left," Archie said.
The girls' Division I tournament produced nothing like the drama of the boys' event, with Heidelberg's 31-24 upset of defending D-1 champion Lakenheath topping the list.
In the other tournaments, the Naples and Aviano boys and girls went unbeaten in early play; as did Hanau, Mannheim and Vilseck. There were no Division III games Wednesday, and the Alconbury and Brussels boys and girls went unbeaten early in Division IV.
Play resumes at 9 a.m. Thursday.
European basketball championships
MANNHEIM, Germany — First-day pool-play results Wednesday from the European Division I, II, III and IV high school basketball tournaments which end Saturday:
Boys
Division I
Würzburg 54, Kaiserslautern 51
Würzburg 44, Heidelberg 43
Ramstein 53, Wiesbaden 47
International School of Brussels 49, Lakenheath 44
Wiesbaden 60, ISB 51
Kaiserslautern 45, Heidelberg 32
Division II
Naples 69, AFNORTH 46
Vilseck 41, Bitburg 40 (OT)
Aviano 59, SHAPE 54
Black Forest Academy 62, Patch 40
Mannheim 55, SHAPE 39
Hanau 50, AFNORTH 10
Aviano vs. Patch, late
Mannheim vs. BFA, late
Hanau vs. Bitburg, late
Division III
No games scheduled
Division IV
Menwith Hill 51, Livorno 44
Brussels 49, Incirlik 34
Alconbury 42, Ankara 41
Iceland 41, Milan 17
Brussels 40, Menwith Hill 26
Incirlik 64, Livorno 40
Iceland vs. Alconbury, late
Ankara vs. Milan, late.
Girls
Division I
Ramstein 42, ISB 37
Heidelberg 31, Lakenheath 24
Würzburg 38, Wiesbaden 35
Kaiserslautern 30, ISB 27
Lakenheath 33, Würzburg 15
Heidelberg vs. Wiesbaden, late
Kaisersalutern vs. Ramstein, late
Division II
Naples 43, Black Forest Academy 26
AFNORTH 32, Patch 29
Vilseck 41, SHAPE 36
Aviano 33, Bitburg 29
Hanau 44, SHAPE 29
Mannheim 55, BFA 20
Naples vs. Patch, late
Hanau vs. Aviano, late
Mannheim vs. AFNORTH, late
Division III
No games scheduled
Division IV
Alconbury 55, Milan 14
Incirlik 33, Iceland 30 (2OT)
Menwith Hill 27, Ankara 11
Brussels 35, Lajes 12
Alconbury 44, Iceland 12
Incirlik vs. Milan, late
Brussels vs. Menwith Hill, late
Ankara vs. Lajes, late
---
---
---
---