Wrestling: Quartet of returning champs headlines the 2009-10 season
---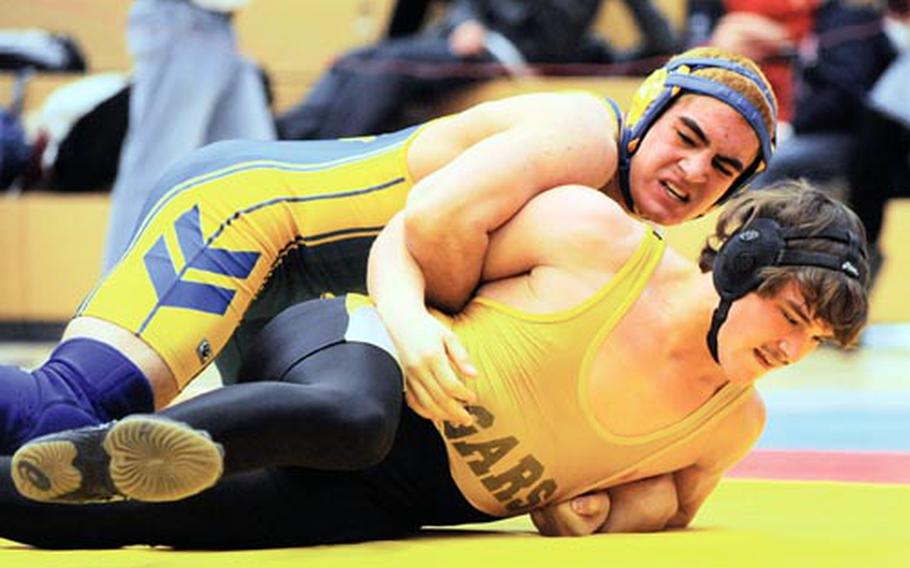 Four wrestlers who have been to the mountaintop — returning champions A.J. Remo of Kaiserslautern, Drew Polson of Wiesbaden, Tyler Hall of Vilseck and two-time champ Dominic Barrale of Ansbach — begin that climb again Saturday as DODDS-Europe opens its wrestling season at five sites.
Remo, according to his coach, Nate Selle, is "back in form, stronger than ever" and ready to defend his title at 103 pounds. Polson, who won at 112, will be performing this season for his father, Jeff, who along with Mark Ferrell is taking over for the defending Division II champion Warriors.
But it's this season's prospects for 160-pound king Hall and 171-pound champ Barrale that fascinate AFNORTH coach Greg Blankenship, whose Lions won the European D-III crown last season. He said he will be watching to see what weight class those two, plus Kyle Kaus of Vicenza (runner-up to Barrale last year) and Derek Waters of Bitburg end up in. "I would travel 300 miles to watch a meet with all four in the same weight class," he wrote in an e-mail.
Unfortunately, all four probably won't get together, since Barrale, a two-time All-Europe quarterback, is moving up to 189, according to his coach, Marcus George, to continue bulking up for college football.
To Baumholder's Glenn Pilarowski, Barrale's move spices up the heavier category. In a Monday e-mail, he said: "171 (with Hall) and 189 (with Barrale) will be awesome to watch this year."
So, too, should the team races, reduced to three divisions this season, with the move of Wiesbaden and SHAPE to Division I and the folding of most of last season's D-III teams into D-II.
Wiesbaden, which added European fourth-place finisher Kyle Higgins to its lineup, and SHAPE face a daunting task in D-I, according to Baumholder coach Pilarowski, whose Bucs are pitted against at least one D-I foe every week.
"Patch lost a lot of wrestlers, but they should be tough because of their youth program," he wrote. "Vilseck will be stronger. … Their kids are strong and athletic."
And deep. In addition to Hall, Vilseck returns three other European qualifiers and a transfer who made the 2009 state tournament in Iowa, 140-pounder Nicolas Thomas.
The Falcons, in fact, along with Kaiserslautern, which welcomes a Pennsylvania transfer expected to make waves — senior Caleb Burford — are Pilarowski's picks as probable successors to Patch.
But K-town's Selle is wary of his sizable neighbor. "Ramstein has enough wrestlers to field four full lineups with a few kids to spare," he reminded.
Lakenheath also has numbers to go along with Adam Carroll, who finished second last year at 125 to graduated three-time European champ Chris Campos of Naples, reported Lancers coach Darryl Brock.
Division II might well belong to Baumholder. The Bucs have filled their wrestling room with six European qualifiers who figure to do even better this time.
"Baumholder has five wrestlers with a chance to make the championship round in 2010," Blankenship wrote, "and should be the D-II preseason favorite."
Baumholder coach Pilarowski, however, sees threats from Ansbach, whose strength and conditioning are second to none, and AFNORTH, even though the Lions graduated or lost to transfer seven European qualifiers.
Naples will try to replace Campos' points with Virginia transfer Bradley Smith and freshman-to-watch Charles Cuthbert. "Charles has been wrestling his whole life," Naples coach Vito Vitulli e-mailed.
Division III, AFNORTH's Blankenship contended, should belong to Sigonella.
"Sigonella had an outstanding season in 2009," he wrote, "and should carry that into a dominating D-III performance in 2010."
Chasing Sigonella will be 2009 D-IV champ Brussels and Alconbury, which "always has several good wrestlers," Pilarowski wrote. At the other end of the small-schools spectrum is Menwith Hill, enrollment 83, which would love just to suit up "several" wrestlers of any quality. The Mustangs field a two-man squad this season.
All questions about whether those two will end up among Europe's best will be resolved when the top wrestlers in all divisions meet Feb. 19-20 for the European championships at Wiesbaden Army Air Field.
2009 team champions
Division I: PatchDivision II: WiesbadenDivision III: AFNORTHDivision IV: BrusselsDivisional lineupsDivision I Heidelberg, Kaiserslautern , Lakenheath, Patch, Ramstein, SHAPE, Vilseck, WiesbadenDivision II AFNORTH, AOSR, Ansbach, Aviano, Bamberg, Baumholder, Bitburg, Hohenfels, Mannheim, Naples, VicenzaDivision IIIAlconbury, Ankara, Brussels, Incirlik, Menwith Hill, SigonellaReturning champions103: A.J. Remo (Kaiserslautern)112: Drew Polson (Wiesbaden)160: Tyler Hall (Vilseck)171: Dominic Barrale (Ansbach)Saturday's opening matches(10 a.m.)At Ansbach: Ansbach, Hohenfels, MannheimAt Bamberg: Bamberg, Heidelberg, Kaiserslautern, VilseckAt Brussels: AFNORTH, Alconbury, Brussels, Lakenheath, Menwith Hill, SHAPEAt Naples: American Overseas School of Rome, Aviano, Naples, Sigonella, VicenzaAt Patch: Baumholder, Bitburg, Patch, Ramstein, Wiesbaden
---
---
---
---