Wrestling careers begin, end at Patch
---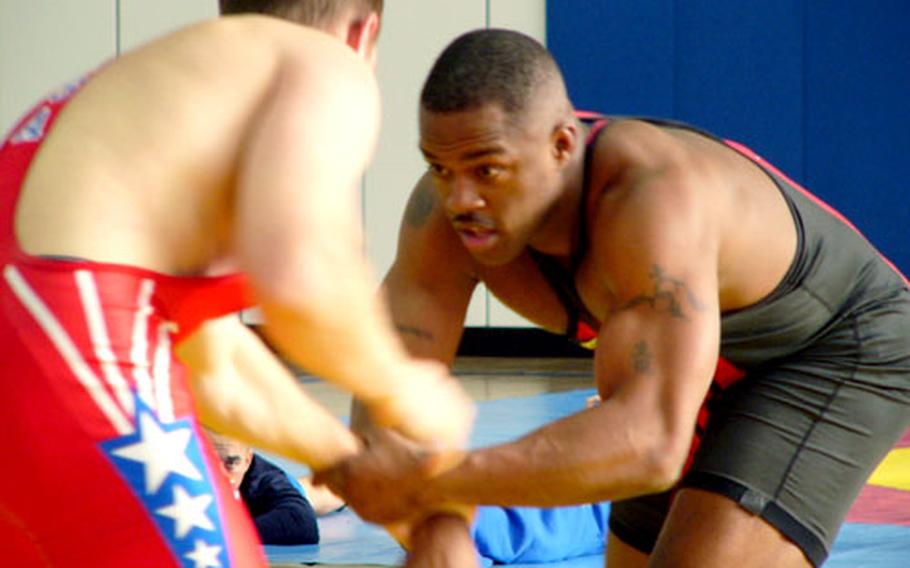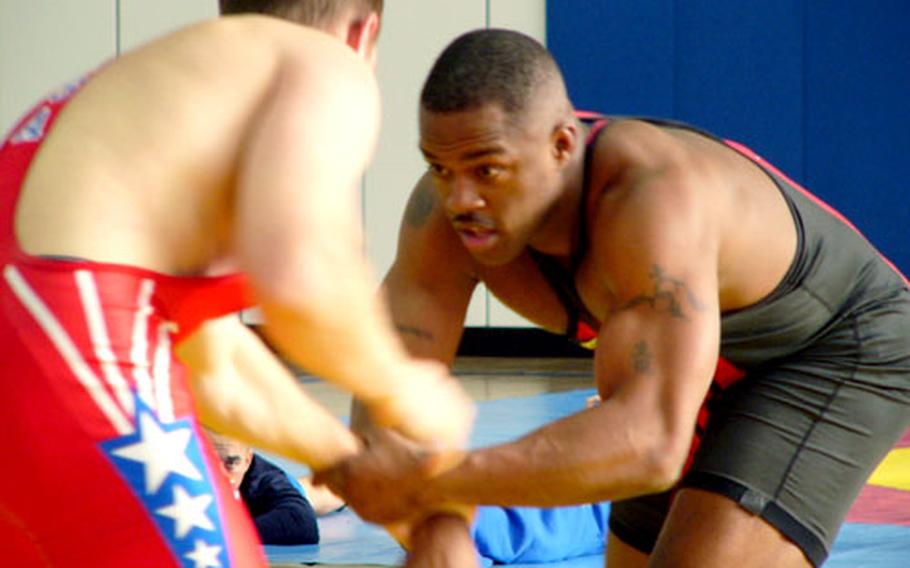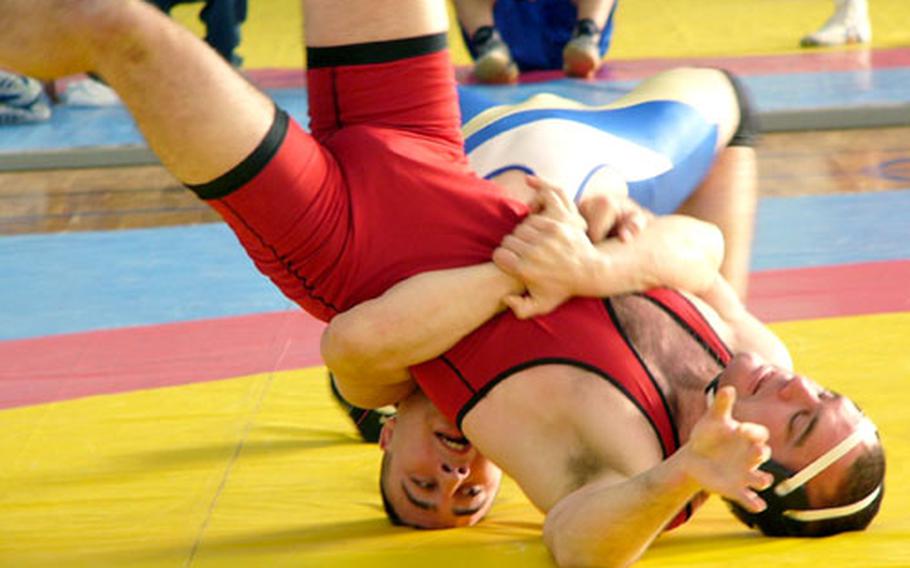 VAIHINGEN, Germany - Sunday was a day of beginnings and endings as the IMCOM-Europe U.S. Forces wrestling championships closed a two-day run at Patch Barracks here.
Beginning was the potential All-Army career of 20-year-old Richard Pabon of Darmstadt.
Pabon, a military policeman in his 11th month of military service, walked away from his first wrestling tournament in over two years with gold and silver medals at 163 pounds. He reports to his first All-Army trial camp next month.
Ending was the wrestling career of Stuttgart veteran Maurice Evans. Evans, 39, who made the All-Air Force team four years during his run, placed his wrestling shoes at the center of the mat at the conclusion of the meet.
"The guys just keep getting younger and younger," he said after closing out his career with a gold medal at 185 pounds in Saturday's Greco-Roman. "I can't keep up with them anymore."
But Evans, who finished out of the medals in Sunday's freestyle tournament after a 4-1 loss to eventual champion Matthew Bernard of Baumholder, had no trouble keeping up with the younger guys on Saturday.
"Greco-Roman is more of a thinking man's sport," he said of the genre, which doesn't allow grasping an opponent below the waist or tripping. "You have to have positioning, balance, timing and patience."
Pabon, a Pennsylvanian who pinned two of his three opponents on Sunday, clearly qualifies as one of those young guys Evans cited. Pabon used this tournament to cap his return to the sport after a basic-training imposed moratorium.
"My dad encouraged me to begin wrestling again," Pabon said, "and my first sergeant helped by arranging for me to help with the high school team in Baumholder for the last month."
Pabon said he's looking forward to the Army's tryout camp.
"There're going to be some tough guys there," he said.
One of those tough guys will be 211-pound champion Charles Daniels, a World Class Athlete who ranked No. 7 nationally in 2001. Daniels of Ansbach outquicked Kevin Sanger of Kaiserslautern Military Community 5-2 for his gold.
Eliot Thomasma of Baumholder was the only wrestler to pick up double gold over the weekend. He beat Paul Justice of Kaiserslautern Military Community each day in the heavyweight bout, with Saturday's gold coming in his first-ever Greco bout.
"It was good that I had a lot of matches to watch before I went out there," said the former Wheaton College football player from Michigan, "but I still got a lot of cautions."
Running away with the team title was Kaiserslautern Military Community, a 124-52 winner over runner-up Baumholder.
KMC was coached by Lorenzo Peterson, the 211-pound Greco champ, USAFE athlete of the year and All-Air Force wrestler.
U.S. Forces Europe wrestling championshipsVAIHINGEN, Germany — Results from the two-day U.S. Forces Europe wrestling championships which ended Sunday at the Patch Barracks gym here. Team scoring is combined points earned in Saturday's Greco-Roman event and Sunday's freestyle tournament:
Team scoring
Kaiserslautern Military Community 104, Baumholder 52, Stuttgart 24, U.S. Army Garrison Hessen 20, Darmstadt 18, Vilseck 16, Ansbach 10, Schweinfurt 2.
Individual medalists
Greco-Roman 132 pounds—1, Jay Field (KMC); 2, Michael Esparza (KMC); 3, Tracy Walker (KMC).145.5—1, Jeffrey Meyers (USAG Hessen).163—1, William Colley (KMC); 2, Richard Pabon (Darm); 3, Matt Alden (Baum).185—1, Maurice Evans (Stutt); 2, Todd Davis (Vils); 3, Ken Lopera (KMC)211—1, Lorenzo Peterson (KMC); 2, Hector Hernandez (Stutt); 3, Ken Schmidt (KMC)264—1, Eliot Thomasma (Baum); 2, Paul Justice (KMC)
Freestyle 132—1, Walker; 2, Esparza163—1, Pabon; 2, Alden; 3, Colley185—1, Matthew Barnard (Baum); 2, Todd Davis (Vils); 3, Charles Jacquier (Baum)211—1, Charles Daniels (Ansb); 2, Kevin Sanger (KMC); 3, Hernandez264—1, Thomasma; 2, Justice
---
---
---
---