Wrestlers scramble for position in Far East
by
Dave Ornauer
February 13, 2004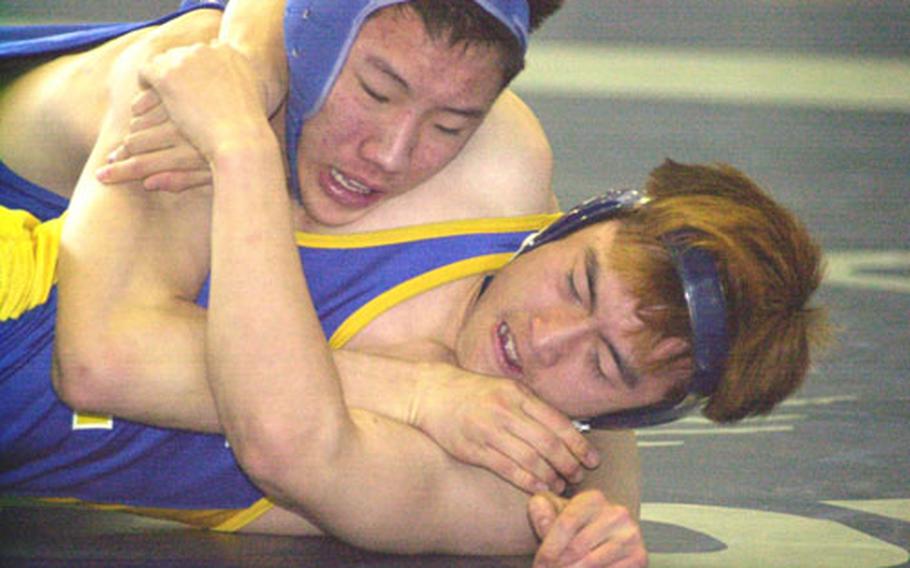 YOKOTA AIR BASE, Japan — This wasn't what Charles Gasaway expected.
He'd come to the 2004 Far East High School Wrestling Tournament proclaiming, "I'm going to win."
But during Wednesday's round-robin bouts, the 115-pounder from Osan American in Korea surrendered an early lead and suffered his first loss of the season, 9-6 to Jordan Foxwell of Christian Academy In Japan.
Adding to the sting of his loss, tournament organizers spelled his name wrong — Gushwan instead of Gasaway — on bout and bracket sheets.
Afterward, asked if he was going to win, Gasaway said, "I'll do my best."
He can be thankful that the loss came during the tournament's first phase, the round-robin pool play designed to seed wrestlers in the modified single-elimination round to follow. Gasaway won his pool anyway and earned a first-round bye.
The combined two-day individual freestyle format, now in its second year at Far East, also gave Gasaway and 147 other wrestlers an opportunity to gauge their opposition with nothing more at stake than a favorable playoff seed.
"You get to see all the opponents' skills and weaknesses ... what I can take advantage of," said Gasaway, who placed fifth last year at 108 pounds.
"This is a good chance to see other guys, watch their moves and develop strategies to counter them," said 135-pounder Dustin Haney of defending champion Yokota, who also won his round-robin pool.
The format, implemented in last year's Far East on Okinawa, combines what a handful of coaches believe were the best elements from two methods used to seed previous tournaments:
• For most of its history since 1976, the tournament used an international freestyle format: Competitors were seeded by blind draw, regardless of season record. "If you do that, the top two wrestlers in a weight class could meet each other right away," Haney said.
• In the mid-1990s and 2000-01, the tournament used a single-elimination bracket format. Wrestlers — some of whom hadn't seen each other during the season — were seeded based on their records, leading one coach to call it "seeding by negotiation."
"Whether it helps me or not, it needs to be fair for everyone," said Yokota coach Mark Hanssen. "Last year was the first time I went into a tournament feeling good about where my wrestlers were placed."
"It's the most fair," said coach Steve Schrock of Okinawa's Kadena Panthers, who has experienced all three formats. And, he said, "You get to wrestle a lot, no matter what, win or lose. It's a great experience."
It also makes for long days — more than 250 bouts on the first day, wrestled on just two mats over almost 10 hours.
"That may be something we need to consider in the future," Hanssen said, "a venue where we can use four mats."
---
---
---
---