Wrestlers at U.S. Forces in Europe meet happy for one more time on mat
by
Kent Harris
December 5, 2004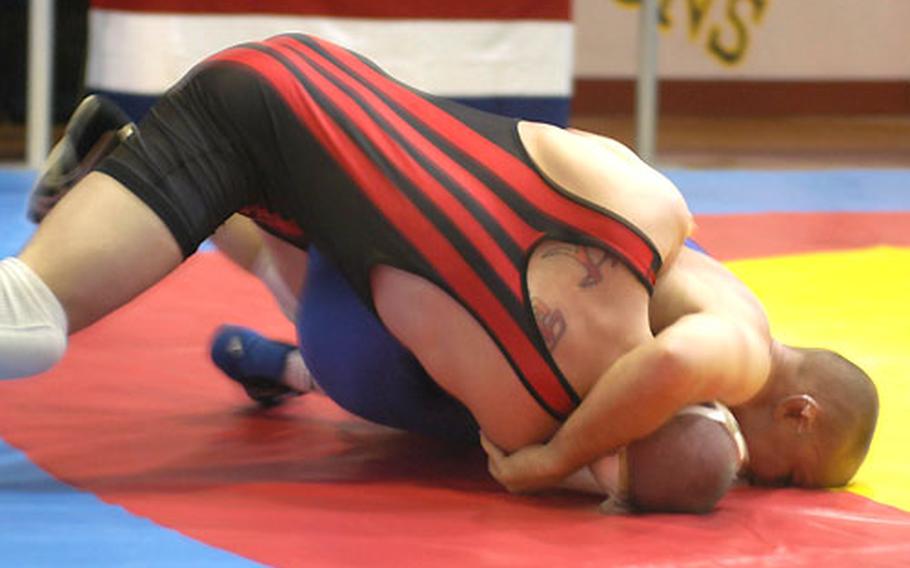 VICENZA, Italy — Thomas Anderson thanked his teammates for his 211-pound title. A.J. Werner didn't have that luxury in his 163-pound weight class.
But they had something in common Saturday with a few dozen other servicemembers. They were back on the wrestling mat.
"It's just a great sport," said Werner, an Air Force major who made the trip to northern Italy from Sofia, Bulgaria.
"When you're in a sport in high school and you don't get a chance to do it too much after … this is great," said Anderson, a first lieutenant with Headquarters and Headquarters Company, 2nd Battalion, 503rd Infantry Regiment.
Both came away with titles in the U.S. Forces in Europe wrestling championships. On Saturday, it was freestyle competition; on Sunday, Greco-Roman.
For most of those competing over the weekend, wrestling is just wrestling.
"There's probably no other sport where you can beat on a guy for five or six minutes, then go out and have a beer with him later," Werner said.
And catch up on old times.
Werner and Thomas Tingley, who was the top wrestler at 145 pounds, wrestled at the Air Force Academy. Werner, 34, was later a coach there before going on to become a U-2 pilot. He's now attending Sofia University on a fellowship. His father, Tom, a longtime coach at Würzburg High School, was one of the officials Saturday.
So the younger Werner decided to make the trip over.
Bad news for the competition. He had two pins in his three round-robin matches before running into some trouble in the championship match in the form of Hanau's Bradley Gladbach.
Gladbach had a 4-0 lead in the first period before Werner overtook him at the end.
"He's pretty tough," Werner said.
Of course, being a U-2 pilot and then taking graduate courses hasn't left much time for practice.
"It's been a good five or six years since I actually wrestled," he said. That was until recently, when he discovered a wrestling club of sorts in Bulgaria and stared working out.
Anderson, assigned to Vicenza, has had more in the way of workout partners. But wrestling hasn't exactly been priority No. 1 of late.
"There hasn't been all that much time to devote to it when we're training to get ready to deploy for Operation Enduring Freedom," he said. He's among the thousands of soldiers at Vicenza who are set to head to Afghanistan early next year.
Anderson, 24, wrestled for two years at West Point. He defeated Ramstein's Robin Kiska 7-0 in the championship match Saturday. He smiled when he said he had bigger grudge matches earlier in the day.
"I probably did with the Navy guys, because today is the Army-Navy football game," he said.
Naples' Aaron Hendrickson was the champion at 185 pounds, defeating Vicenza's Lee Rooda 3-0. Vicenza's Christopher Keeney, Anderson's frequent workout partner, won the heavyweight title over Wiesbaden's Damyn Ransom with a pin at 1 minute, 28 seconds.
Many of the same wrestlers go at it again Sunday in the base gymnasium starting at 10 a.m.
U.S. Forces in Europe Wrestling
Freestyle
(Saturday at Vicenza, Italy)
145 pounds—Thomas Tingley (NATO) dec. Noel Moskowitz (Vicenza) 6-0; Moskowitz pin Sean Magruda (Naples) 0:32; Tingley dec. Moskowitz 7-0.
163—A.J. Werner (Sofia) dec. Noah Fontanez (Geilenkirchen) 6-0; James Cannon (Vic) pin Joshua Weaver (Hohenfels) 1:21; Werner pin Weaver 0:43; Cannon dec. Fontanez 7-0; Werner pin Cannon; Bradley Gladbach (Hanau) dec. Christian Ruezga (Kaiserslautern) 7-0; Gladbach pin Jonathan Bushie (Hoh) 2:15; Forsti Miller (Vic) dec. Bushie, 9-8; Ruezga dec. Miller 6-4; Third: Cannon dec. Ruezga 6-0; First: Werner dec. Gladbach 9-2.
185—Lee Rooda (Vic) pin Brad Glen (Rhein-Main) 0:45; William Bain (Vilseck) pin James Cindrich 1:32; Bain pin Glen, 0:43; Rooda pin Cindrich 0:34; Aaron Hendrickson (Nap) dec. Joshua Thorner (Hoh) 4-0; Jesus Raimuma (Ramstein) pin Victor Faggiano (Vic) 1:08; Hendrickson pin Raimuma 1:28; Thorner pin Faggiano; Third: Thorner pin Bain, 0:58; First: Hendrickson dec. Rooda 3-0.
211—Thomas Anderson (Vic) pin James Loch (Baum) 1:12; David Carter (Nap) pin Christian Stone (Vic) 0:46; Anderson pin Carter 0:29; Stone dec. Loch 4-2; Robin Kiska (Ram) dec. David Alexander 7-1; Alexander dec. Earl Ullom 7-4; Third: Carter pin Alexander 0:18; First: Anderson dec. Kiska 7-0.
264—Christopher Keeney (Vic) pin Damyn Ransom (Wiesbaden) 1:28
---
---
---
---