With three-of-a-kind, Mannheim looks to run the table
by
Rusty Bryan
September 29, 2005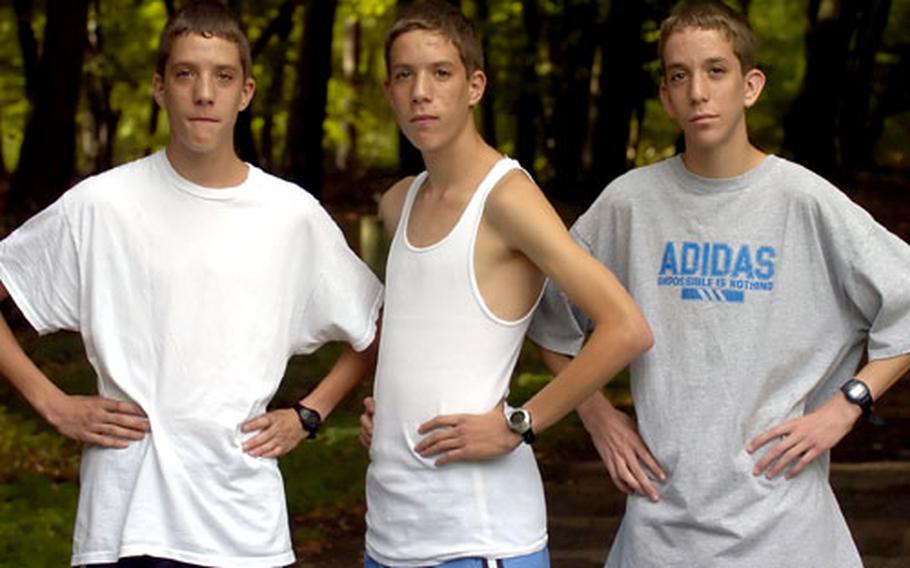 MANNHEIM, Germany — For the cross-country program at Mannheim High School, good things really do come in threes.
The Bison's good things are the 15-year-old Spicer triplets: Matt, Brandon and Tim.
"Last year, when they showed up during track, we knew we'd have a good team," junior Chris Wert said of his look-alike, run-alike sophomore teammates.
Just how good has become apparent in the season's first two meets. In the Sept. 17 opener at Kaiserslautern, the Bison pushed six-time Division I champion Ramstein, losing by 12 points. Tim placed third, Matt seventh and Brandon 10th, while Wert came in sixth and Davonte Cook, coaxed onto the team for the first time as a junior, placed ninth.
Last Saturday at home, it was first for Tim, second for Wert, third for Matt, fourth for Cook and sixth for Brandon as the five-man Bison herd stampeded a five-team field, winning by 42 points over Division I Wiesbaden.
More of the same is in the cards this week, when the firm of Spicer, Spicer, Spicer, Wert and Cook heads off to Patch to take on the defending Division II champions.
Patch edged Mannheim 61-73 in last year's European Division II meet, and the Spicers said Saturday's meet is a first step toward their ultimate goal this season.
"Patch is good, but they only have a couple of guys this year," Matt said. "We want to beat Ramstein and win Europeans."
If they do, it's not a case of instant success. The Spicers said they began running at age 3 when their father, a former high school and college runner and a present marathoner, introduced his three sons to the sport he loves.
"He's pretty competitive," Brandon said of their father. "He was fourth in California in high school in the 1970s."
Thirty years later, the Spicers are still following in their father's footsteps.
"We're going to run our first marathon next summer," Matt said. "Dad said we're old enough to try it now, to find out what it's like."
The trio already knows what it's like to work hard. They train together year-round, Tim said.
"We work on distance twice a week and speed twice a week, with rest days in between," he said. "On those days we just jog a couple of miles."
While the attention to speed work for cross country might seem odd, it isn't, Matt said.
"Everybody does speed work," he said, "because the race really isn't that long — just 3 miles. You need to have and maintain your speed for the [finishing] kick."
All three, veterans of the AAU Junior Olympics, agreed that moving to Europe, where they'll encounter fewer strong runners than they would in the States, won't hurt their progress.
"You still run against good runners," Matt said. "Look at Danny Edwards of Ramstein."
On top of that, they've still got one another as inspiration, particularly on race day.
"We work for each other," Brandon said as his brothers nodded emphatically, "but we're on our own when we head for the finish."
This season, the finish comes Oct. 29 at the European championships in Heidelberg, where the Spicers say they have their eyes on medals and Wert entertains visions of more than that.
"We want it all," Wert said.