Winter break ends on courts, mats
by
Dave Ornauer
January 5, 2017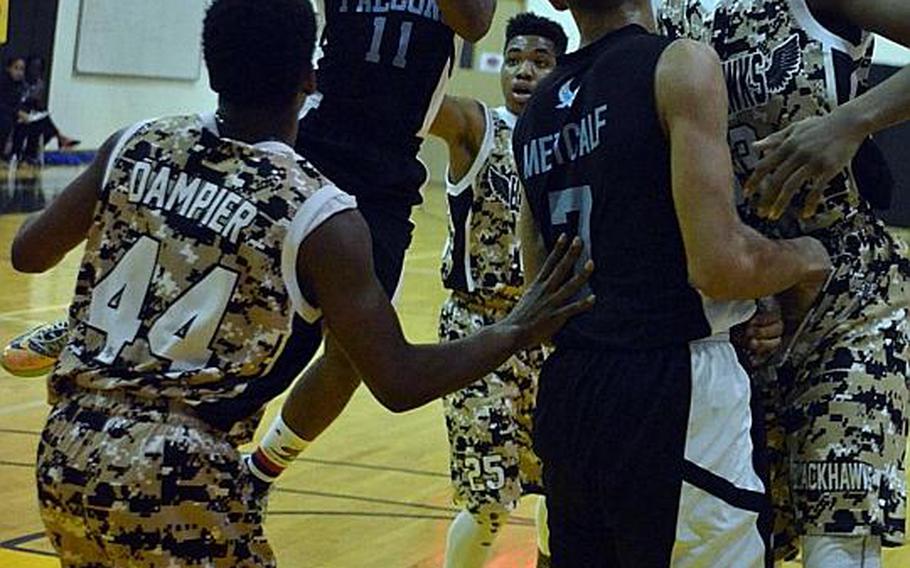 Cards have been exchanged and presents opened weeks ago, decorations and trees are still being taken down, and the turkey and trimmings were consumed with great zest.
What better way to work off the latter – and end the two-week holiday break – for student-athletes than to resume winter sports season?
The unofficial second half of the basketball and wrestling seasons began Wednesday. The schedule resumes in earnest Friday and Saturday with DODDS teams in Japan, Korea and Okinawa hitting the hardwood and wrestlers the mats at Yokota in Japan and Daejeon in South Korea.
Most noteworthy on the basketball courts could be Saturday's boys matchup at Camp Humphreys of the two premier teams in the Korea Blue Division – defending regular-season champion Humphreys hosting last year's Korea Blue postseason tournament champion Seoul American.
It is fast becoming the league's biggest rivalry – and the host Blackhawks will likely enter the game with a sense of urgency, having lost 45-42 Wednesday at Osan – their first regular-season defeat since a home 76-48 loss to Osan on Jan. 28, 2015.
"We needed a wakeup call," Humphreys' 6-foot-5 senior Nate Hellams said following the game between the 2015-16 regular-season champions and the Cougars, who won the 2014-15 regular season.
Hellams says he's expecting a "tough, really close game" and "a lot of above-the-rim play." He could be spot on, given that the Blackhawks' front court averages 6-3½ and Seoul American features the Metcalf brothers, 6-foot-6 senior DeAndre and 6-7 sophomore Quintin.
"They are the best competition for us in Korea, so we play really hard," Hellams said, likening the Falcons to the Blackhawks' big brothers "and nobody wants to lose to their siblings. It's just a good atmosphere to play in and all in all, a good time."
The Blackhawks won both regular-season meetings with the Falcons by a combined 12 points, while Seoul American prevailed 54-50 in the Korea Blue tournament final last Feb. 6, shooting 15-for-21 from the foul line in the fourth quarter.
Seoul American "has always tended to beat teams by a large margin, and (Humphreys) has given us a challenge that was unexpected," DeAndre Metcalf said. "It also has a lot to do with the fact that we know each other very well and we are both competitive."
"Both teams have so much raw talent and both teams have people they can match up with, so there is more competition on the floor in terms of scoring and getting boards," Quintin Metcalf said.
Seoul American warms up for Humphreys with a Friday contest at Daegu.
In other games of note:
-- Kadena's boys and girls visit Kubasaki on Friday, with both the Panthers' teams seeking to clinch Okinawa titles.
-- Two-time defending Far East Division II champion Yokota boys and girls travel to snow country for a weekend series at Robert D. Edgren.
-- DODEA-Japan holds its first in-season individual wrestling tournament Saturday at Yokota, two weeks prior to hosting the Pacificwide "Beast of the East" tournament for the first time.
-- Wrestlers in Korea get a chance to compete off base for the first time this season in a tournament at Daejeon Physical Education School.
Twitter: @ornauer_stripes